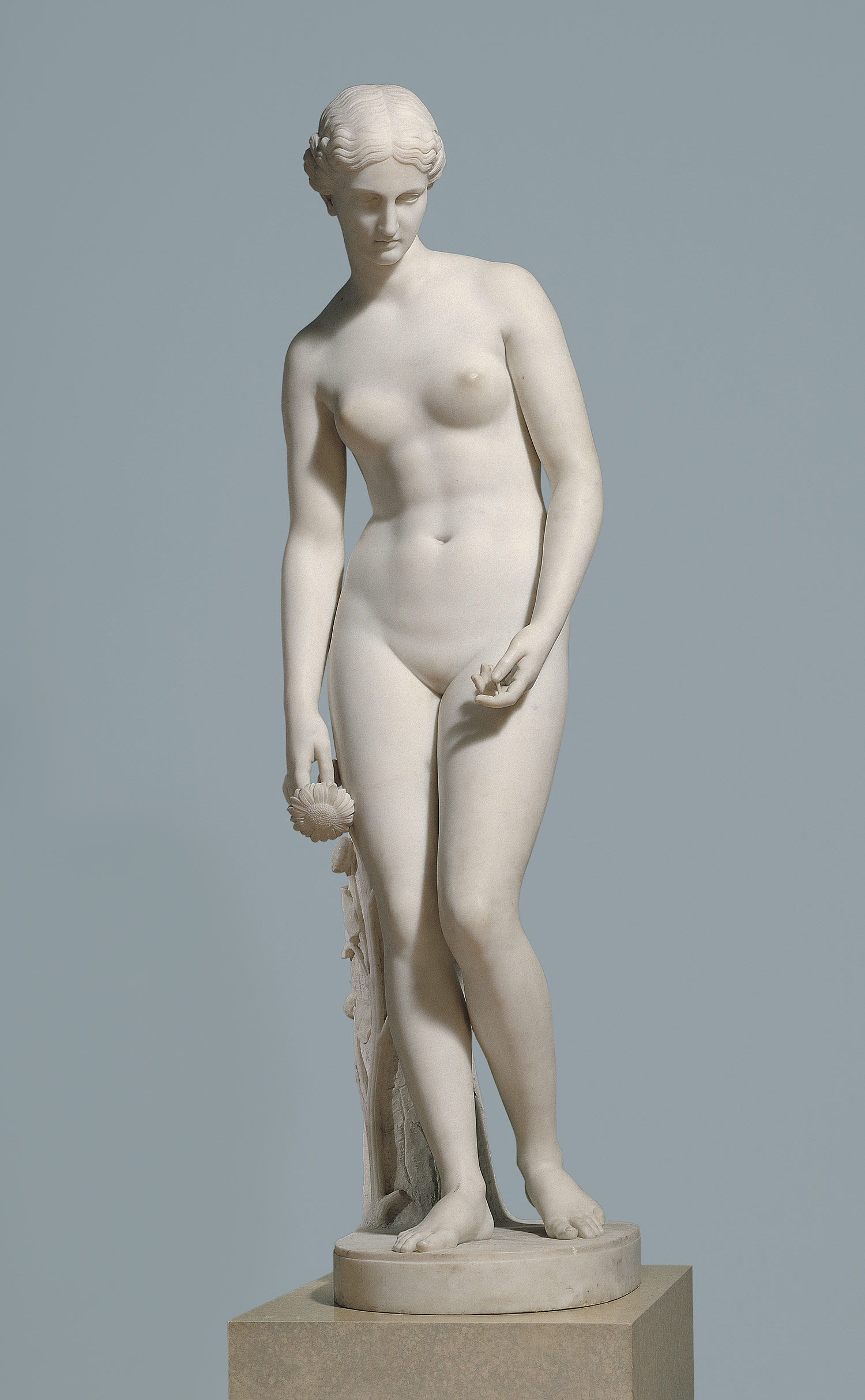 ---
Clytie, 1869–70; this carving, 1872
William Henry Rinehart (American, 1825–1874)
Marble; 62 1/2 x 18 1/2 x 21 1/4 in. (158.8 x 47 x 54 cm)
Gift of Mr. and Mrs. W. H. Herriman, 1911 (11.68.1)

Rinehart derived the subject for his most accomplished female nude from Ovid's Metamorphoses (Book 4). Clytie was a water nymph in love with Apollo, the sun god. When he ignored her to pursue Leucothoe, Clytie languished for nine days without eating or drinking and watched the sun from dawn to dusk. For her constancy, she was turned into a sunflower so that her face would forever follow the sun as it moved across the sky. Rinehart interpreted the classical myth of Clytie by showing a young woman in an easy, graceful stance, gazing downward in her quiet misery. She holds a sunflower, the symbol of her unfaltering devotion, wilting in her right hand while behind her, supporting her right leg, is a tree stump with live sunflower plants.
Rinehart began modeling Clytie in his Rome studio in 1869, employing several different live models. A visitor to his studio in 1870 recorded that the sculptor "was at work on a statue of Clytie … and was modeling the arm from that of a woman before him, who was one of the six different living models that he employed in completing this figure, which promised great excellence." This careful, studied approach is reflected in the supreme confidence with which the figure's anatomy is rendered. Clytie's elongated body, idealized facial features, and simplified hair pattern epitomize the Neoclassical style that dominated both American and European sculpture throughout the nineteenth century. The Museum's Clytie is the first of three lifesize versions carved in marble.
Related