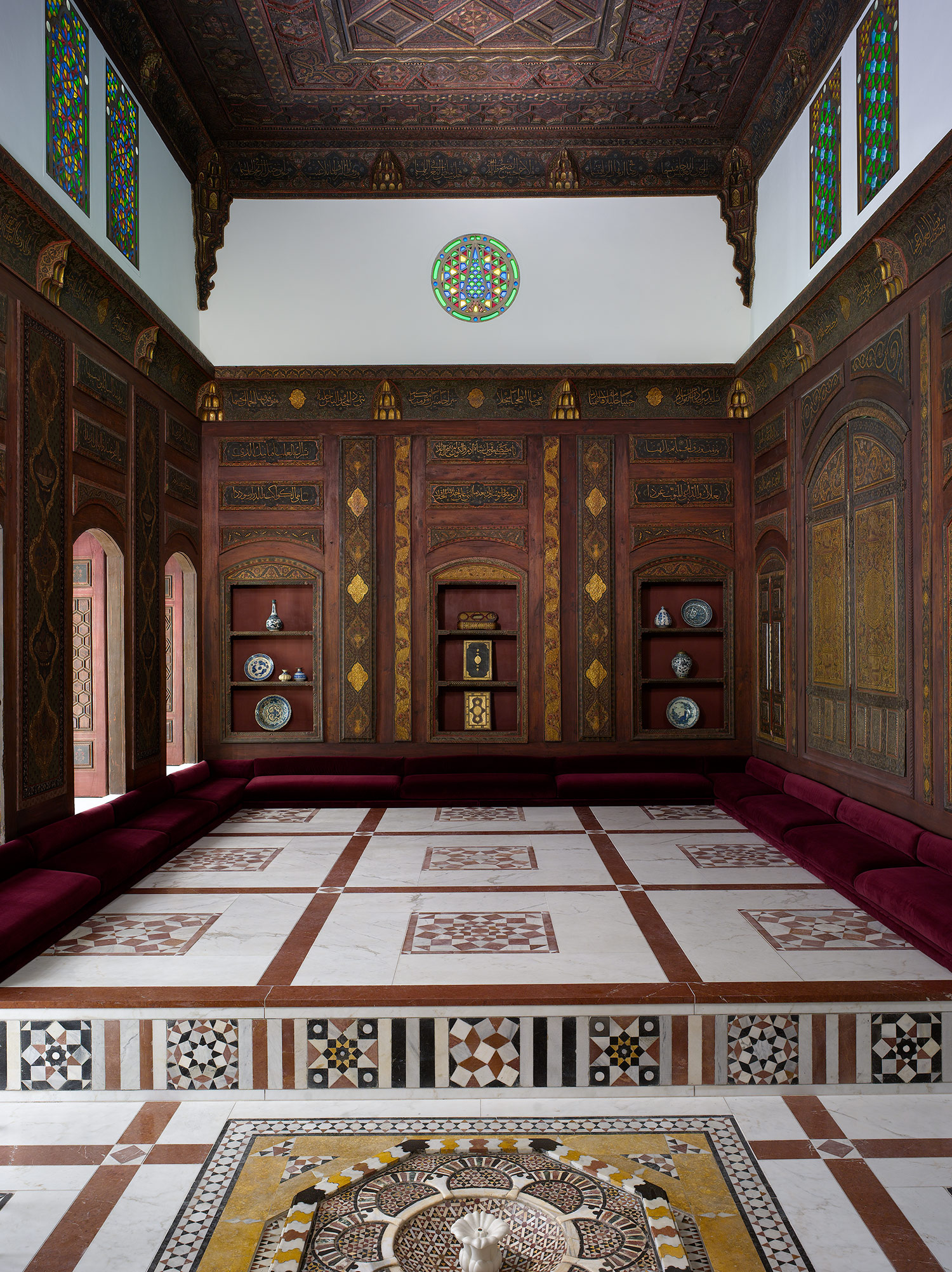 ---
---
Related Multimedia
Although the exact residence to which the Damascus Room belonged is unknown, these 3-D animations suggest how this residential reception chamber was most likely situated within a courtyard house.
Reception Room (Qa'a), Ottoman period, 1119

a.h.

/ 1707

a.d.


Damascus, Syria
Poplar wood with gesso relief, gold and tin leaf, glazes and paint; cypress, poplar, walnut, black mulberry, mother-of pearl, marble and other stones, stucco with glass, plaster, ceramic tiles, iron, brass

H. antechamber 22 ft. (6.7 m), seating area 19 ft. 11 in. (5.17 m), L. 26 ft. 2 in. (7.9 m), W. 16 ft. 8 in. (5 m)
Gift of The Hagop Kevorkian Fund, 1970 (1970.170)
This period room re-creates a residential reception chamber (qa'a) typical of an upper-class home during the late Ottoman period in Damascus, Syria. Such houses contained two reception areas: those open to the courtyard for the warm season and those inside for the cold months. Judging from the layout of the wooden elements, the Museum's room functioned as a winter reception room. Like most Ottoman-period qa'as in Damascus, the room is divided into two areas: a small antechamber ('ataba), and a raised square seating area (tazar).The floors and fountain are made of inlaid colored marble. Servants were stationed in the antechamber to make coffee and to prepare the water pipe and the braziers that warmed the winter air. Guests left their shoes there before ascending the step under the archway into the reception room proper. The open niches served for storing books, water pipes, ceramics, and metalwork, and the closets held mats and bedding. The wooden panels are ornamented with raised designs made of gesso, mainly in floral patterns or poetic inscriptions in Arabic. The flat ceiling over the reception area and the beams over the courtyard are decorated in the same manner but in a slightly richer fashion.
Related