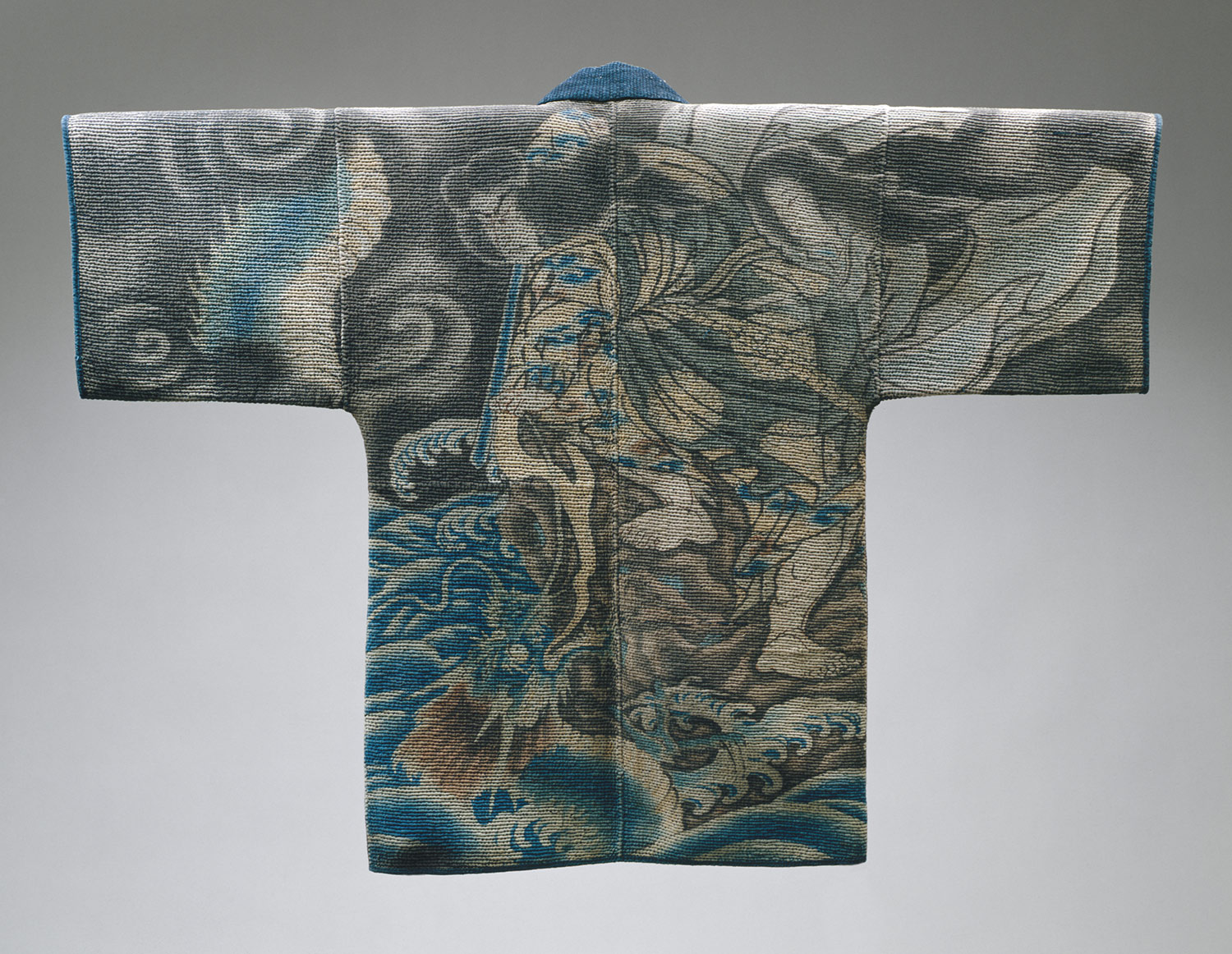 ---
Firefighter's Coat with Susanoo–no–mikoto and Sea Monster, Edo period (1615–1868), 19th century
Dark blue quilted (sashiko) cotton with freehand paste–resist decoration
Purchase, Irene Lewisohn and Alice L. Crowley Bequests, 1983 (1983.158a–c)

Often in Japanese art, perishable or impermanent objects were purposefully embellished. When one's life was at stake, the decoration of protective ware was particularly auspicious. Like the armor of samurai warriors, the coats, hoods, and gloves worn by male, and sometimes female, firefighters bore symbolic emblems and motifs. The wearing of precious garments while charging into billows of smoke and flames asserts a quintessential Japanese aesthetic sensibility that recognizes beauty in the transience of life.
During the Edo period (1615–1868), firefighters were registered into three ranks according to social position. Firefighters in samurai districts were registered as daimyo-bikeshi and jobikeshi, while firefighters in town districts carried the rank of machi-bikeshi. Firefighter coats reflected the social rank of wearers. Samurai fought fires attired in more elaborately and expensively adorned jackets than townsmen. However, all fire coats were carefully produced, with attention given to the symbolic meaning of the decoration. The townsmen's fire coats were reversible. The sober, usually dark blue outer side bore the crest or insignia of the firefighter's brigade, while the inner side tended to be brightly embellished with the empowering imagery of water. The many-layered quilted cotton coats were doused with water before firefighters entered a blaze.
On ceremonial and festive occasions, firefighters proudly dressed in their fashionable fire coats, their courage and strength underscored by the bold and dynamic designs.
This is an elaborately dyed and quilted cotton coat once worn by a townsman firefighter. The exterior and collar are dyed a solid hue of blue. In contrast, the interior shows an explosive scene of the legendary Shinto kami Susanoo-no-mikoto stabbing the eight-headed and eight-tailed dragon (yawata no orochi) described in Japan's earliest history, the Kojiki (Record of Ancient Matters). Vivid blue waves fill nearly half the spectacular background, while exquisite swirls of gray smoke rise above.
Related