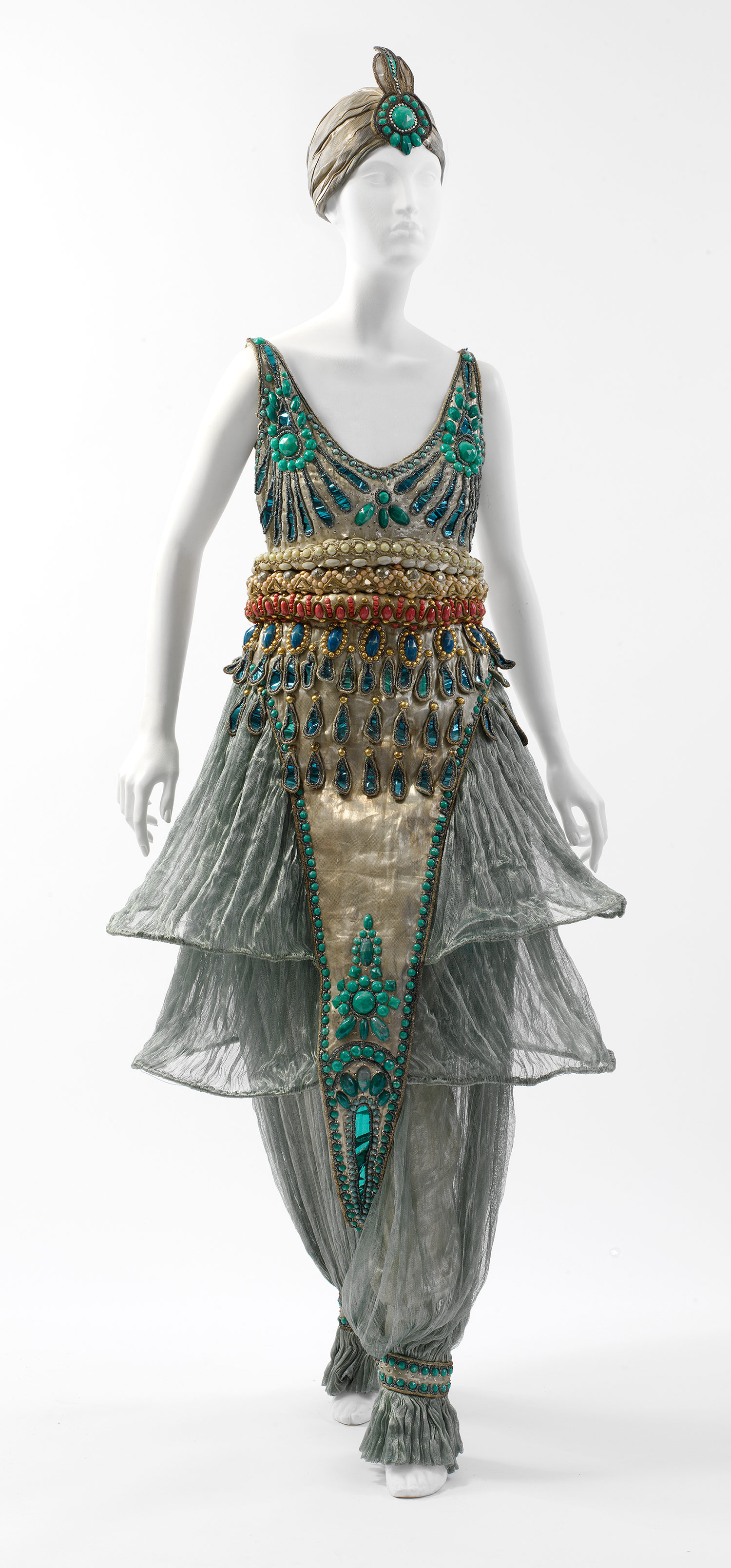 ---
Fancy dress costume, 1911
Paul Poiret (French, 1879–1944)
Seafoam green silk gauze, silver lamé, blue foil and blue and silver coiled cellophane cord appliqué, and blue, silver, coral, pink, and turquoise cellulose beading; L. (a) 50 1/4 in. (127.6 cm)
Purchase, Irene Lewisohn Trust Gift, 1983 (1983.8a,b)
Poiret's interest in l'art de vivre found its most tangible expression in his highly theatrical costume parties. The most extravagant was "The Thousand and Second Night," which took place in the garden of his atelier on June 24, 1911, and which revealed the strong influence of Sergei Diaghilev's Ballets Russes on the designer's imagination. In his memoirs, Poiret dismissed any relationship between his work and the artistry of Diaghilev's talented designer, Léon Bakst. But the spectacular success of Schéhérazade from One Thousand and One Nights a year before Poiret's lavish party makes clear that the designer was willing to parlay the excitement generated by the Russians to his own advantage.
Like Diaghilev's Schéhérazade, Poiret's "The Thousand and Second Night" party revolved around a fantastic evocation of the East. For the occasion, Poiret required his 300 guests to dress in oriental costumes. Those who failed to do so were given the choice of leaving or outfitting themselves in Persian-style clothes designed by the couturier, including the highly controversial "harem" trousers that formed part of his spring 1911 collection. Poiret thus used the occasion of a private party, staged as a cross between an elaborate fashion show and an extravagant theatrical performance, to promote his latest creations.
Denise Poiret, who played the role of the "favorite" to Poiret's "sultan," endorsed her husband's "harem" trousers by wearing them under a wired skirted tunic. Two years later, in 1913, Poiret launched this crinoline-hooped silhouette in a theatrical production of Jacques Richepin's historical drama, Le Minaret, to be quickly followed in Poiret's fashion collections of the same year. A fancy-dress costume worn in the privacy of an exclusive party became the prototype for a "minaret" or "lampshade" tunic worn in a theatrical production. Thus publicized, the silhouette was then modified for the fashion public.
The "Sorbet" ensemble, to which the illustrator Erté claimed authorship, was among the most popular of the silhouette's fashionable interpretations. Its signature rose motifs of "caviar" seed beads were applied as silk-backed appliqués rather than embroidered directly on to the satin ground. This technique would have meant a shorter construction time and allowed for the disposition of the decorations over the tunic at the last minute, with the possibility of their placement contingent on the overall proportion of the garment. The bodice, with its kimono neckline, represents a stylistic feature typical of Poiret, while the underskirt, with its petal form, is a development of Poiret's iconic hobble skirt.
Related