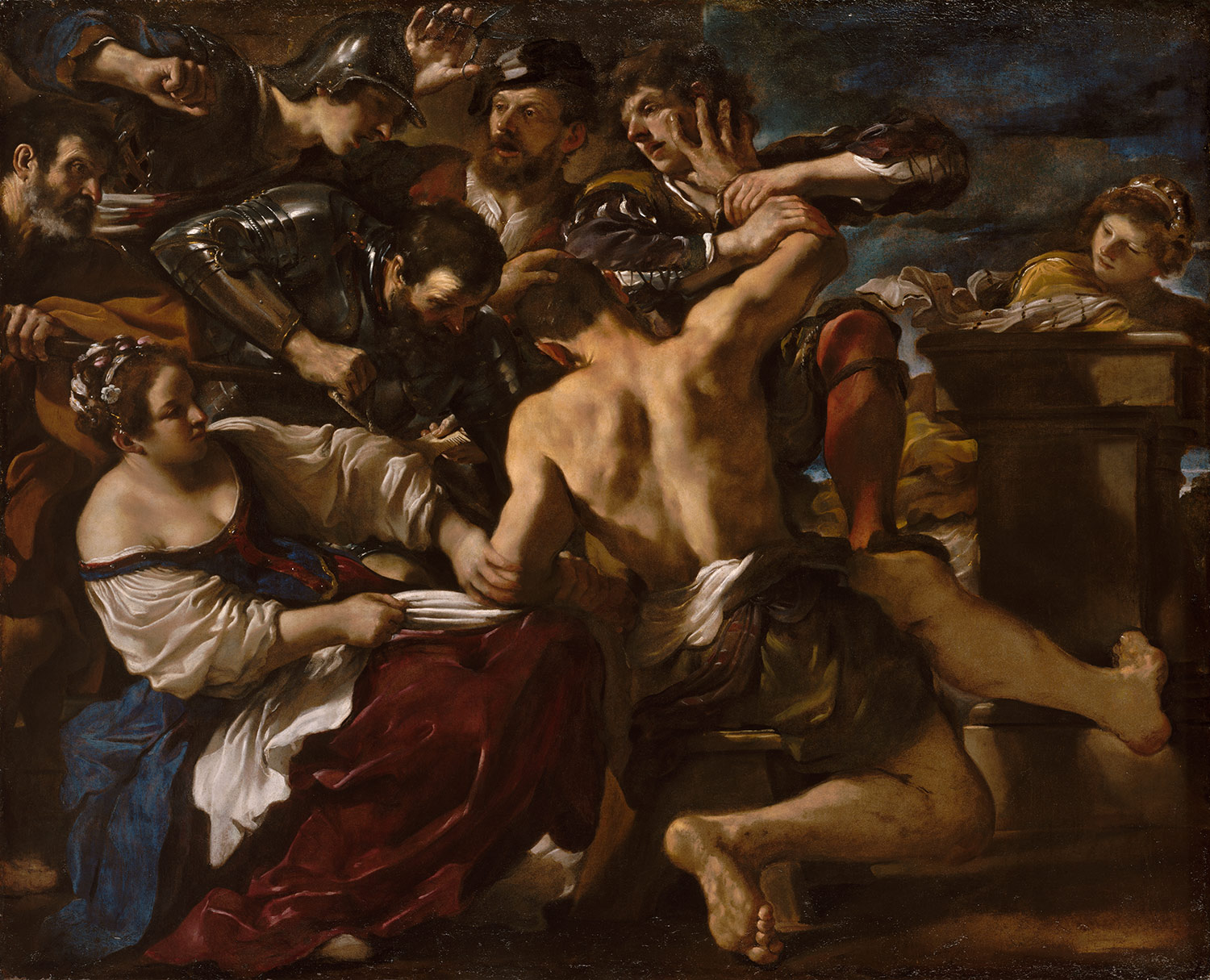 ---
---
Related Multimedia
Philippe de Montebello (Director Emeritus) and Keith Christiansen (Department of European Paintings) discuss Samson Captured by the Philistines (1984.459.2) (July 2008).
Samson Captured by the Philistines, 1619
Guercino (Giovanni Francesco Barbieri) (Italian, 1591–1666)
Oil on canvas

75 1/4 x 93 1/4 in. (191.1 x 236.9 cm)
Gift of Mr. and Mrs. Charles Wrightsman, 1984 (1984.459.2)
"A prodigy of nature and a wonder capable of astounding all who see his works." With these words, Ludovico Carracci described the young Guercino, just two years before he painted Samson Captured by the Philistines, one of his most dramatic masterpieces. The Hebrew Samson was betrayed by his Philistine lover, Delilah, who literally sheared him of his strength by cutting his hair while he slept in her lap. Having accomplished her task, she summoned her countrymen to blind and bind him. Guercino grappled with how best to convey the Old Testament story without slipping into mere sensationalism and, after sketching out a number of compositional alternatives, decided to make the focus the strongman's beautifully modeled back, leaving the brutal goring of his eyes to the viewer's imagination. It is a solution of enormous power and artistry. The picture is one of several works painted for the papal legate to Ferrara, Cardinal Jacopo Serra, who conferred a knighthood on Guercino. Prior to 1979, when it was removed from war-torn Beirut and offered to the Museum, the picture was known only through a copy.
This work of art also appears on Connections: Clouds
Related