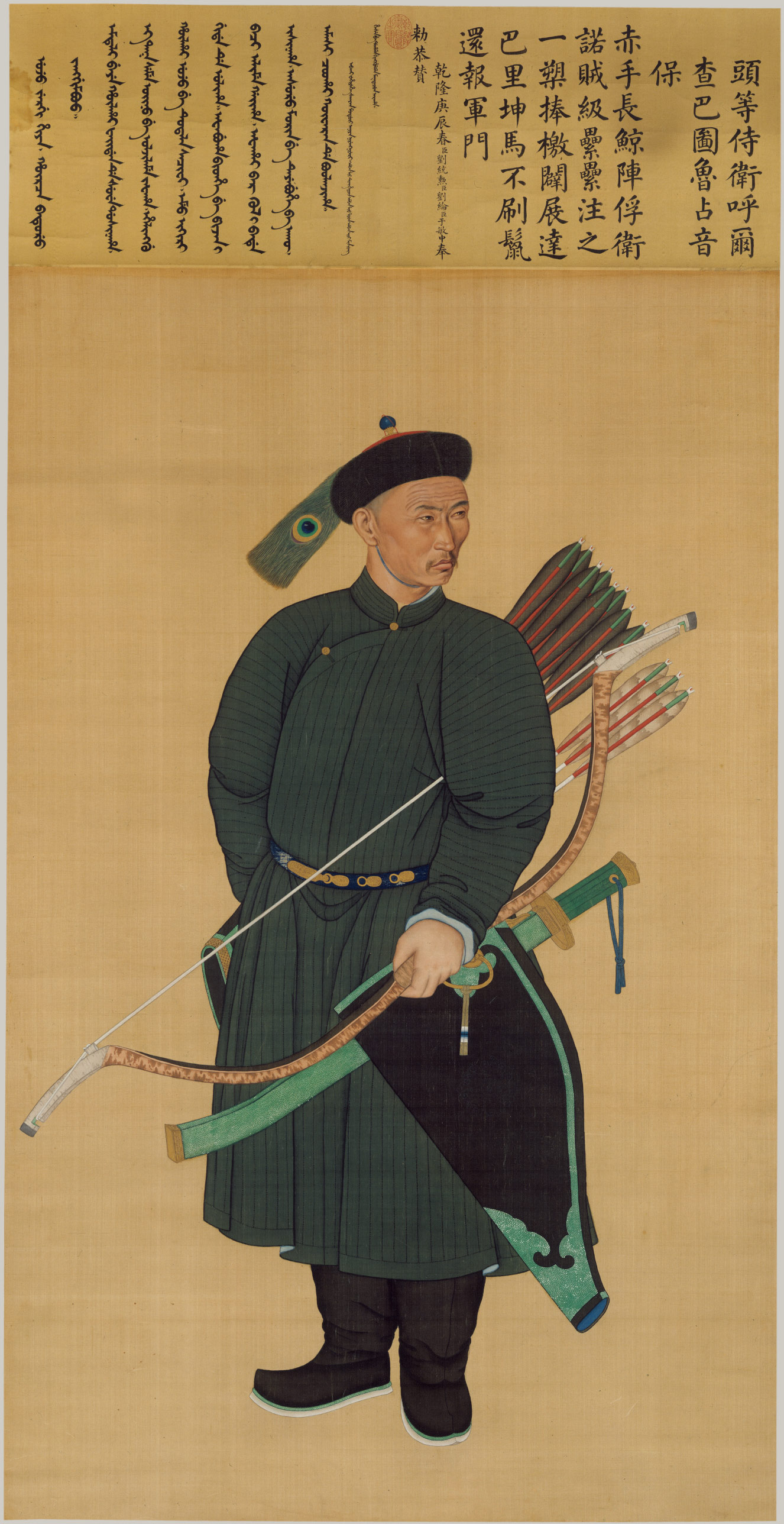 ---
Portrait of the Imperial Bodyguard Zhanyinbao, Qing dynasty (1644–1911), dated 1760
Unidentified Artist (Chinese, 18th century)
Hanging scroll; ink and color on silk; H. 74 1/4 in. (188.6 cm), W. 37 7/16 in. (95.1 cm)
Purchase, The Dillon Fund Gift, 1986 (1986.206)

Under the Manchu emperors of the Qing dynasty, portraiture again became an important court-sponsored art. This full-length depiction of an imperial bodyguard of the first rank is from a set of one hundred portraits of loyal officials and valiant warriors commissioned by the Qianlong emperor (r. 1736–95) that originally hung in the Hall of Imperial Brilliance (Ziguang Ge), the pavilion in the Forbidden City where the emperor received tribute offerings and entertained foreign emissaries.
To execute a commemorative painting project of this scope as quickly and efficiently as possible, Academy artists were organized in workshop fashion, with labor divided by specialization. Zhanyinbao's lifelike features were probably based on a sketch made from life by one of the Jesuit artists attached to the court. A Chinese master would have followed this sketch in transferring the image to this large silk scroll, expertly employing light and dark shading to model the facial features. The figure's left hand is much less naturalistically rendered and was probably painted by an assistant, while the details of costume and weaponry may have been assigned to apprentices. Note that as a result of this workshop process, a small area of silk at the base of the figure's neck has been left unpainted.
The poem inscribed in both Chinese and Manchu above the painting lauds Zhanyinbao's valor in combating nomadic rebels in the desert wastes of Central Asia:Barehanded he rode the giant whale,
Capturing Weinuo in battle.
The bandits' heads were strung together
The length of his long lance.
With both hands he held open the declaration of war
All the way to Balikun [in Xinjiang Province].
Without [even pausing] to comb his horse's mane,
He returned and reported to his commander.
Related