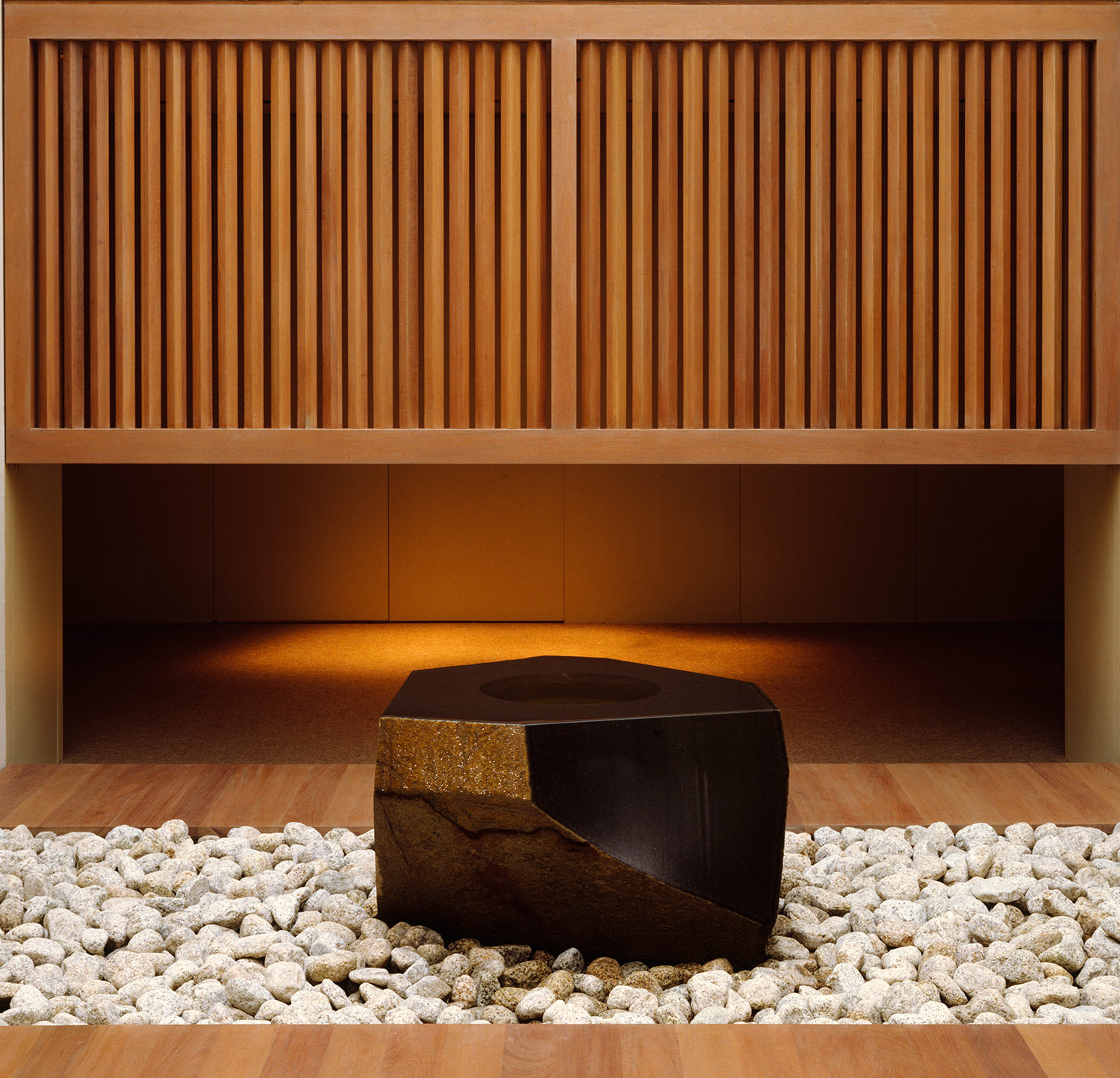 ---
Water Stone, 1986
Isamu Noguchi (American, 1904–1988)
Basalt; H. 25 in. (63.6 cm), W. 42 3/4 in. (108.6 cm)
Purchase, Anonymous Gift, 1987 (1987.222)
© 2011 The Isamu Noguchi Foundation and Garden Museum, New York / Artists Rights Society (ARS), New York

Japanese-American artist Isamu Noguchi (1904–1988) sculpted in stone throughout his life. Noguchi first learned to carve stone in Paris in 1927, as a studio assistant to the French-Romanian abstract sculptor Constantin Brancusi (1876–1957). His culminating work in sculpture was produced at his studio on Shikoku Island, Japan, where he focused on transforming the local basalt stone into abstract sculptures.
Water Stone, commissioned in 1986 for the Japan Galleries of the Metropolitan Museum, was one of Noguchi's final works in basalt. While steeped in modernism, this sculpture also draws upon Japan's long stone-working tradition. Like stone basins set within Japanese gardens, Water Stone instills a meditative mood within the Museum galleries.
Noguchi's stone basin is both familiar and surprising: rather than pouring down into the well, water flows up from the ground into the basin. Water Stone rests upon a bed of white rocks taken from the flats of the Isuzu River, which flows along the sacred site of Ise Shrine. As if it were flowing from the Isuzu River that once sculpted the stones, water flows up into the basin (via a pump), then over the rim, polishing the stone naturally as it cycles. Noguchi recognized water as a natural maker of sculpture, here gradually eroding and rusting the iron-rich basalt.
By bringing together two fundamental natural elements, Water Stone becomes an expression of this and other natural processes. The materials embrace contrasts found in nature: the movement and sound of water against the solidity and stillness of stone; the hues and textures of rock in contrast to the transparency and smoothness of water; and the permanence of stone versus the transience of water.
The sculpture also underscores tensions between natural and human-defined elements. Noguchi alternated naturally worn, curvilinear outer rock surfaces with smoothly polished planes created through deliberate, angular cuts into the stone. The irregular circumference of the rounded form contrasts with the perfect circle of the central well. The cut circle introduces layers of symbolic meaning, representing the life cycle, seasonal cycle, sun, full moon, or enso symbol of Zen enlightenment, perfection, and unity. It may also simply evoke a ring created by a pebble dropped into water.
The water reaching the surface appears to come to a standstill, until it cascades over the edge, clinging to the stone sides as it falls. Water Stone, with its unending flow of water up and over the stone, expresses the unity of opposites that underlies the working of nature.
This work of art also appears on Connections: Water
Related