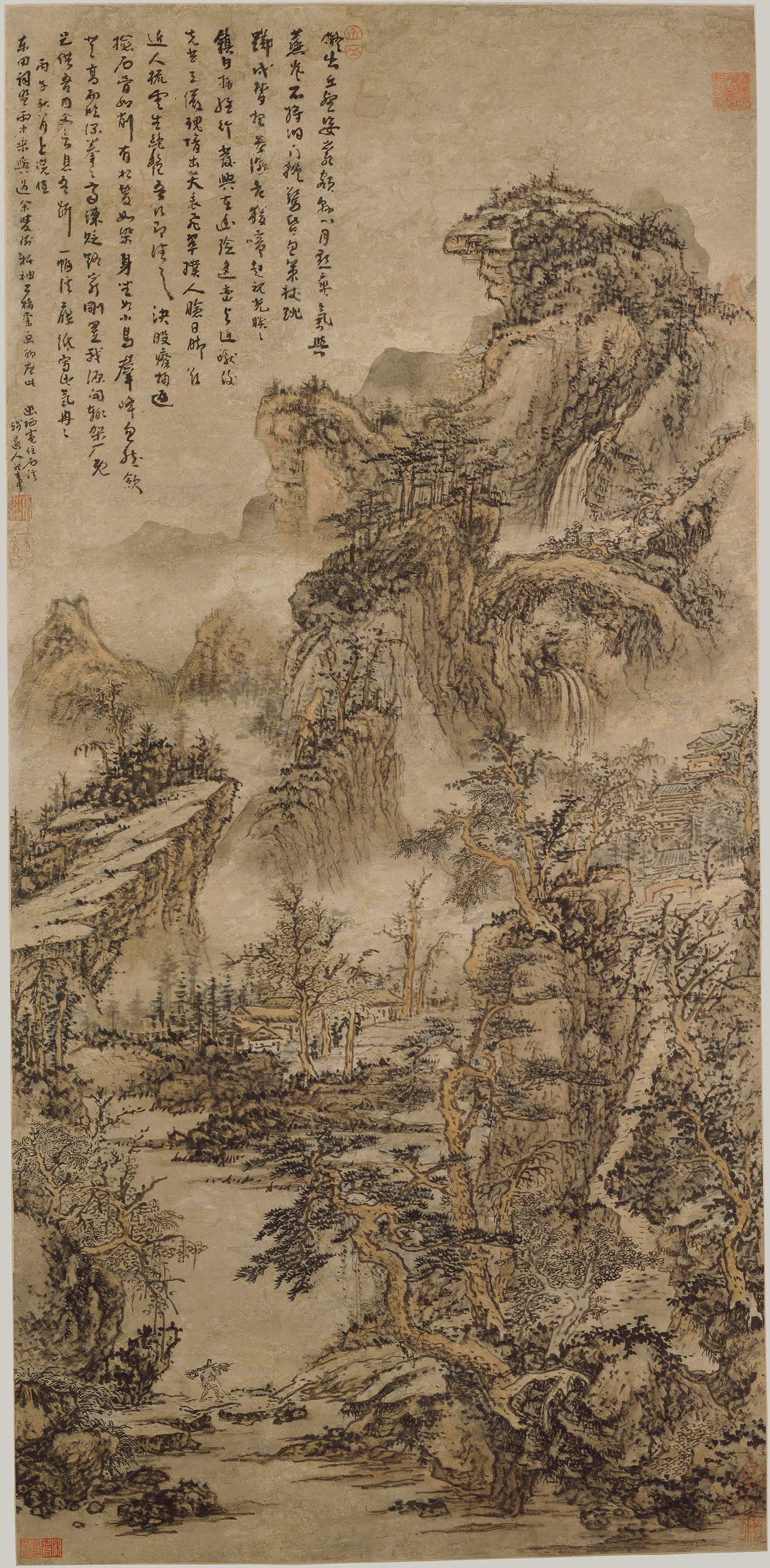 ---
Wooded Mountains at Dusk, Qing dynasty (1644–1911), dated 1666
Kuncan (Chinese, 1612–1673)
Hanging scroll; ink and color on paper; 49 3/4 x 23 7/8 in. (126.2 x 60.6 cm)
Inscribed by the artist
Bequest of John M. Crawford Jr., 1988 (1989.363.129)

Born on the Buddha's birthday, Kuncan took Buddhist monastic vows at the age of twenty-six and became an ardent follower of Chan (Zen) Buddhism. After the establishment of the Qing dynasty, he lived in Nanjing, where his circle of friends included a number of poet-painters who considered themselves loyal yimin ("leftover subjects") of the vanquished Ming dynasty. In 1659, he visited Mount Huang, the scenic "Yellow Mountain" in southern Anhui Province, and, inspired by the beauty of the site, decided to devote himself entirely to painting. For Kuncan, painting was a path to the self, and he brought to his art the importance of selfhood espoused by later Chan practitioners.
Kuncan's landscapes, painted in the densely textured style of the Yuan master Wang Meng (ca. 1308–1385), are often accompanied by inscriptions that describe a physical, as well as spiritual, journey through mountains and over waters. In Wooded Mountains at Dusk, the artist depicted himself as a wandering pilgrim seated beneath a natural rock bridge:
I want to go further,
But my legs are bruised and scratched.
The bony rocks appear chiseled,
The pines look as if they had been dyed.
Sitting down, I feel like a small bird,
As I look out at the crowd of peaks gathered before me.
Having ascended the heights to the brink of the abyss,
I hold fast and ponder the need to sincerely face criticism.
Wherever a road ends, I will set myself down,
Wherever a source opens, I will build a temple.
All this suffices to nourish my eyes,
And rest my feet.
(Translation by Yangming Chu and Maxwell K. Hearn)
Related