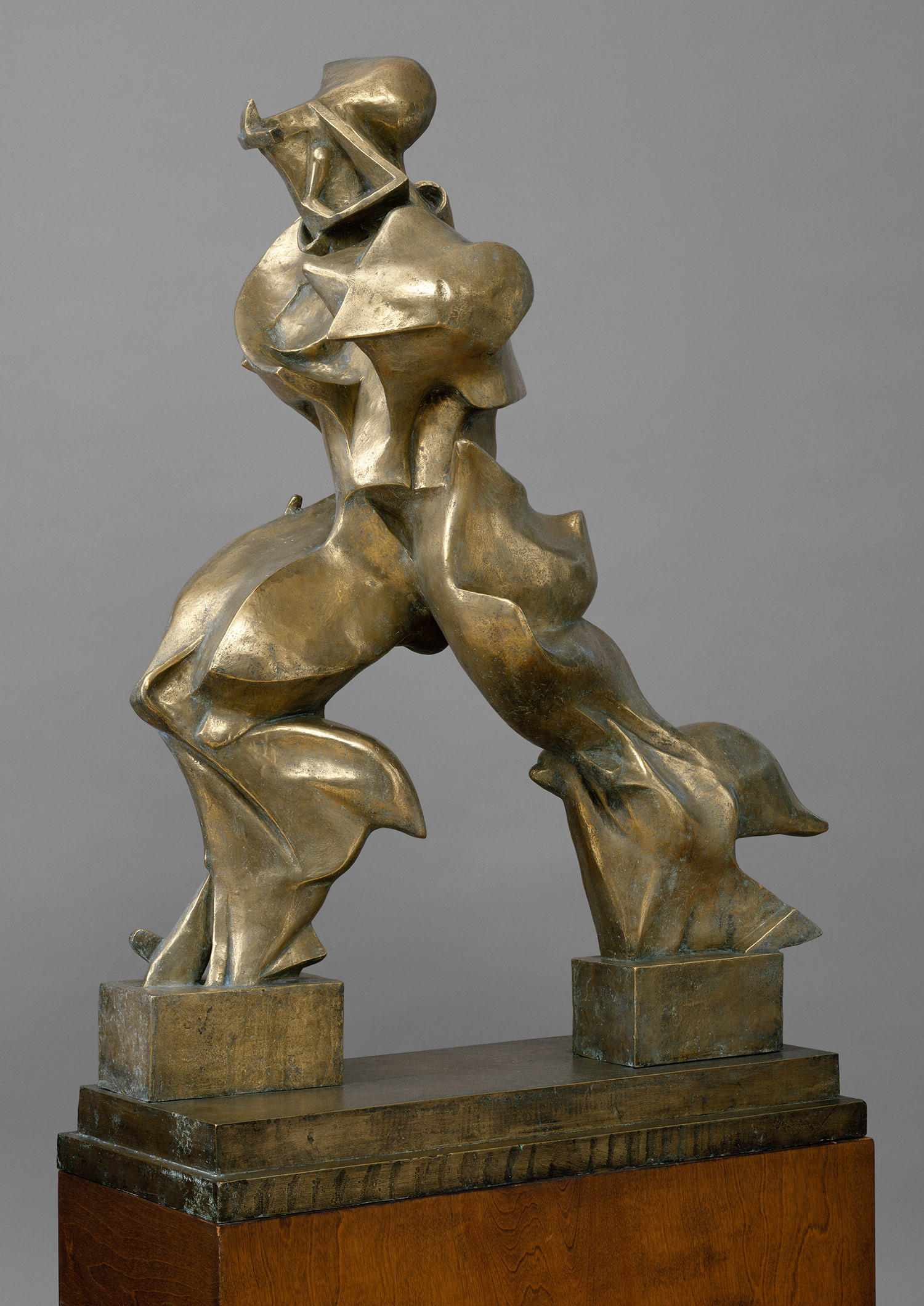 ---
Unique Forms of Continuity in Space, 1913
Umberto Boccioni (Italian, 1882–1916)
Bronze; H. 48 x 15 1/2 x 36 in. (121.9 x 15 1/2 x 91.4 cm)
Bequest of Lydia Winston Malbin, 1989 (1990.38.3)

The Italian Futurist Umberto Boccioni had a short but very productive life. He worked primarily as a painter, but also produced drawings, prints, and sculptures that were similarly infused with the energetic movement that symbolized the modern machine age. By 1905, he was already acquainted with two other Italian artists, Giacomo Balla and Gino Severini, who would later join him as the leading painters of Italian Futurism, and in 1910 he was one of the signers of the first Manifesto of the Futurist Painters and the Technical Manifesto of Futurist Painting.
When Boccioni began working in three dimensions in Paris around March 1912, he wrote to a friend: "These days I am obsessed by sculpture! I believe I have glimpsed a complete renovation of that mummified art." A month later, in Milan, he published the Manifesto tecnico della scultura futurista (Technical Manifesto of Futurist Sculpture) and by June 1913 he had created a significant body of eleven plaster sculptures.
Here, in one of Boccioni's few cast pieces, he creates an anonymous superhuman figure striding purposefully through space, but bound to its architectonic base. Considered the most successful of Boccioni's sculptural experiments, this bronze casting was done posthumously in 1949, from the artist's original plaster (which was never cast during his lifetime). As art historian Joshua C. Taylor wrote: "The figure in Unique Forms of Continuity in Space strides forth, a symbol of vitality and strength, yet its impetuous step rests lightly on the ground as if the opposing air gave the figure wings. It is muscular without muscles, and massive without weight. The rhythms of its forms triumph over the limitations of the human stride to suggest unending movement into infinite space" (Futurism [New York: Museum of Modern Art, 1961], p. 93).
Related