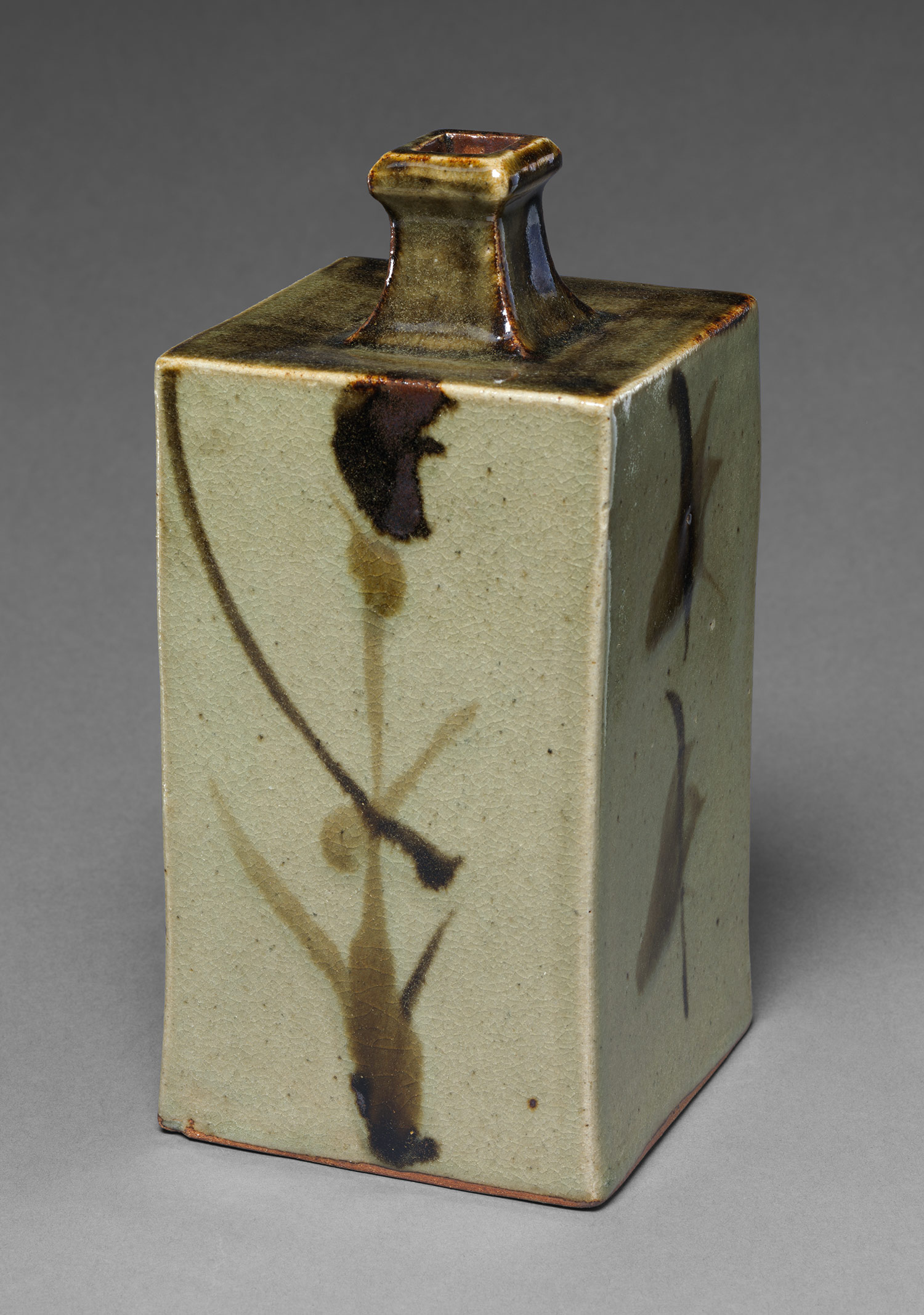 ---
Rectangular bottle, Showa period (1926–89), ca. 1960
Hamada Shōji (Japanese, 1894–1978)
Produced in Mashiko, Tochigi Prefecture
Stoneware with underglaze iron decoration

H. 8 in. (20.3 cm)
Rogers Fund and Richard and Peggy Danziger and Anonymous Gifts, 1994 (1994.289)
Hamada Shōji (1894–1978) was one of the most influential and internationally known folk-art (mingei) ceramicists of the twentieth century. A founder and popularizer of the mingei movement, Hamada traveled, gave lectures, and exhibited his work around the world throughout his life. He founded the Japan Folk Art Association (Nihon Mingei Kyokai) along with the philosopher Yanagi Soetsu (1889–1961) and his lifelong friend and fellow potter Kawai Kanjiro (1890–1966). The mingei movement spoke out against the loss of human touch and spirit imparted to handmade utilitarian objects due to the displacement of traditional artisans by the Industrial Revolution.
Early in his career, Hamada developed a friendship with British potter Bernard Leach (1887–1979), and in 1920 they built a Japanese climbing kiln (noborigama) at Saint Ives in Cornwall. During three years in England, Hamada studied early English ship ware in the collection of the British Museum. He traveled to France, Italy, Crete, and Egypt before returning to Japan in 1924. Hamada established a ceramic studio in the rural town of Mashiko in Tochigi Prefecture, where he dedicated himself to producing simple, functional ceramics that revived Japan's vanishing folk aesthetic. The artist also worked at Tsuboya, a ceramic center in Naha, Okinawa, in 1925. During 1936–37, Hamada, along with Yanagi Soetsu and Kawai Kanjiro, traveled throughout Korea collecting folk ceramics and other articles for exhibition in the Japan Folk Art Museum.
In 1955, Hamada was designated a "Living National Treasure" by the Japanese government for his folk-art style ceramics. A flourishing ceramic center grew up around Hamada's studio at Mashiko and it continues to thrive today.
Hamada's rectangular bottle in the Metropolitan Museum was produced during the height of his career. It demonstrates the confidence of an artisan whose skillful decoration of ceramics has become second nature. Abstract orchids were swiftly and intuitively brushed in iron oxide glaze (tenmoku) across the yellow ash–glazed side panels. In stark contrast to the pale amber body, the flat shoulders and narrow square neck were covered in dark brown glaze. Using a limited pallet of ash and iron oxide glazes, the artist achieved a rich, earthy effect that complemented the weighty stoneware bottle. This rigorous, rectangular form was pressed into a two-piece slab-mold before firing in a multichambered climbing kiln. Hamada enlivened the resulting stable, repeatable form through his boldly improvisational brushwork.
Related