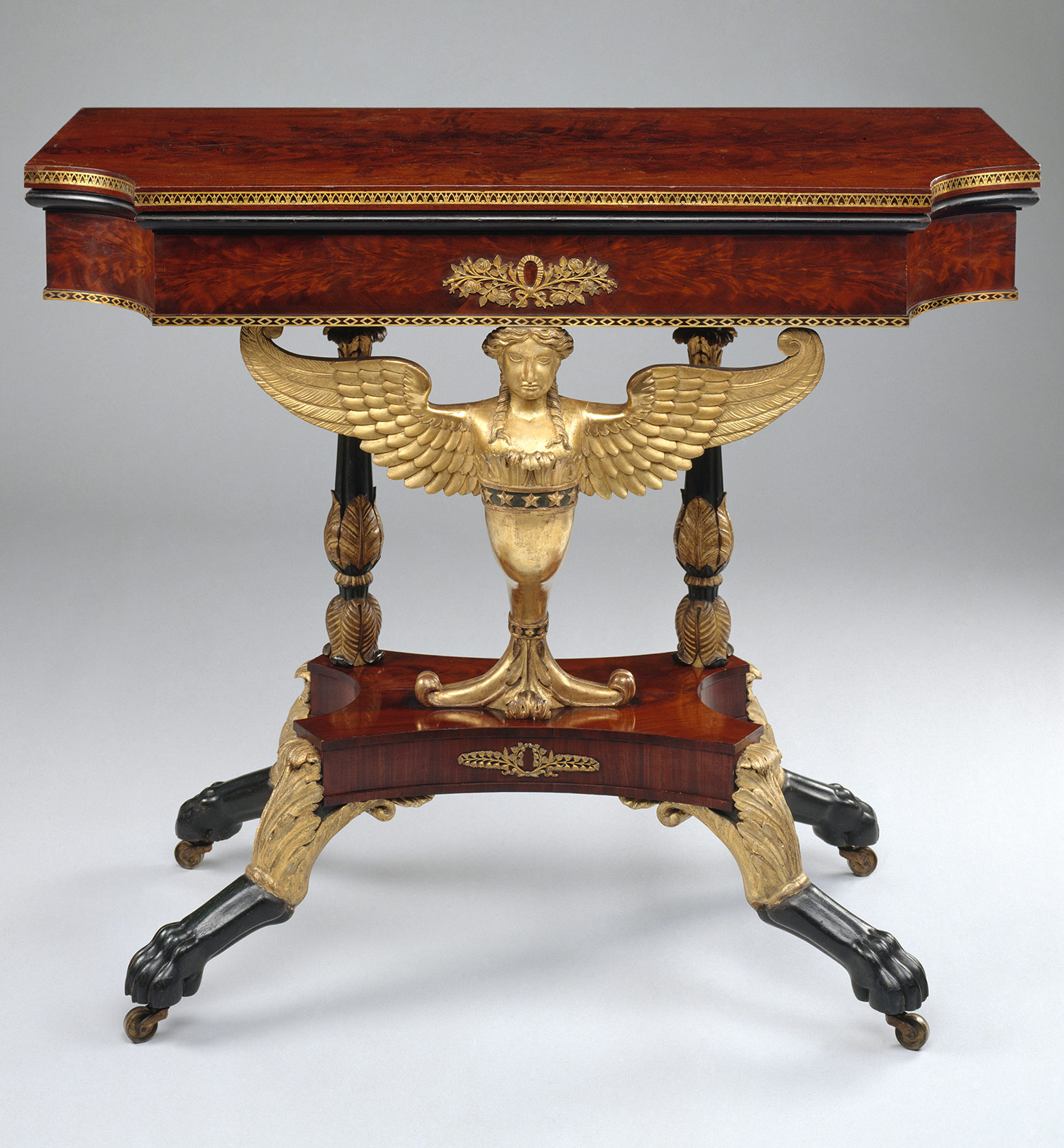 ---
Card table, 1817
Charles–Honoré Lannuier (French, 1779–1819)
New York City
Mahogany veneer, gilded gesso, vert antique, gilded brass with white pine, yellow poplar; 31 1/8 x 36 x 17 3/4 in. (79.1 x 91.4 x 45.1 cm)
Gift of Justine VR. Milliken, 1995 (1995.377.1)
This superlative card table is one of two from a signature series of gilded sculptural pieces by New York's resident French ébéniste of the Federal period, Charles-Honoré Lannuier. The tables are remarkable not only for their exquisite beauty but also because they are signed and dated masterpieces descended in the family of the original owner, Stephen Van Rensselaer IV of Albany.
The tables are believed to be part of a larger commission by the New York City merchant William Bayard that included a nearly identical pair of figural card tables and two pier tables with gilded swan supports, wedding gifts for his daughters Harriet and Maria, who in 1817 married Stephen Van Rensselaer IV and Duncan Pearsall Campbell. The invoice for the Campbell tables survives, revealing how expensive furniture from Lannuier's shop was. The pair of card tables was priced at $250, and the pier table at $300, astonishing sums when a journeyman cabinetmaker's wage was roughly a dollar a day.
The carved caryatids on these tables are bold and forthright and meant to attract attention from across the room. The figures, with their stylized inner wings, relate to the winged orb of Egypt, the symbol of the rising sun, and signify the adaptation of ancient Egyptian motifs in early nineteenth-century design.
The cross brace bears Lannuier's inscription: "Fait a new-york Le 1 May 1817" (Made in New York, May 1, 1817).
This work of art also appears on 82nd & Fifth: Paris - New York
Related