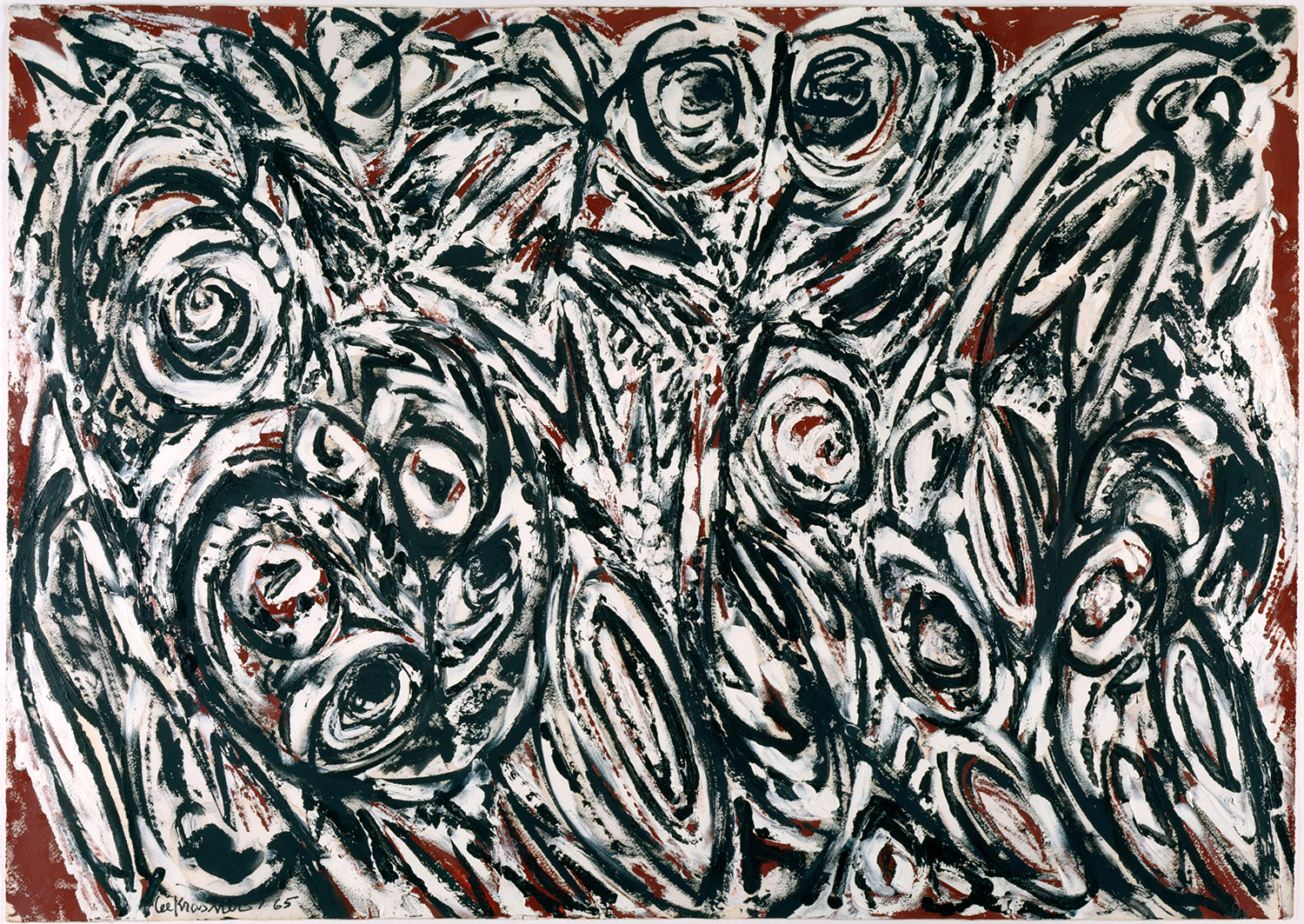 ---
Night Creatures, 1965
Lee Krasner (American, 1908–1984)
Acrylic on paper; 30 x 42 1/2 in. (76.2 x 108 cm)
Gift of Robert and Sarah W. Miller, in honor of Lee Krasner, 1995 (1995.595)
© 2011 The Pollock–Krasner Foundation / Artists Rights Society (ARS), New York

A work of raw intensity, Night Creatures is comprised of a crowded, allover whirl of gestural strokes of paint in which every inch of the surface is fully activated in a rhythmic patterning. This painting on paper is an abstract work, but the curving, linear forms nevertheless seem to coalesce into a web of vaguely suggestive imagery. Menacing (disembodied) eyes and heads emerge out of the crush of primarily black and white brushwork. Somber and haunting, the piece makes a highly emotional impact through its gestural paint handling, rich surface texture, density of interlocking form, and suggestive and menacing nuances of imagery.
Krasner always maintained that her life and work were inseparable. She spoke of the necessity for art to communicate on a profound level: "I am preoccupied with trying to know myself in order to communicate with others. Painting is not separate from life. It is one." Later, she made the connection more explicit: "My painting is so autobiographical, if anyone can take the trouble to read it." Krasner had married fellow artist Jackson Pollock in 1945. Paintings made in the period after his death in 1956 are explosive bursts of feeling, outpourings of loss and grief. This work may be allied with a series she made between 1959 and 1963—Night Journeys—painted at night in the Pollock/Krasner barn studio on their rural property in The Springs, Long Island. At the time, she was going through a period of insomnia and began painting in the middle of the night. She went from working in a palette of saturated, intense color to primarily black and white with some earth tones. She rationalized the chromatic change as a reflection of an exigency: "…I realized that if I was going to work at night, I would have to knock out color altogether, because I wouldn't deal with color except in daylight." But she acknowledged the emotional motivation, too, of a "depressed state." The title Night Creatures was suggested by Detroit art dealer Franklin Siden, who exhibited the work shortly after its completion.
Related