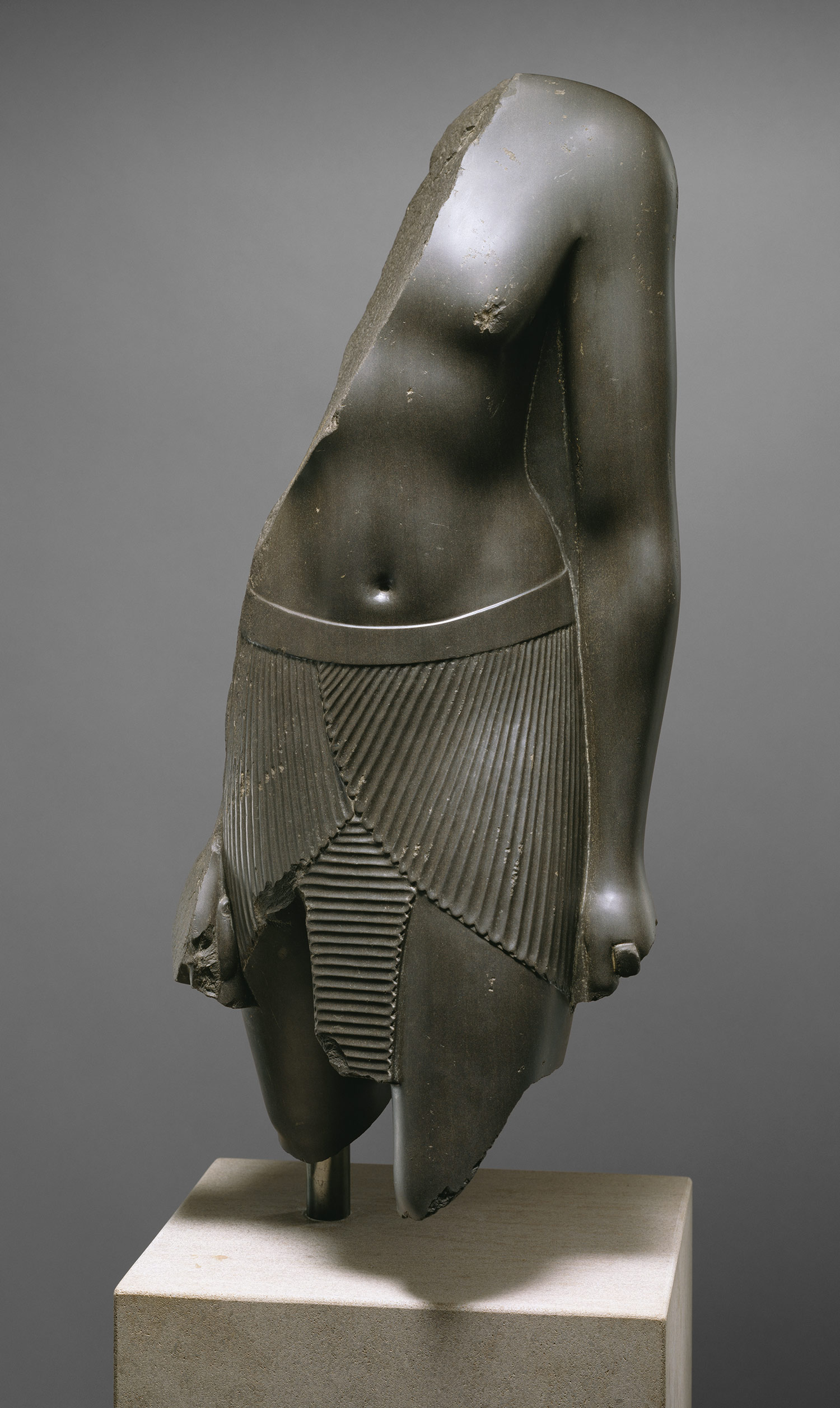 ---
Torso of a striding statue of a general, 4th century b.c.
Egyptian
Schist; H. 27 1/4 in. (69.2 cm)
Purchase, Lila Acheson Wallace Gift, Gift of Henry Walters, by exchange, Asher B. Edelman Gift, Judith and Russell Carson Gift, Ernest L. Folk III Bequest, Ludlow Bull Fund, and funds from various donors, 1996 (1996.91)
With its luxuriously modeled flesh and powerful leg thrust and hip torsion perceptible beneath the surface play of the garment, this torso reaffirms the bold beauty of the traditional striding kilted figure. The sixth century B.C. saw the lapse of this elegantly simple, assertively physical pose. At the beginning of the fourth century, the surge of vitality that brought about the overthrow of Persian domination also initiated a period of artistic renewal, during which this quintessentially Egyptian pose was revived.
The inscription on the back pillar confirms the owner's position at the epicenter of this period's events. It identifies him as a "first generalissimo of His Majesty" and speaks of his role in "driving away the aliens from the one who is on the throne" and restoring "the village[s] that had come to harm done by foreign lands." The text also describes his contributions in restoring the temples of Osiris in the Delta and at Abydos, in one of which this statue perhaps stood. Unfortunately, the owner's name has been lost.
Significant details include a style of frilled kilt first known in the time of Nectanebo I (380–362 B.C.), a rare sculpted forefinger, and an Isis knot incised on the shoulder.
Related