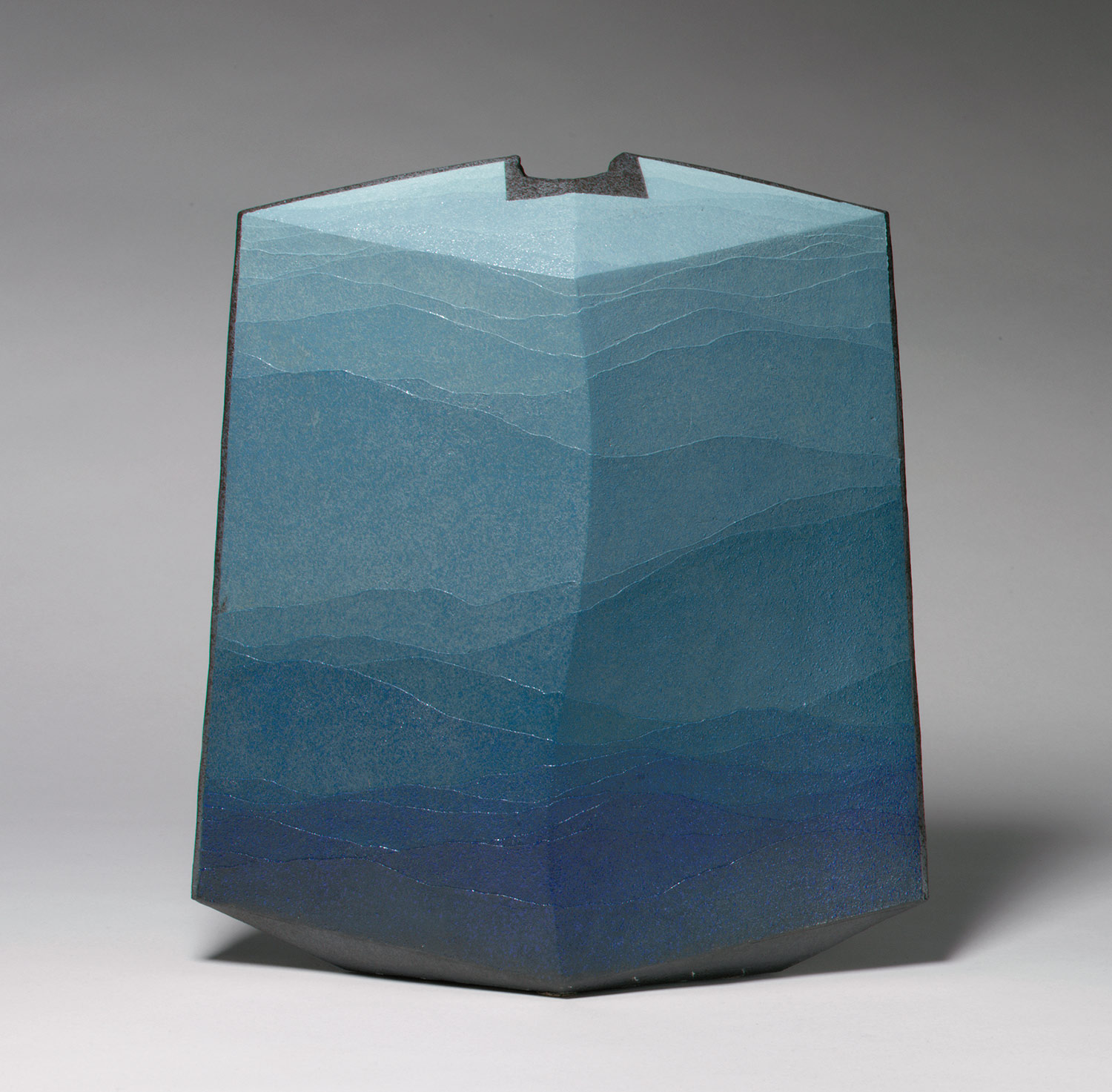 ---
Vase with blue glaze in gradated shades, Heisei period (1989–present), 2001
Miyashita Zenji (Japanese, 1939–2012)
Stoneware with blue glazes; H. 14 1/2 in. (36.8 cm), W. 11 1/2 in. (29.2 cm), D. 5 1/2 in. (14 cm)
Purchase, Barbara and William Karatz Gift, 2001 (2001.732)

Miyashita Zenji grew up assisting his father, Miyashita Zenju (1901–1968), with the production of porcelain ceramics. He eventually found his own approach to clay, exploring its potential to create sculptural vessels that are among the most innovative works of Japanese ceramics today.
The design of this contemporary vase is deceptively simple. Depending upon the perspective from which the vessel is viewed, its silhouette is either angular or curvilinear. The surface pattern reads alternately as receding ocean swells or ascending mountain ranges. The shape is symmetrical, while the surface pattern is asymmetrical. The tension between curved walls and planed surfaces seems to erupt into rippled waves that spread across the surface and reverberate through the structure.
The opposition of geometric and biomorphic form results in an integral, harmonious whole. Miyashita works in the saidei or "colored-technique," a painstaking method of applying overlapping irregular bands of tinted blue clay, in gradated hues from top to bottom. He incorporates cobalt, chrome, and other metallic pigments into the clay, allowing the blue to permeate rather than rest on top of the surface. Serene yet complex, this sculptural vase is at once an aesthetic and functional object.
Related