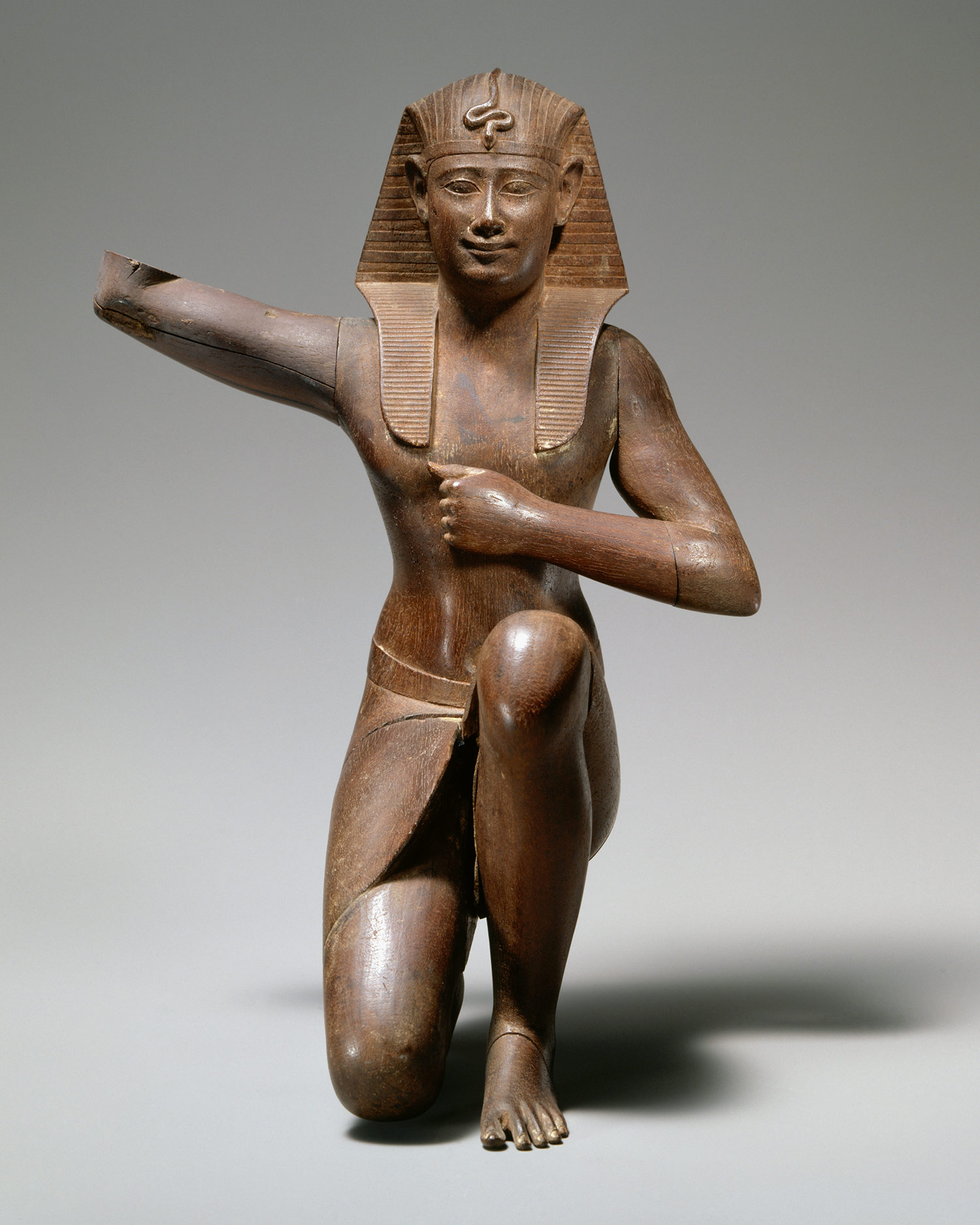 ---
---
Related Multimedia
Philippe de Montebello (Director Emeritus) and Dorothea Arnold (Department of Egyptian Art) discuss Ritual Figure (2003.154) (July 2008).
Ritual figure, 4th century b.c.–early Ptolemaic Period (380–246 b.c.)
Egyptian
Wood, formerly clad in lead sheet; H. 8 1/4 in. (21 cm), W. 5 5/8 in. (14.3 cm)
Purchase, Anne and John V. Hansen Egyptian Purchase Fund, and Magda Saleh and Jack Josephson Gift, 2003 (2003.154)
The fluid pose and chest-beating gesture of this extraordinary figure evokes a stately performance. Egyptian relief representations depict figures like this as part of a troupe of similarly genuflecting divine beings with falcon- and jackal-heads. This troupe is usually seen attending the sunrise or the birth and coronation of a king; and three-dimensional figures of the same type were set around the processional shrines of certain gods, doubtlessly to accompany the epiphany of the deity during a procession.
It is not easy to explain the presence among the animal-headed divinities of the human-headed figure wearing—as seen here—the regalia of a pharaoh. Some scholars interpret the figure as the representation of an actual king. Others understand it as a mythical being that introduces royal aspects into the otherworldly ritual. Whatever its exact meaning, this masterpiece of the wood carver was certainly part of a temple's equipment. Its ritual character was further emphasized by a covering of lead sheet, now vanished.
Related