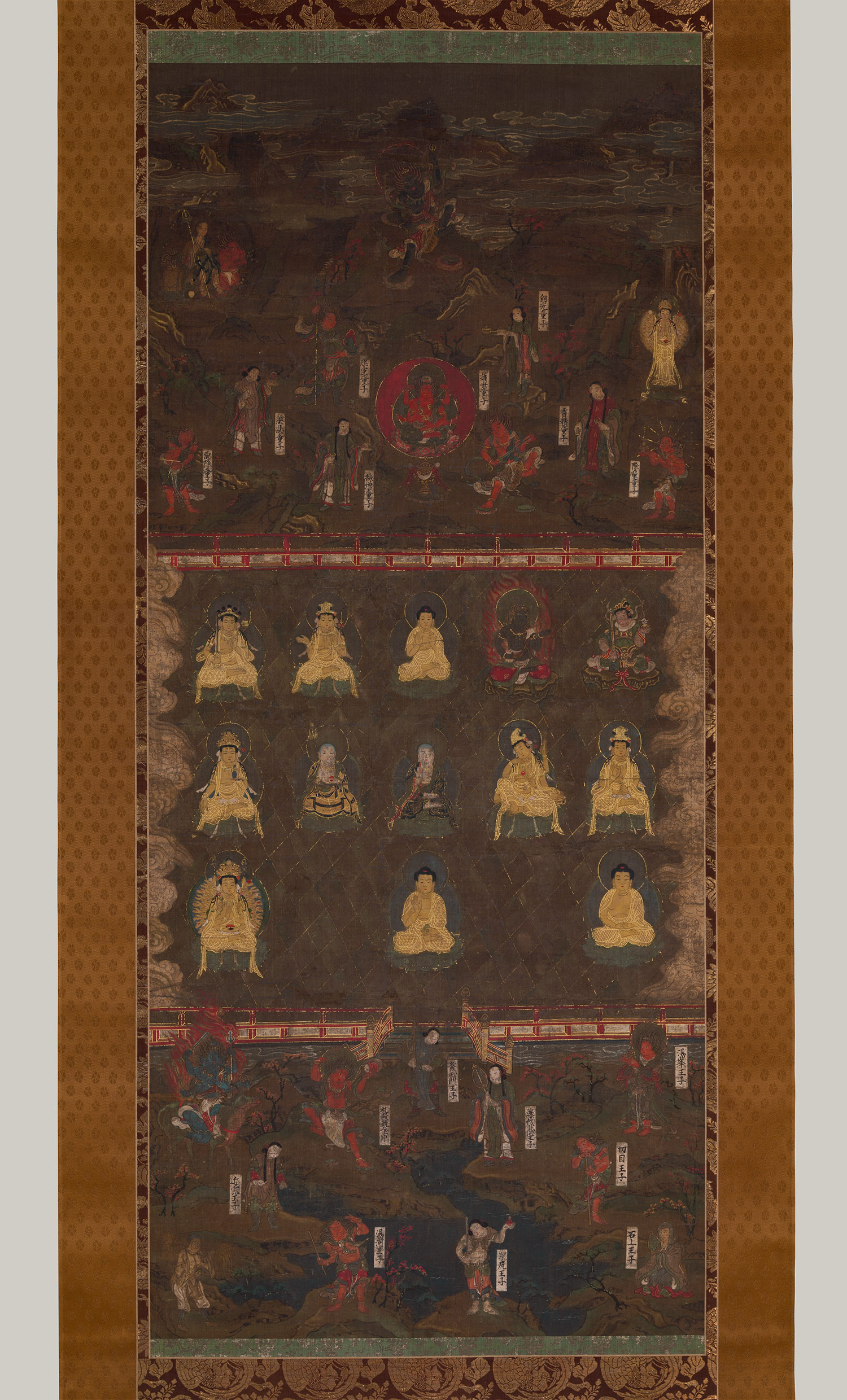 ---
Kumano shrine mandala, Nanbokucho period (1336–92), early 14th century
Japan
Hanging scroll: ink, color, and gold on silk; 51 15/16 x 22 13/16 in. (131.9 x 57.9 cm)
Purchase, Gift of Dr. Mortimore D. Sackler, Theresa Sackler and Family, 2006 (2006.521)

A system of belief considered by many to be Japan's native religion, known today as Shinto, originally had no tradition of anthropomorphic representation of its gods (kami), who are believed to reside in natural phenomena. Combinatory philosophies that reconciled kami worship with Buddhism, and identified kami as manifestations of Buddhist deities, led in the early thirteenth century to the creation of icons modeled after Buddhist schematic representations of the cosmos called mandala. Kumano mandalas represent the Kumano Shrine complex, one of the most sacred sites of kami worship in Japan. The arduous pilgrimage to the remote shrines of Kumano in the harsh mountains at the southern tip of the Kii Peninsula, south of Nara, was a once-in-a-lifetime aspiration for many medieval Japanese. The great obstacles to making such a journey and the desire to express the relationships between the kami of Kumano and their corresponding Buddhist deities inspired the production of Kumano mandalas for worship at aristocratic homes in the capital of Kyoto as substitutes for such journeys.
The greater Kumano complex embraces three shrines; thus, this mandala is divided into three registers, echoing the Main Shrine, New Shrine, and Nachi Shrine. The physical setting of these sacred places, however, is depicted as a continuous landscape, with the exception of the mid-section, which represents a Buddhist temple interior and contains thirteen Buddhas and bodhisattvas who have manifested themselves on Japanese soil as kami. At the top are the northern mountain peaks shrouded in clouds; at the bottom, hills dip into the blue Pacific Ocean. Both kami and Buddhist deities are represented in these sections.
At the right of the top register is Nachi Waterfall, Japan's largest waterfall, whose tutelary deity—Thousand-armed Kannon—is shown in shining gold. Atop the tallest peak is the three-eyed, blue-bodied Zaō Gongen, the tutelary deity of yamabushi (mountain-dwelling practitioners of a cult known as Shugendō). The cult's legendary founder, En no Gyōja, sits in a cave. Eight youthful champions of the yamabushi surround the red-bodied, six-armed Aizen Myōō, a Buddhist deity helpful in achieving love and wealth. In the first row of the middle register are the Buddha Amida (right), the tutelary deity of the Main Shrine; the Buddha Yakushi (center) of the New Shrine; and Thousand-armed Kannon (left) of the Nachi Shrine. In the bottom register are the blue-bodied, bull-riding Daiitoku Myōō, endowed with six arms, six legs, and many heads, who ensures victory in military conflicts, and the red-bodied Shikkongōshin, a fierce guardian of the Buddhist Law. Eight youthful figures and an older monk represent nine of the ninety-nine branch shrines that provided aid to travelers along the long pilgrimage road from the capital leading to Kumano.
Related