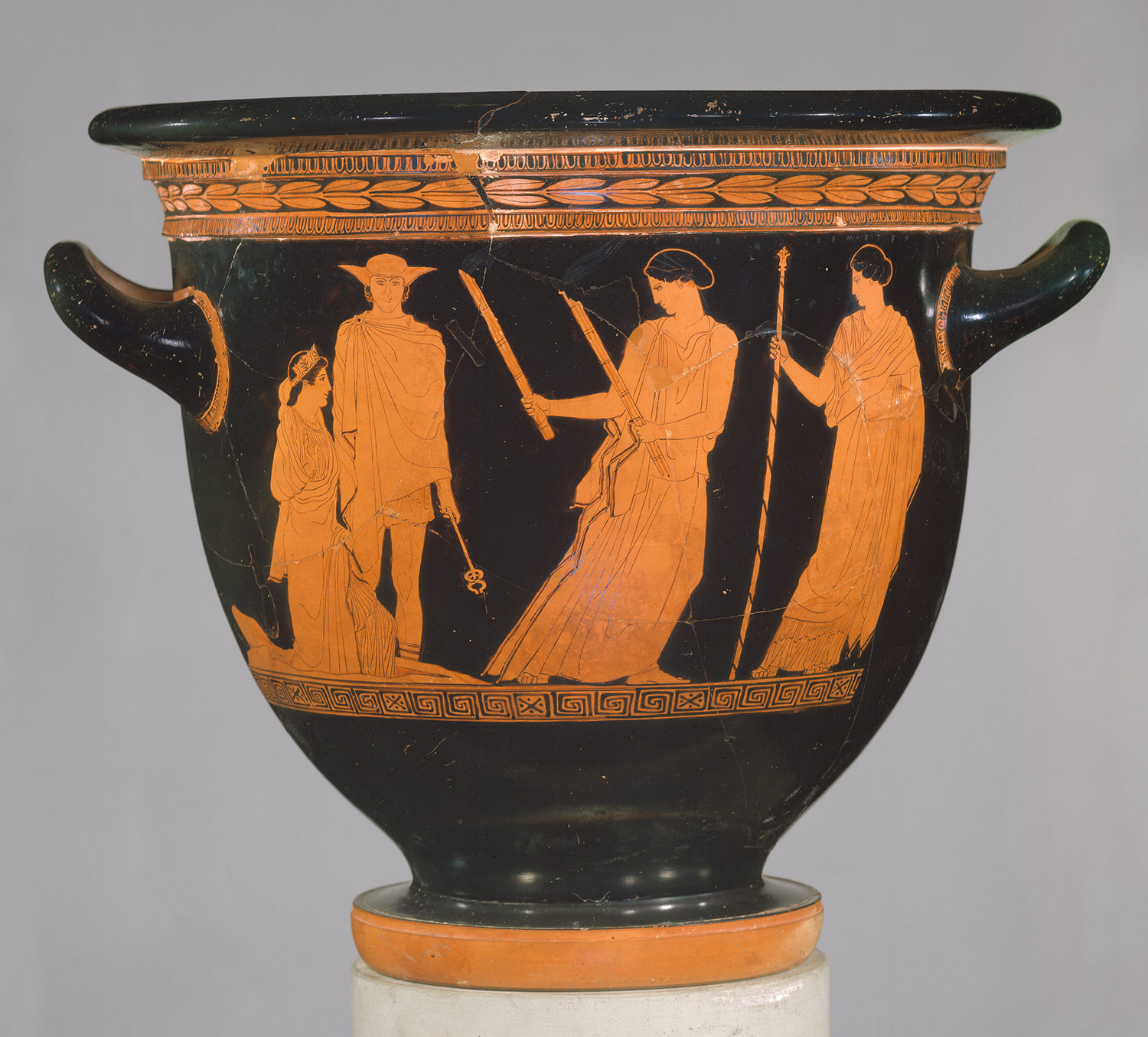 ---
Bell-krater (bowl for mixing wine and water) , ca. 440

b.c.

; Red-figure
Attributed to the Persephone Painter
Greek, Attic
Terracotta


H. 16 1/8 in. (41 cm)
Fletcher Fund, 1928 (28.57.23)

Obverse: The return of Persephone
Reverse: Libation scene
This vessel, known as a bell-krater, was used for mixing wine and water at the Greek symposium.
The scene on the obverse of this bell-krater depicts the return of Persephone to her mother, the goddess Demeter. At the left, Persephone steps up from Hades through a cleft in the ground, as Hermes, messenger of the gods, stands back. The goddess Hekate, "daughter of dark-bosomed night" according to Bacchylides, a Greek poet of the fifth century B.C., occupies the center of the vase holding two flaming torches with which she illuminates Persephone's nighttime journey from the Underworld. Lastly, at the far right stands Demeter. The importance of the nocturnal setting of the scene is underscored by the prominent size of the torches held by Hekate, and emphasized by her central position within the composition.
The scene illustrates one episode from the myth of Persephone's abduction by Hades recounted in the sixth-century B.C. Homeric Hymn to Demeter. From the hymn we learn that Persephone is to spend one-third of the year with her husband in the realm of the dead, and two-thirds of it on earth with Demeter, the goddess who gave the gift of grain to mankind, and who is responsible for the growth of crops. This krater shows Persephone in the midst of her ascent, her return, heralding the arrival of spring and the beginning of growing season. Despite the positive allegorical significance of Persephone's return for ancient Greeks, it was not a well-developed theme in ancient literature. The vivid pictorial conception of this episode, including the deliberate reference to time on this bell-krater, it seems is a strictly visual convention. The root of this iconographical tradition may lie in the fact that the arrival of spring was viewed as an annual, ritual event, and such events were celebrated at night. A clearly defined time therefore was an essential element of the pictorial typology of Persephone's return. Such a detail would have reflected actual cult practice, which would have added a level of tangible realism to the scene for the ancient viewer.
Persephone is seen emerging out of the earth wearing a himation over her pleated linen chiton. Demeter also wears a chiton of crinkled fabric beneath a long himation. With his traveling staff in hand, Hermes dons his characteristic broad-rimmed traveling hat (petasos) and short cloak (chlamys). Hekate, dressed in an open-sided peplos, guides the way with lighted torches.
Women and men in ancient Greece wore the chiton, peplos, and himation in various configurations. With belting, girding, and different methods of draping, they were able to transform the essentially simple construction and configuration of these garments. Many of these variations became codified, and persisted as preferred styles for centuries.
This work of art also appears on Connections: Olympians
Related