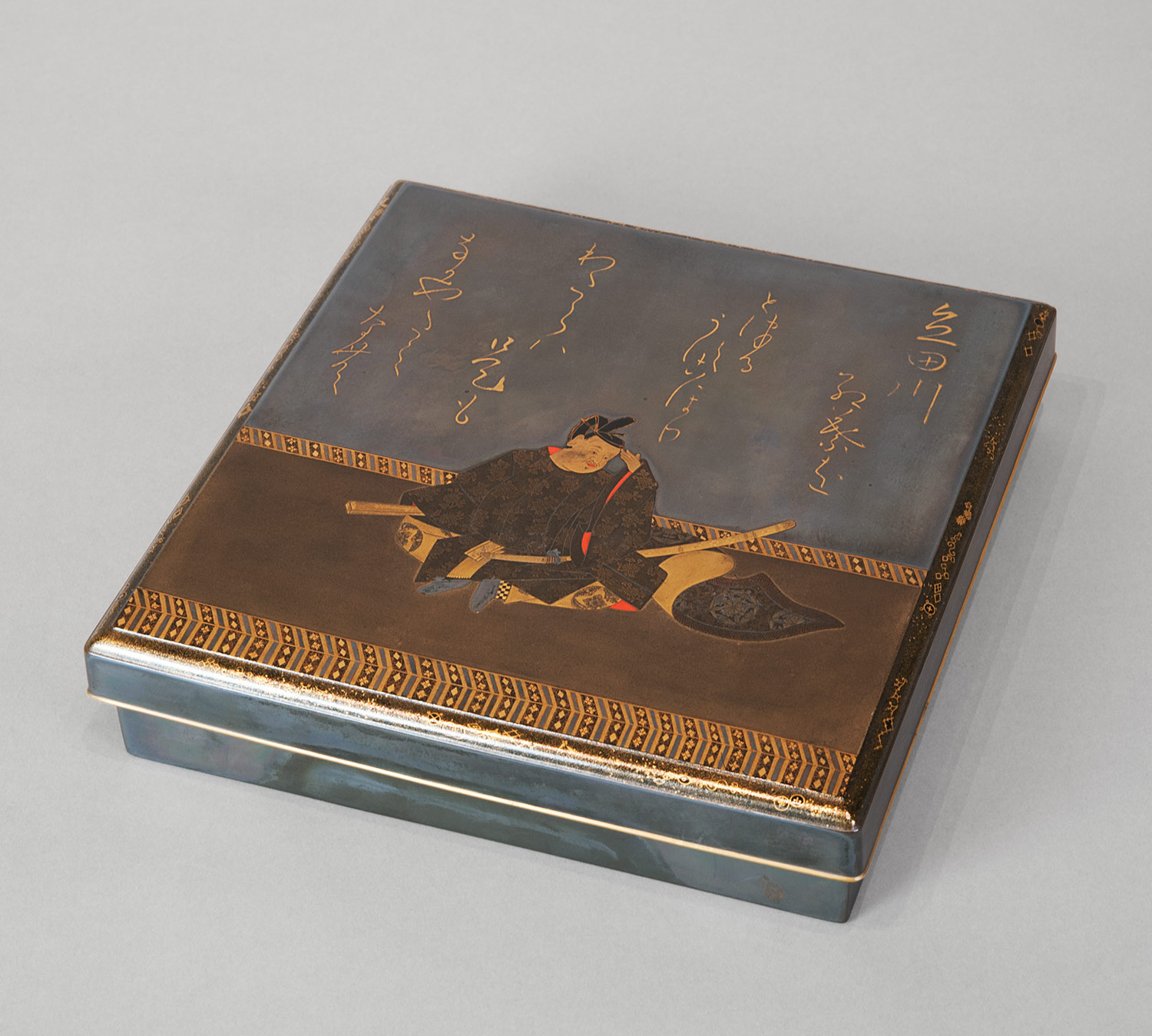 ---
Writing Box with Portrait of Fujiwara no Ietaka and a Poem about the Tatsuta River, Edo period (1615–1868), 18th century
Japan
Lacquered wood with gold and silver hiramaki–e, togidashimaki–e, and red lacquer on silver ground; H. 8 1/2 in. (21.6 cm); W. 8 1/8 in. (20.6 cm); L. 2 in. (5.1 cm)
H. O. Havemeyer Collection, Bequest of Mrs. H. O. Havemeyer, 1929 (29.100.688)
The writing box contains an inkstone, a water-dropper in the shape of a maple leaf, and an inner tray for the writing implements. On the outside of the lid a poem is depicted in fine hiramaki-e, imitating calligraphy in ink. The inside of the box is embellished with colorful maple leaves in a river on nashiji (pear skin) ground. The poem is about the River Tatsuta in Nara Prefecture.
Tatsuta gawa
momiji o tozuru
usugōri
wataraba kore mo
naka ya taenan
On Tatsuta River
a layer of red maple leaves
is trapped within thin ice,
and if we were to go across
the brocade would be torn.
(Trans. John T. Carpenter)
The poem, by Fujiwara no Ietaka (1158–1237), is included in the Minishū anthology of 1245. It is also alluded to in the Noh play Tatsuta: a few Buddhist monks on their pilgrimage meet a young woman, who tells them not to cross the River Tatsuta, as it will destroy the maple brocade frozen into the ice. She then takes them into the Tatsuta Shrine, where they see a sacred maple tree that has crimson leaves despite the winter season. Later, she reveals that her appearance is only a disguise of a Shinto deity (kami). At night, the deity appears and performs a stately kagura dance.
Related