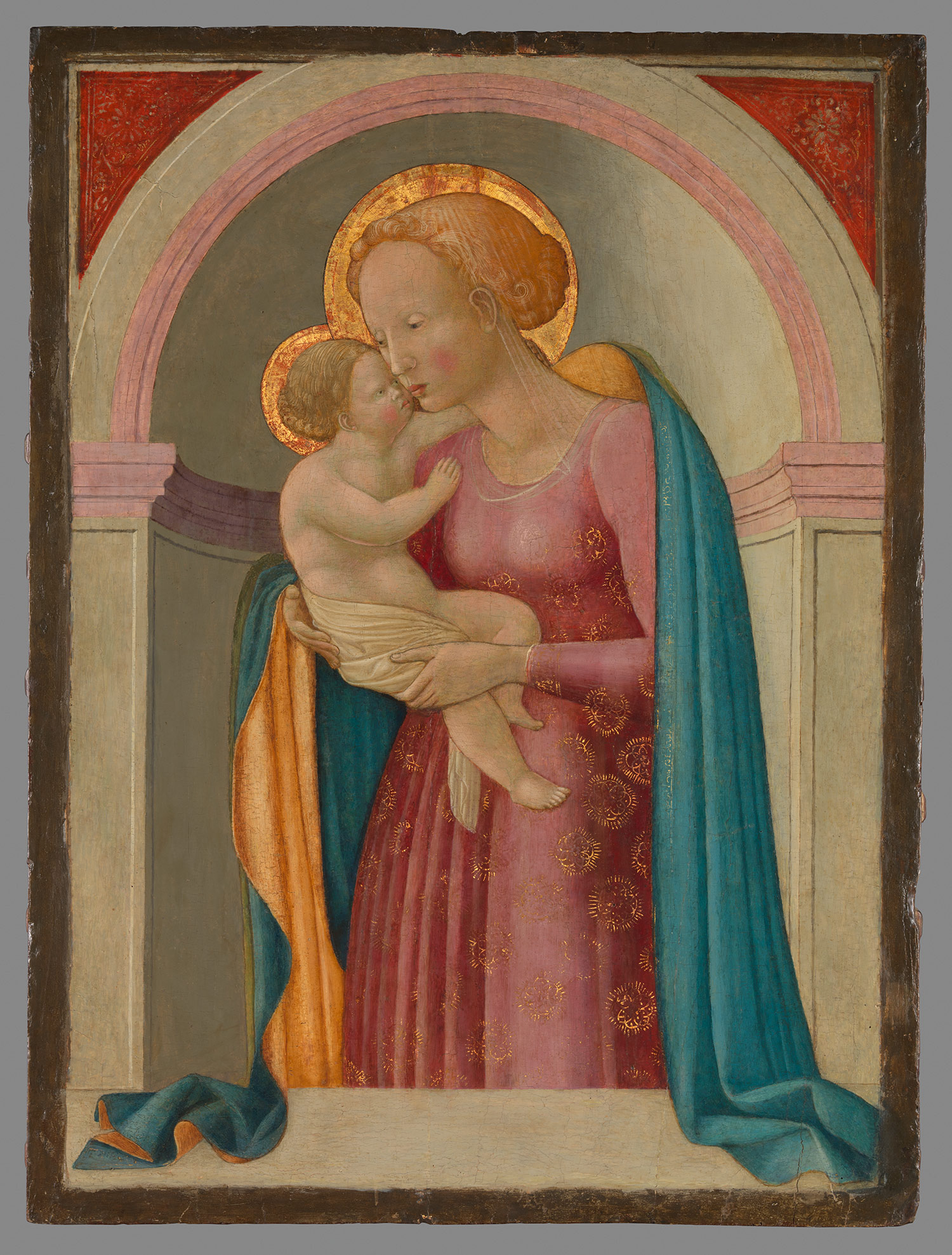 ---
Virgin and Child, ca. 1444–46
Pesellino (Francesco di Stefano) (Italian, Florentine, ca. 1422–1457)
Tempera on panel

29 5/8 x 22 1/4 in. (75.2 x 56.5 cm)
Theodore M. Davis Collection, Bequest of Theodore M. Davis, 1915 (30.95.254)
This painting was long attributed to the Master of the Lanckoronski Annunciation but is now recognized as the work of Pesellino, executed while he was apprenticed in his grandfather's studio. The beauty of the composition has been compromised by damage. The flat, gilded haloes appear to be old restorations, replacing painted haloes that were foreshortened to create a greater effect of spatial recession.
The artist known as Pesellino was born Francesco di Stefano in Florence about 1422. Following the death of his father, before 1427, he was raised by—and later apprenticed to—his maternal grandfather, the painter Giuliano d'Arrigo, called Il Pesello, from whose name the diminutive, Pesellino, is derived. Giuliano d'Arrigo died in 1446, leaving his workshop to his grandson, who may have shared it briefly with Zanobi Strozzi, recently arrived in Florence from Fiesole. In 1453, Pesellino formed a business partnership with the artists Piero di Lorenzo and Zanobi del Migliore, and in 1455 he accepted the commission for the only documented painting by him that survives, an altarpiece of the Trinity now in the National Gallery, London. Pesellino died at the age of thirty-five in 1457.
Over the course of his brief career, Pesellino successfully adapted to his own the styles of several major artists, primarily Fra Angelico and Fra Filippo Lippi. Fra Angelico was the preeminent Florentine painter during Pesellino's formative years, and Pesellino seems to have enjoyed a short-term partnership (1446—48) with Angelico's sometime assistant Zanobi Strozzi. By 1450, he had swung decisively into the orbit of Fra Filippo Lippi, producing the works of art by which he is best known and most appreciated today. Pesellino's self-conscious efforts at blending these disparate strains of Florentine painting proved to be highly influential for the following generation of artists in Florence, who more often than not based their own efforts on Pesellino's example rather than on those of either of his predecessors.
Related