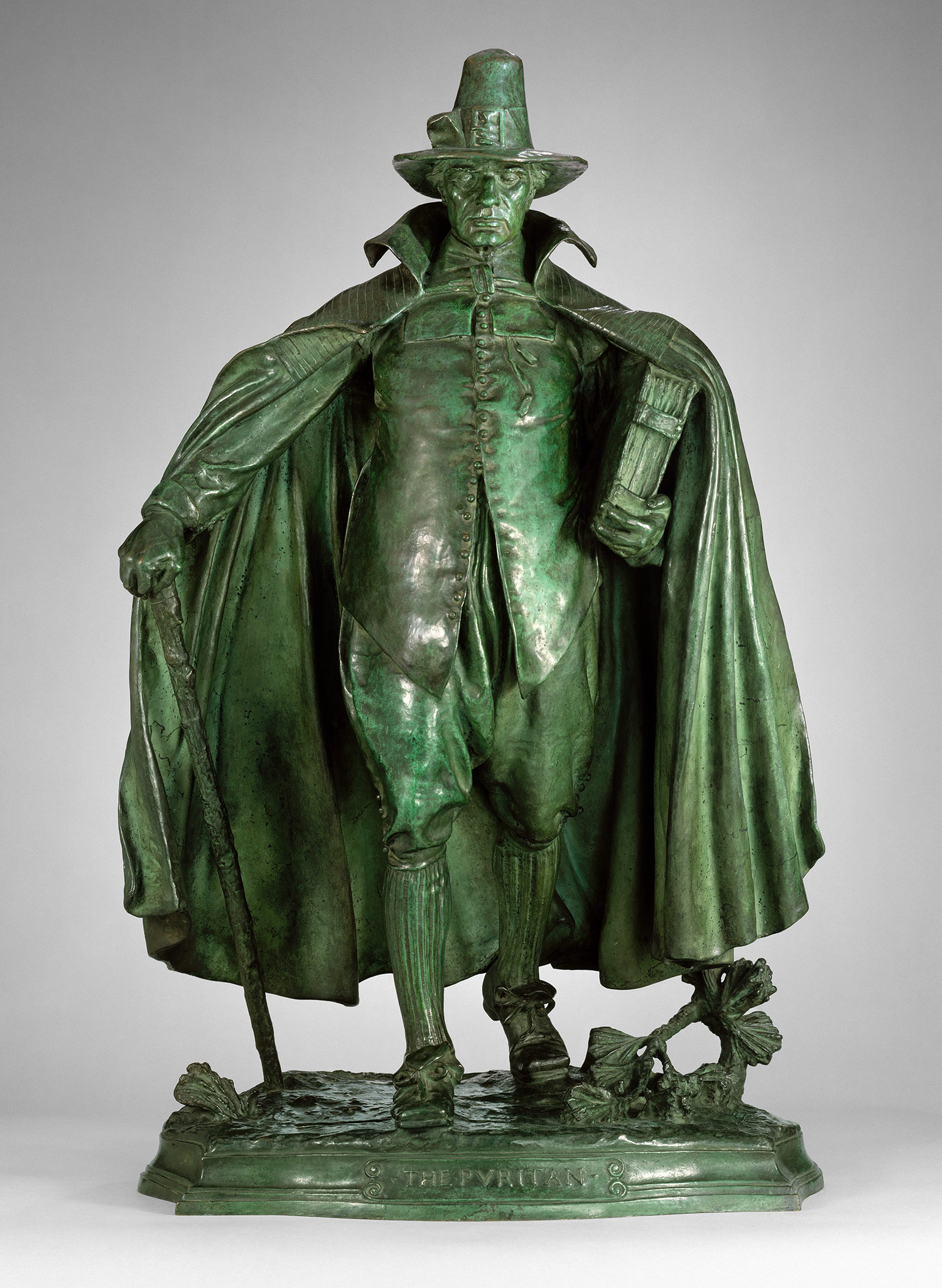 ---
The Puritan, 1883–86; this cast, 1899 or after
Augustus Saint–Gaudens (American, 1848–1907)
Bronze; 30 1/2 x 18 1/2 x 13 in. (77.5 x 47 x 33 cm)
Bequest of Jacob Ruppert, 1939 (39.65.53)

In 1881, Saint-Gaudens was commissioned by Chester W. Chapin, a railroad tycoon and congressman, to sculpt a large-scale bronze likeness of an ancestor, Deacon Samuel Chapin (1595–1675), one of the three founding fathers of Springfield, Massachusetts. The sculptor wrote in his Reminiscences that: "The statue … was to represent Deacon Samuel Chapin, but I developed it into an embodiment … of the 'Puritan.'" On Thanksgiving Day 1887, The Puritan was unveiled on Stearns Square in Springfield, at one end of a site designed by Stanford White. In The Puritan, Saint-Gaudens successfully translated an abstract idea into three-dimensional form. Indeed, in The Puritan Saint-Gaudens dramatically conveyed the dedication, fortitude, and upright morals with which the founders of the Massachusetts Bay Colony were synonymous. Deacon Chapin grasps a Bible in studded binding under his left arm, as he strikes forward with a knotty walking stick across the pine-strewn New England wilderness, symbolized by a few scattered branches on the base. His voluminous cape with curling collar envelops his figure. The broad brim of the buckled steeple hat casts a deep shadow over the deacon's eyes and echoes the wide mouth and square jaw. About 1894, Saint-Gaudens resolved to make reductions after the full-size Puritan, because of the statue's popularity and for the income he would derive. Located reductions, which number more than twenty-five, reveal minor alterations to the figure that add energy and soften the facial expression.
Related