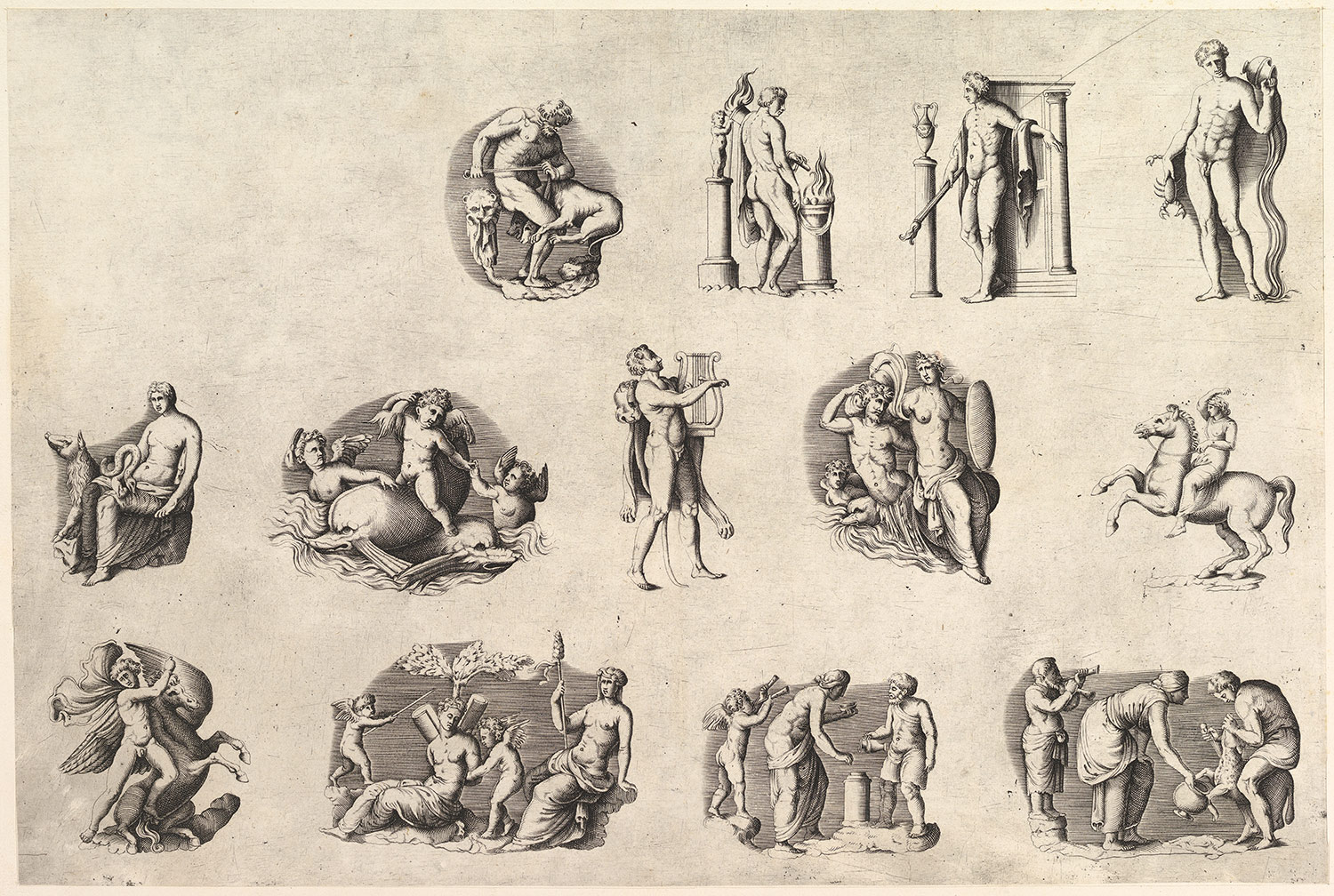 ---
Subjects after Antique Cameos and Gems, 16th century
Italian
Engraving, 1st state
Harris Brisbane Dick Fund, 1941 (41.72[2.169])
This print illustrates a number of playful scenes derived from a group of antique carved gems and cameos. The sheet is part of a series of three engravings, which comprehensively depict thirty-eight antique pieces once in the collection of the Patriarch of Aquileia, Giovanni Grimani (1501–1593).
In Venice, near the Church of Santa Maria Formosa, Grimani created an imposing palace-museum that housed hundreds of Greek and Roman sculptures together with a renowned collection of engraved gems and cameos. The Grimani collection had first been assembled by the Cardinal Domenico Grimani (1461–1523), a prominent humanist and collector who, at the time of his death, left his cameos and carved gems to his favorite nephew, the Cardinal Marino Grimani. Marino died heavily in debt in 1546, and his collection of antique intaglios was confiscated by papal authorities in Rome. Yet in 1551, Marino's brother Giovanni was able to reclaim it for a large sum of money and to return the family collection to Venice.
In the years following the arrival of the collection in Venice, two artists, Battista Franco (ca. 1510–1561) and Enea Vico (1523–1567), each undertook the preparation of a series of engravings illustrating a selection of the Grimani gems. The original prints were quite successful and were copied and reissued in several editions in the following decades. This engraved sheet, illustrating thirteen of the antique scenes from the Grimani gems and cameos, was likely published at the end of the sixteenth century after Franco's and Vico's original sets of images.
The printed images vividly document the extraordinary richness of figural motifs carved on the Grimani ancient intaglios and cameos. A number of these scenes became sources of inspiration for the stucco decoration of the main staircase in the Grimani palace executed by the Roman artist Federico Zuccari (1542–1609). The illustrations of the Grimani gems and cameos by Franco and Vico are of particular importance as they were among the first Renaissance attempts to render in print a collection of antiquities. These detailed engravings make it possible today to identify a number of the Grimani antique gems and cameos that are still preserved in museums around the world.
Related