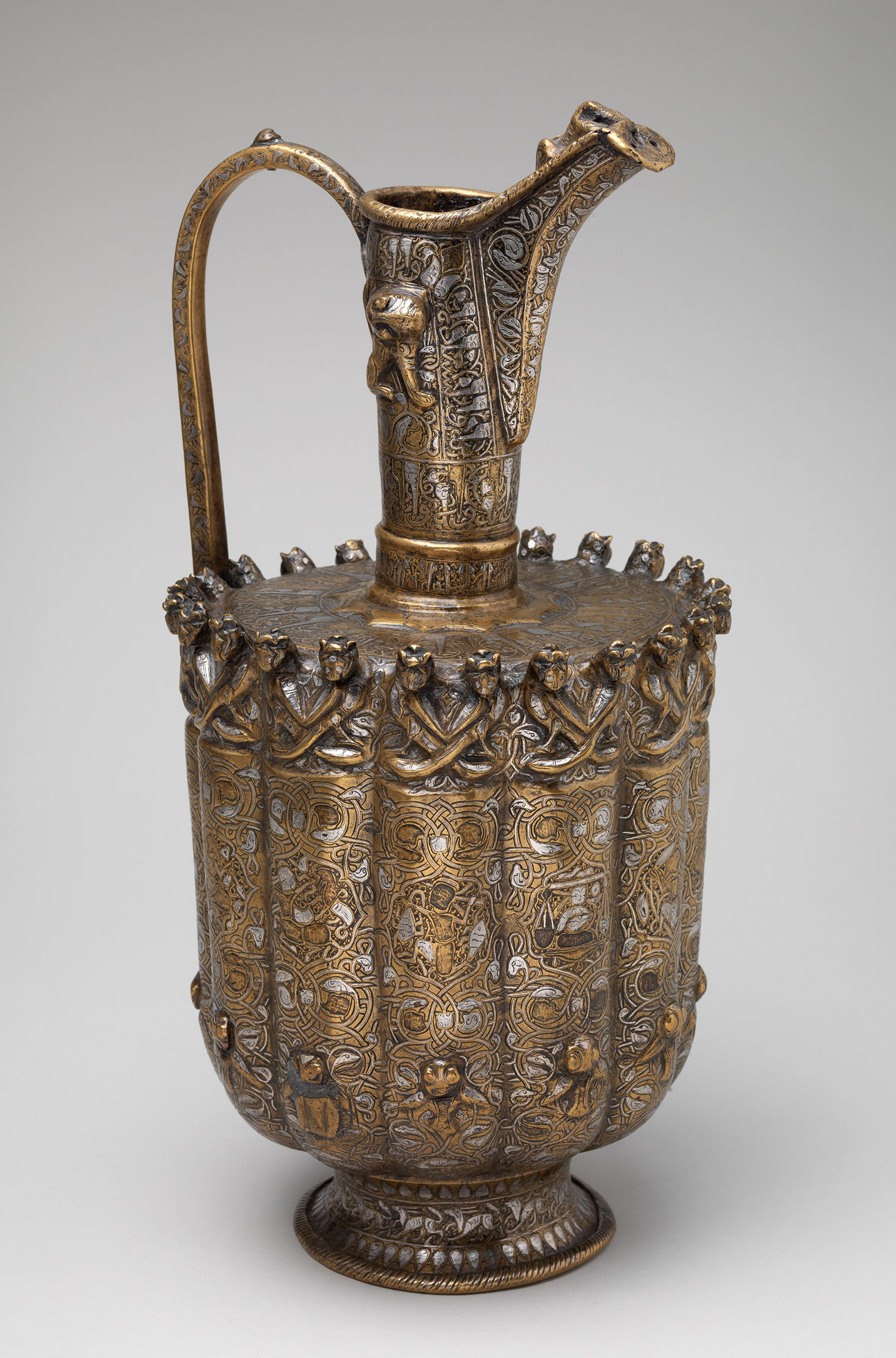 ---
Ewer, Seljuq period (1040–1196), ca. 1180–1210
Iran, Khurasan
Brass; raised, repoussé, inlaid with silver and black compound; H. 15 3/4 in. (40 cm), Diam. 7 1/2 in. (19.1 cm)
Rogers Fund, 1944 (44.15)
One of the finest and most elaborate metal objects of the Seljuq period, this ewer is decorated with many motifs popular on Seljuq art in general and on metalwork of this period in particular, including the signs of the Zodiac, the waq-waq (animal-headed scroll) motif, harpies, and Arabic inscriptions in human-headed naskhi script. Its attribution to the late twelfth century is supported by a very similar object that is dated 1181, presently in a museum in Tbilisi, Georgia.
On this ewer, each Zodiac symbol is shown with its Planetary Lord, that is, the planet that presides over each sign and affects those born under it. These assignments are traditionally the Sun for Leo, the Moon for Cancer, Mercury for Gemini and Virgo, Venus for Taurus and Libra, Mars for Aries and Scorpio, Jupiter for Sagittarius and Pisces, and Saturn for Capricorn and Aquarius. Thus Aries (al-hamal, "the lamb"), is shown with Mars, who sits astride the animal, holding a sword in his right hand and a severed head in his left.
Said the Wise Abu Macshar: "Those born under this decade have a white complexion and are good-natured. If they come under the influence of Venus, their complexion is oily, their beautiful eyes are blue black, and their arms are well proportioned. They have a mark on their hand, thigh, and hips. They are fearful of being abandoned. The cause of their death will be related to the abdomen. An illness will affect them when they are young, but their life will be quite long. They will have other problems when they are sixty but, again, their life will still be long. Allah the Highest knows more..."
Related