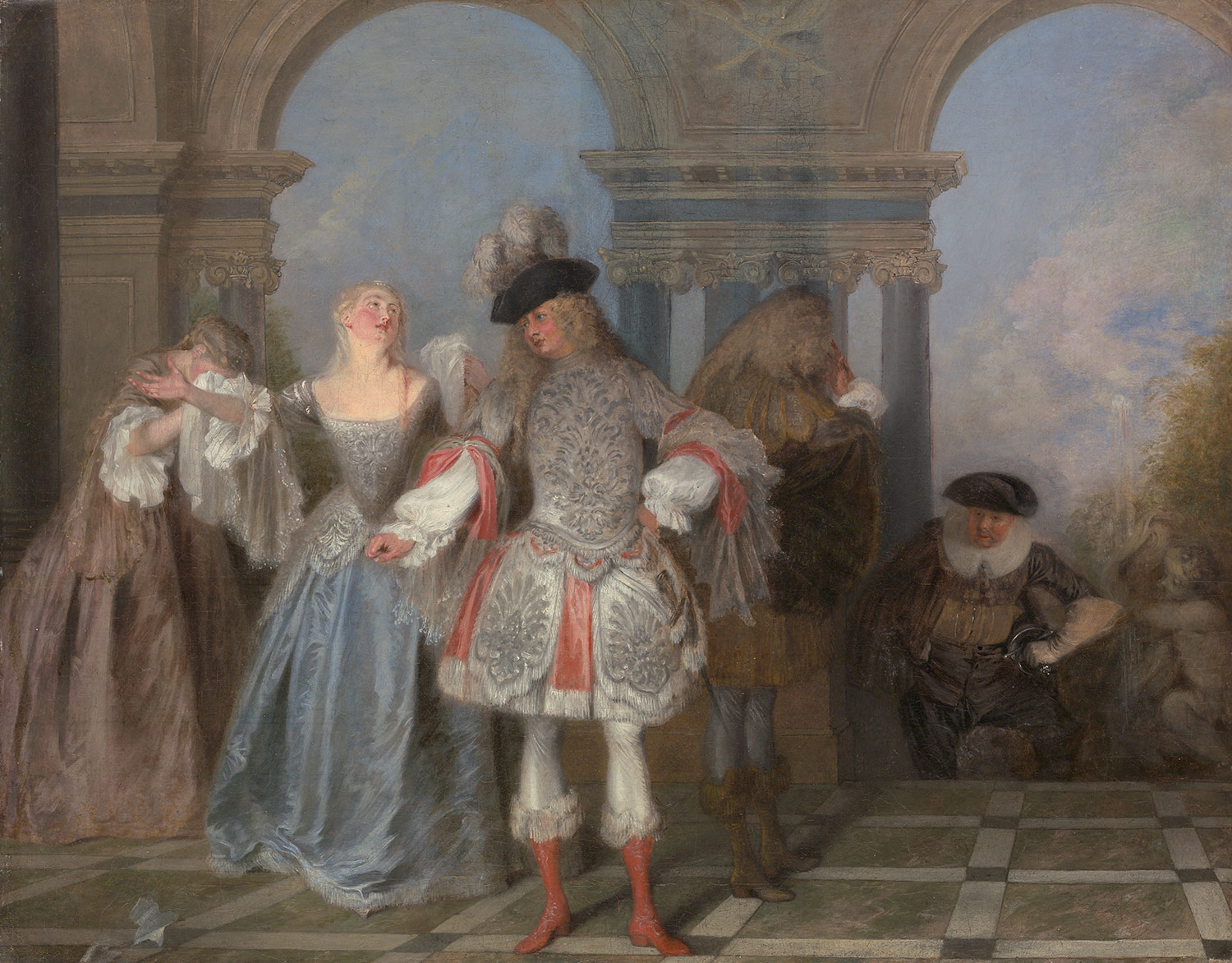 ---
The French Comedians, 1720–21
Jean Antoine Watteau (French, 1684–1721)
Oil on canvas; 22 1/2 x 28 3/4 in. (57.2 x 73 cm)
The Jules Bache Collection, 1949 (49.7.54)
Watteau did not participate in public exhibitions, nor title his pictures, whose meaning is often difficult to fathom. This late work is clearly a theatrical subject, and as he is known to have made drawings of comic actors and quacks from an early age, he must have been interested in the theater throughout his short life. In December 1731, ten years after he died, the Paris journal Mercure de France announced the publication of an engraving after the painting, calling it "des Comédiens François, représentant une tragi-comédie" ("some French comedians, performing a tragicomedy") The print, by Jean Michel Liotard (1702–1796), which was issued later, is inscribed in French and Latin with the title by which the picture is still known.
Early eighteenth-century Paris was alive with theater. The Comédie Française staged two plays a day, alternating tragic and comic subjects, during the season. While the Comédie Italienne had been dismissed and their theater closed in 1697, many of the disenfranchised actors performed with itinerant companies at the various fairs in and on the outskirts of the city. Watteau is known to have been acquainted with the comic actor Paul Poisson (1658–1735) of the Comédie Française, who was among the most famous interpreters of the role of Crispin, a lugubrious and interfering manservant. Here, Crispin climbs the stairs from the formal garden in the background at the lower right. He is a heavy-set figure wearing, as usual, a black suit and hat, a wide leather belt, leather gloves, and a sword at his waist. However, generally speaking, Watteau did not paint portraits, but rather from the model, and there is no compelling evidence for identifying Poisson as the sitter here.
The principal figure wears a formal costume of a sort Watteau rarely depicted: its old-fashioned style looks back to the reign of Louis XIV (1638–1715) and the operatic designs of Jean I Berain (1640–1711). In the eighteenth century, this costume—the plumed hat, wig, and fringed, skirted silver garment lavishly embroidered with palmettes—would have been understood as appropriate for a subject from antiquity. It is impossible to tell whether the gestural language suggests tragedy or absurdity, or whether, as seems likely, Watteau intended to leave his audience in a state of uncertainty.
This work of art also appears on Connections: Performance
Related