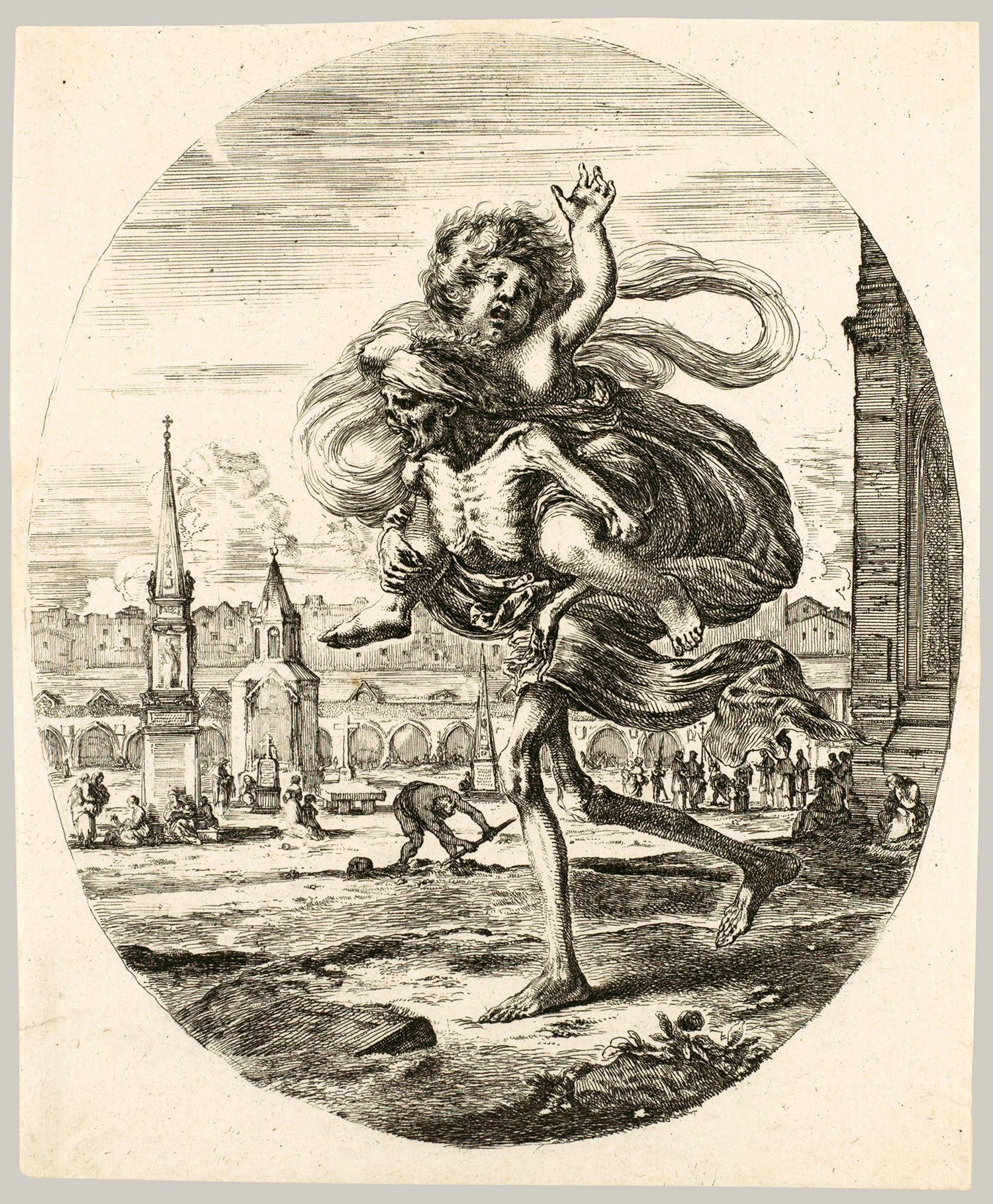 ---
Death Carrying a Child, ca. 1648
Stefano della Bella (Italian, Florentine, 1610–1664)
Etching; Sheet (trimmed within platemark): 7 x 5 13/16 in. (17.8 x 14.7 cm)
The Elisha Whittelsey Collection, The Elisha Whittelsey Fund, 1959 (59.570.379.3)

Stefano della Bella was one of the most talented and prolific printmakers of the seventeenth century. Unlike most etchers of his time, who had careers as painters, della Bella devoted himself almost exclusively to printmaking, although he is also famed for the spirited drawings he made in preparation for his prints. Despite their higher degree of finish, his etchings retain much of the fluidity and dynamism of his drawings. Late in his career, he even experimented with a way of duplicating in his prints the tonal washes of his drawings. Della Bella's etchings are especially admired for their rich textures and atmospheric effects and for a wide range of subject matter depicted in a direct and engaging way. Soldiers, beggars, satyr families, animals, gardens, ruins, splendid festivals, and scenes of everyday life are among the artist's themes. He also produced a set of mythological playing cards intended for the instruction of the young Louis XIII and a series of inventive ornamental cartouches. Della Bella was supported by the Medici for many years, primarily in Florence, but also in Rome, where his patron Don Lorenzo sponsored a period of study in the mid-1630s. In 1639, the etcher traveled to France with the ambassador of the grand duke of Tuscany and remained there for over a decade.
It was probably during his last years in France that della Bella began an updated and abbreviated version of the Dance of Death. This typically Northern and medieval subject usually showed Death in a variety of situations, carrying away victims of every age and walk of life. It appears that, while in France, the Florentine printmaker etched four oval scenes of Death's conquest, including Death Carrying a Child, three of which take place in cemeteries and the fourth on the battlefield. A horizontal version of Death triumphing in war probably also dates to these years. At the end of his life, della Bella took up the theme again, creating three more episodes in the oval format—two of these were left incomplete at his death. In the early prints particularly, Death is as energetic as he is ruthless—here he rushes into the cemetery bearing a screaming and struggling child. The setting is the Cemetery of the Innocents in Paris, a site with which della Bella was undoubtedly familiar, since many publishers and print dealers had their shops on the ground floor of the charnel houses.
The Metropolitan Museum of Art has a preparatory drawing (1983.137) for this etching.
Related