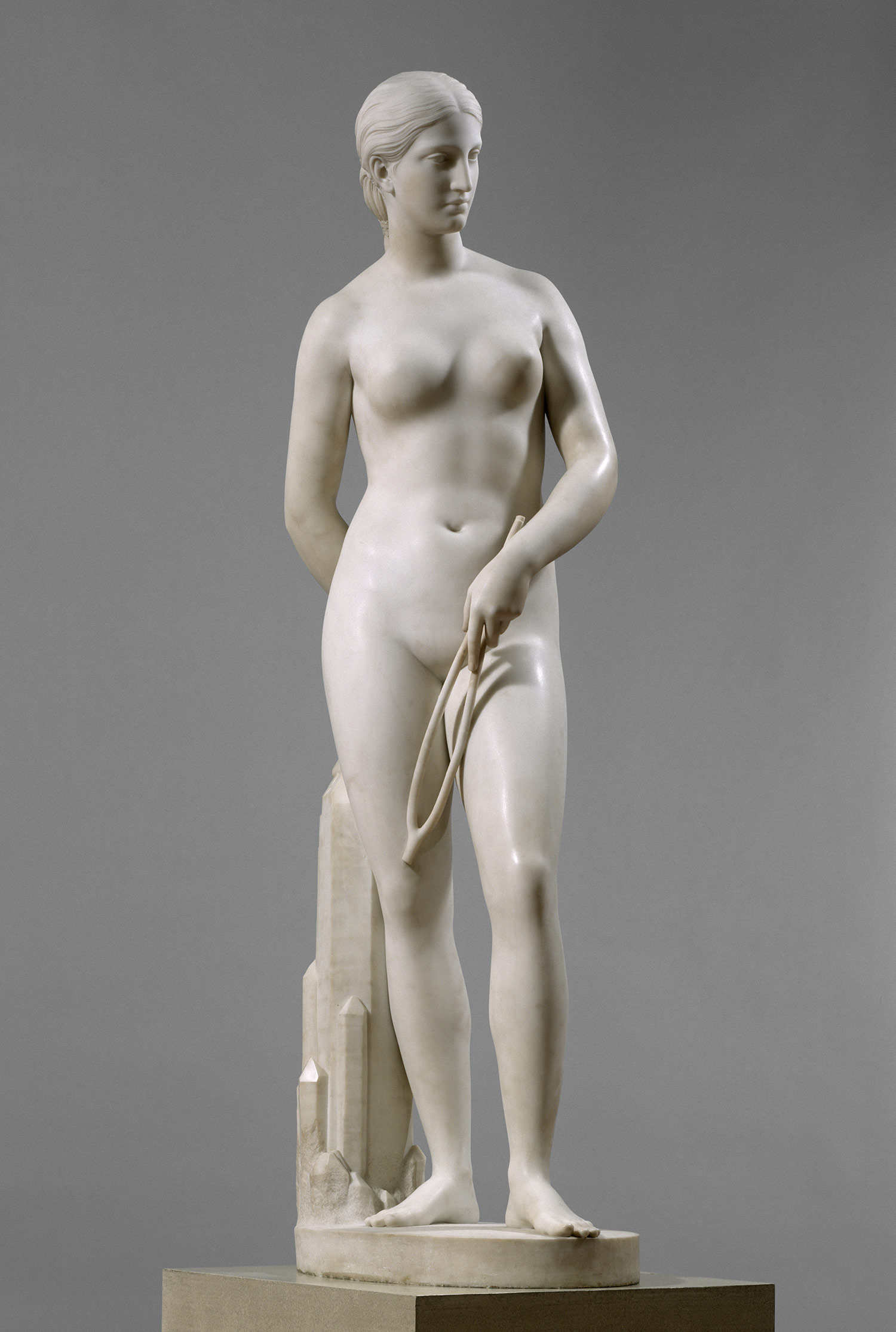 ---
California, 1850–55; this carving, 1858
Hiram Powers (American, 1805–1873)
Marble; 71 x 18 1/4 x 24 3/4 in. (180.3 x 46.4 x 62.9 cm)
Gift of William Backhouse Astor, 1872 (72.3)

In early 1850, Powers began work on a full-size figure inspired by the widely publicized California Gold Rush of 1849. He first called the subject Incognita, then La Dorada, before finally settling on California. Initially Powers envisioned his figure as a young Indian woman dressed in a simple costume, but in the final model he instead depicted a nude with a Native American countenance (hard for modern viewers to discern). According to Powers, "… an Indian woman … stands in a reserved and guarded posture and with a watchful expression, holding the divining rod in her left hand, and pointing with it down to the earth, under a large quartz crystal, which supports the figure on the right. Quartz is the matrix of gold and the divining rod is the miner's wand, or the scepter of 'California' … In the right hand, which is held behind, there is a branch of thorns, to finish the allegory for she is the miner's goddess, or 'Fortune,' and as it is usual to represent the Goddess 'Fortune' with good in one hand and evil in the other, by suitable emblems I have done so with 'California,' and the moral is that all is not gold that glitters …" Powers hoped the newly admitted State of California would request a colossal version of his California, but in the end nothing came of this dream. In 1855, a purchaser for California came forward in the person of wealthy New Yorker William Backhouse Astor. California was translated into marble in Italy and finally received by Astor in New York in December 1858. The sculpture was installed in the Astor residence in a room designed to showcase it and on a pedestal that turned on iron rollers so it could be easily viewed from all sides. California was the first American sculpture—indeed the first work by an American artist—to be acquired by the Museum.
This work of art also appears on Connections: White
Related