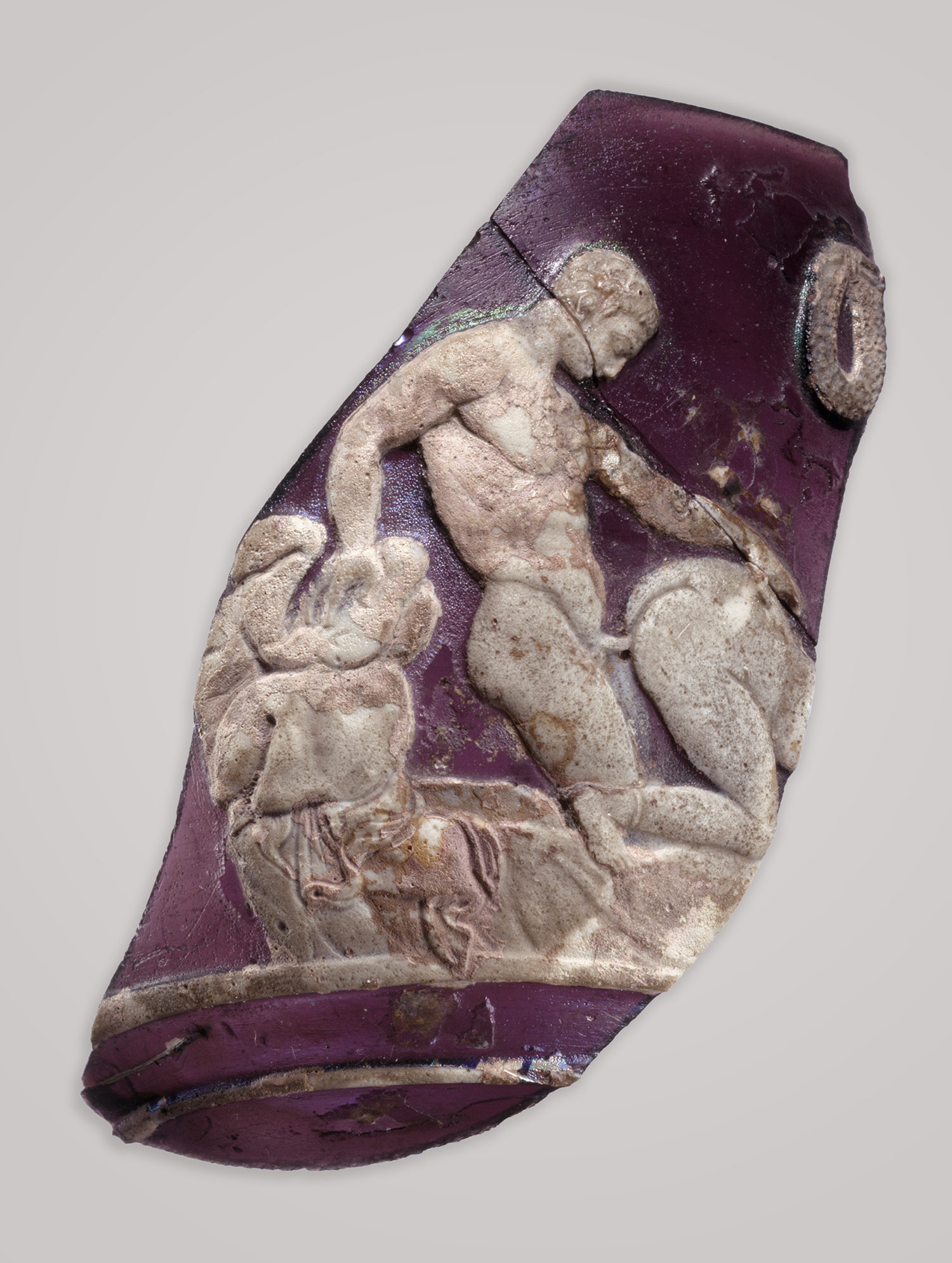 ---
Cameo cup fragment with lovemaking scene, first half of 1st century

a.d.


Roman
Glass; L. 3 3/4 in. (9.6 cm)
Gift of Henry G. Marquand, 1881 (81.10.349)

As an alternative to vessels made of gold, silver, or semi-precious stone, some wealthy Romans, especially in the Augustan and Julio-Claudian periods, chose to decorate their dining tables with cameo glass vessels. Drinking cups were a popular form, and the decoration carved onto these cups typically falls into two categories. "Foliate" scenes are decorated with animal and plant motifs, while "figural" designs include mythological subjects, Dionysiac scenes, or images of drinking parties. Both categories can also be found on silver vessels and fine red-gloss pottery.
Scenes of lovemaking are common in Greek and Roman art and carried none of the social stigma that can be associated with the explicit depiction of such acts. In the Roman empire, erotic art was not used solely in religious or apotropaic contexts as in the Archaic and Classical Greek periods, but was an acceptable genre in its own right. Numerous examples exist on Roman wall paintings, silver and pottery vessels, gems, and especially terracotta lamps.
The scene on this cameo cup fragment shows a couple together on a couch or bed, though it is unclear whether they are mythological figures, deities, or mere humans. Such scenes on drinking cups could have served as mirrors that reflected the riotous fun and games that occurred at Roman drinking parties, similar to the painted drinking cups used at Greek symposia.
Related