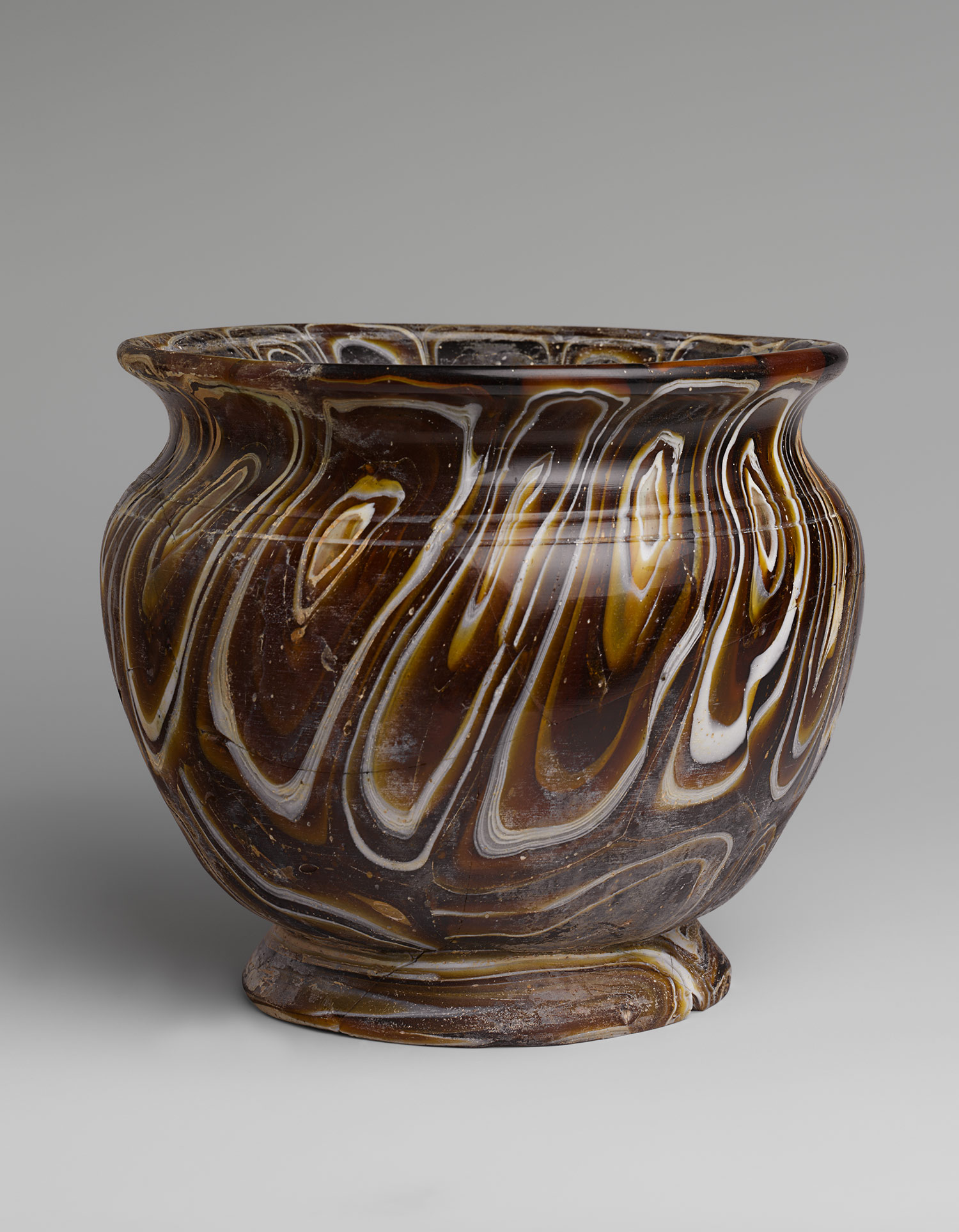 ---
Bowl, 2nd–early 1st century

b.c.


Hellenistic, Greek
Onyx glass; H. 5 3/8 in. (13.8 cm), Diam. 6 1/8 in. (15.6 cm)
Edward C. Moore Collection, Bequest of Edward C. Moore, 1891 (91.1.1303)

One of the advantages of the casting process was a glassmaker's ability to imitate certain highly prized natural stones. The use of translucent amber and opaque white glass in a swirling mosaic pattern replicates quite closely the effects of banded agates such as onyx and sardonyx, from which expensive luxury vessels were carved. This bowl is from the Hellenistic period, yet demonstrates the technique and effect that Roman craftsmen would attempt to duplicate no more than a century later.
Its profile would not have lent itself easily to being sagged over or cast into a mold, and the precise manner in which the bowl was made remains uncertain. However, the process clearly involved considerable manipulation of the molten glass by the glassmaker, including the addition of the separate base-ring. In this respect, the creation of this object foreshadowed the skill that Roman glassmakers exhibited in making large and finely shaped free-blown glass vessels.
Although fragments of mosaic-glass wares are quite widespread, very few intact vessels are known. Therefore, regardless of the manner in which it was made, this bowl is unique in its remarkable state of preservation and is one of the star pieces to have survived from antiquity.
Related