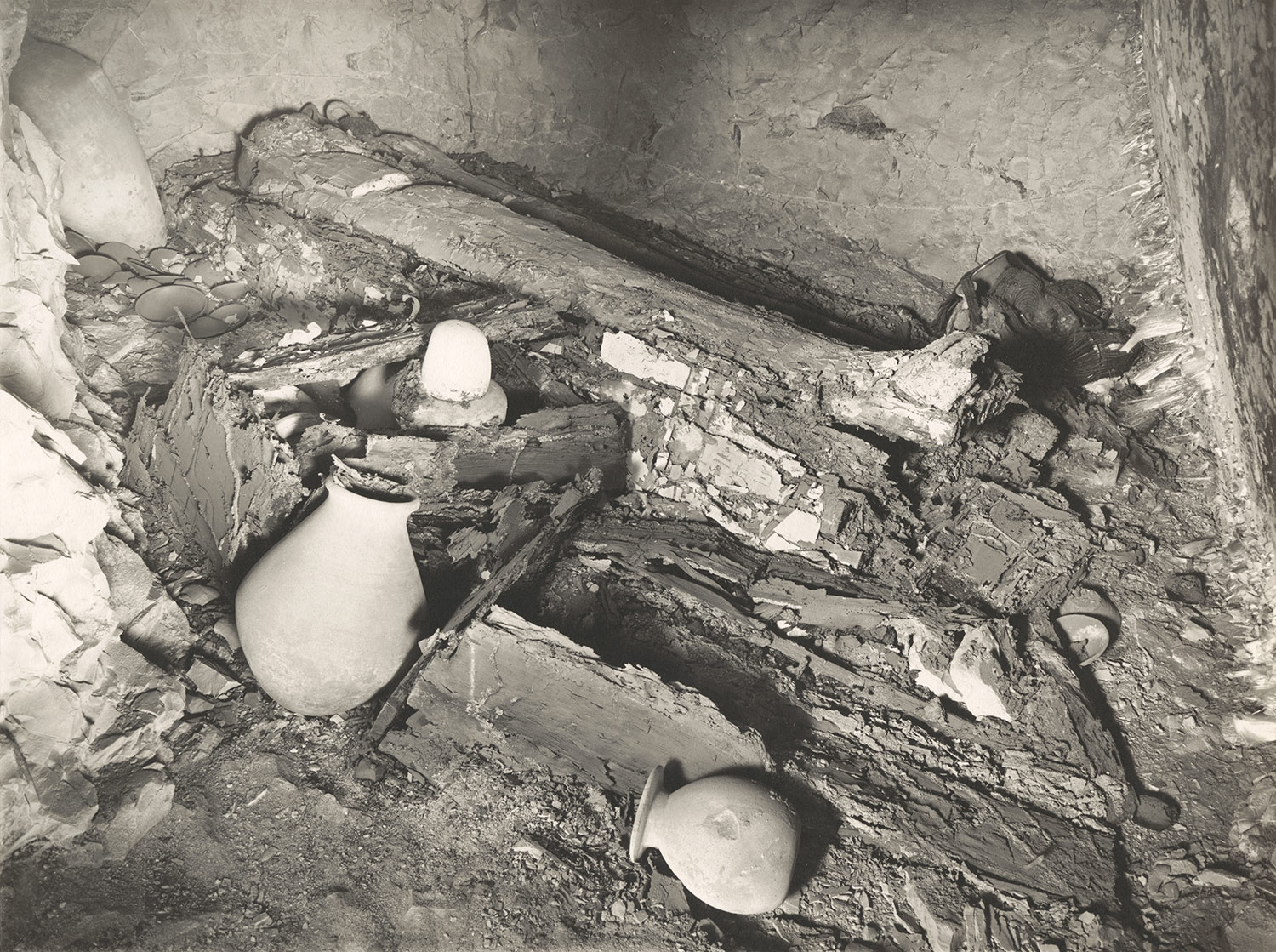 ---
General View of the Burial Chamber of Neferkhewet before the Commencement of Clearing, March 2, 1935
Harry Burton (English, 1879–1940)
The Egyptian Expedition of The Metropolitan Museum of Art
Gelatin silver print; 9 x 6 3/4 in. (23 x 17.1 cm)
(8A 291)
Used for at least three generations during the early Eighteenth Dynasty (ca. 1500–1440 B.C.), the tomb of Neferkhewet and his family was discovered in the late winter of 1935. Dampness had caused the disintegration of much of the organic material in the tomb, which had been cut into bedrock near the cultivation. But photographs and drawings as well as careful excavation and record keeping allowed most of the contents to be reconstructed, at least on paper.
Here one sees the burial of Neferkhewet as it was found. The fine anthropoid outer coffin has crumbled, and the wooden canopic chest has collapsed, leaving exposed one of the limestone canopic jars. The clarity of the photograph, in which each object of ceramic, stone, and wood is clearly visible, provides an invaluable record of the tomb.
Though far less splendid than the royal tombs, the burial chamber of Neferkhewet, a scribe in the court of Hatshepsut, held valuable information, revealing the funerary practices of ordinary well-to-do citizens. Eschewing the softly diffused light he employed in larger, better-preserved burial chambers, Burton used a strong, direct light in this claustrophobic, undecorated chamber, emphasizing the rough-hewn walls and the disorder and decay of the intervening millennia.
Related