Evening dress
Designer Emilio Pucci Italian

Not on view
While serving in the Italian air force, Pucci began designing skiwear for many of his upper-class Italian contemporaries, and quickly attracted the attention of Harper's Bazaar photographer Toni Frissell. Prompted by Frissell's pictures of Pucci's ski ensembles, fashion mogul and Harper's editor Diana Vreeland published photographs of Pucci's work that quickly warmed the American public to the innovations of the Florentine designer. Pucci designed his first collection for the American market for Lord & Taylor in 1948. The collection included his skiwear designs and featured wool knits that were hand woven in Capri. Almost immediately after the reception of the 1948 collection, Pucci collaborated with silk industrialist Guido Ravasi, in addition to procuring research assistants to test various cotton and silk weaves and blends for luster, drape, and durability. The result was Emilioform, a synthetic jersey that became a staple fabric in the Pucci collection as early as 1960.
Pucci's textile patterns were unarguably drawn from the decorative aesthetic of historic Florence. As the marchese of Barsento, Emilio Pucci hailed from an aristocratic Florentine bloodline and never failed to attribute his keen design sensibility and luxurious-lifestyle marketing to his rather distinctive roots. The designer can be celebrated as one of the pioneers of the contemporary Italian lifestyle design; he created upholsteries, living room accessories, purses, shoes, jewelry, and of course fashionable clothing, and aggressively marketed the "Pucci" look.
This evening dress dates to the year of the Florentine floods that wiped out a significant number of small Italian custom-made shops. Pucci himself claimed to have lost over a million dollars in fabric supplies alone. However dire the period of its birth, however, the design masterfully represents the fully realized Pucci aesthetic, juxtaposing overt glamour with sporty chic.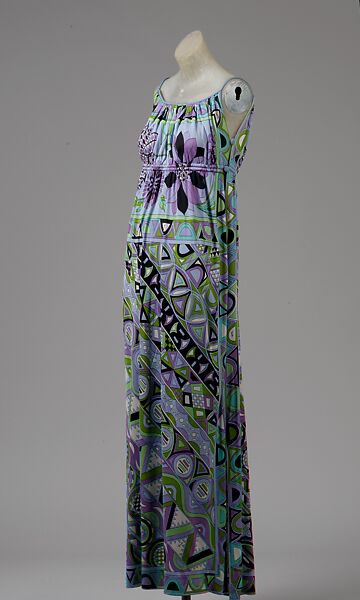 This artwork is meant to be viewed from right to left. Scroll left to view more.