"Along False Equator"
Designer Hussein Chalayan British

Not on view
Unlike much of Hussein Chalayan's work, this corset was not created with the specific political and social narratives that generally inform his collections. However, Chalayan's reputation for an intellectual rationale to his design process is such that it is difficult, if not impossible, to assess individual examples of his work without contextualizing them in the larger body of his conceptually driven production. The essentially low-tech "bustier" stands in contrast to much of Chalayan's experimentation with unconventional materials, including some associated with aerospace technology. It does, however, relate to an earlier design from his 1993 Central Saint Martins graduation presentation and the later, beautifully rendered, "furniture" pieces that transformed into garments from his fall/winter 2000-2001 collection. With its boxing- in of the body, if only partially, the bustier recalls the kinky improvisations of archaic medical prosthesis, the sleekness of boat hulls (one is reminded of Diana Vreeland's pronouncement that jeans were the most beautiful thing "since the gondola"), and, perhaps most aptly, the confinement of coffins.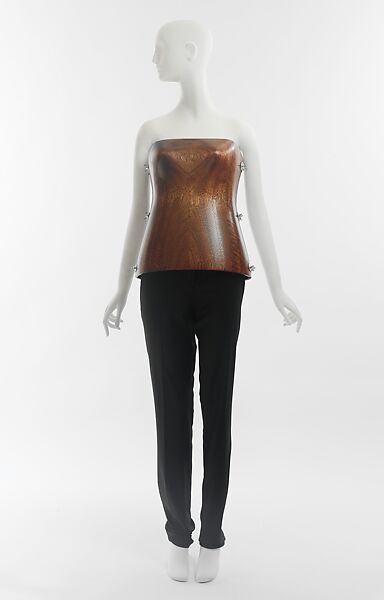 This artwork is meant to be viewed from right to left. Scroll left to view more.