Propaganda
Design House Vivienne Westwood British
Designer Vivienne Westwood British

Not on view
Vivienne Westwood, arguably the most influential British fashion designer of the twentieth century, revels in incendiary provocation and a defiance of convention but nonetheless finds beauty and inspiration in the past. This apparent contradiction, to attempt to upset the status quo while clearly having a consciousness of tradition and history, made Westwood the most representative designer of The Costume Institute's 2006 exhibition "AngloMania: Tradition and Transgression in British Fashion." Given Westwood's violation of expectations, it should not surprise us that the designer so associated with punk rock, torn T-shirts, and bondage jackets is also capable of creating astonishingly rigorous examples of tailoring and dressmaking.

Westwood said that this dress was her most important work to date. Comprising a beautifully constructed and boned bodice as its base, the gown has been draped, fitted, and spiraled around the body in one unbroken length. It is an aesthetic marvel, all the more important for the virtuosity of Westwood's approach, at once conceptually reductive and technically audacious. While the gown might evoke the French haute couture of the 1950s and an attendant impression of retardataire elegance, Westwood's subversion is in her breaking of any prior conventions of draping and dressmaking.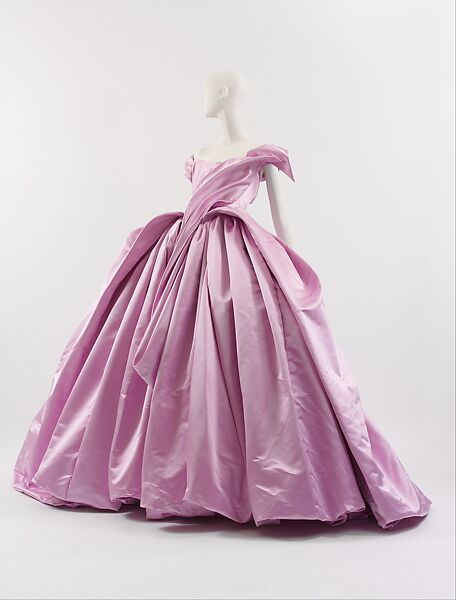 This artwork is meant to be viewed from right to left. Scroll left to view more.