Evening dress
Design House House of Paquin French
Designer Ana de Pombo Spanish

Not on view
Schreier's collection contains the work of many influential design houses that remain underrepresented in museum collections, including the house of Paquin. Under the direction of founder and business manager Isidore Paquin and his wife, Jeanne, who served as its head designer for nearly thirty years, the house cultivated a significant international presence. This vibrant dress of poppies was created by the charismatic Ana de Pombo, who assumed creative direction of the house in 1936 following the departure of Jeanne's immediate successor, Madeleine Wallis. During the late 1920s, de Pombo moved to Paris and entered fashion by founding her own dressmaking establishment, Casa Elviana. She closed her house to work for Gabrielle Chanel, where her elegance and talent for garnering attention earned her a position as brand ambassador. (During her youth in Spain, her memorable style had inspired the sobriquet "Rue de la Paix," after the fashionable Parisian street.) Following a stint at the house of Lelong, de Pombo joined Paquin, initially to work on their sportwear line. Almost immediately, her collections were met with acclaim. The year that this dress was introduced, the fashion press heralded a revitalization of the house, remarking that "the star of Paquin is rising. The name is on everyone's lips."

Although Ana de Pombo's designs for Paquin drew from house characteristics such as layered effects, ethereal textiles, and an attention to texture and detail, she also infused her work with elements from her own biography. This dress was presented among a group described as "Spanish dancer evening gowns" for summer 1937 that utilized lace, layers, and peplum details to invest drama. With its appliquéd, color-drenched poppies, the gown easily invokes the tiered ruffles of a flamenco dancer's costume. De Pombo intended for the dress to be accompanied by a veil. The flowers would have crowned the wearer's head in a face-framing garland and fallen from the shoulders to dip into a point that mirrored the V-shaped neckline of the verso in a romantic interpretation of the mantilla. The designer also became known for her rich collection of Spanish folk dress that she utilized in her secondary pursuit as a dancer, performing under the stage name Ana de España.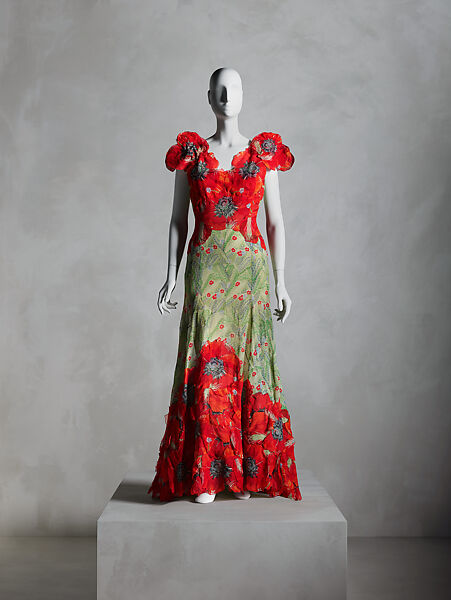 This artwork is meant to be viewed from right to left. Scroll left to view more.