"Alimony"; "Misadventure"
Designer Elizabeth Hawes American

Not on view
Elizabeth Hawes created simple, witty, distinctive, elegant and practical garments for women of means. Her designs were so smart and timeless that they were as contemporary in the early 1930s as they were in the late 1940s due to her commitment to quality of materials and simplicity of line. She was committed to the notion that form follows function and paramount in her design sensibilities was the desire to make clothes that were stylish, easy to move in, and by incorporating breathable fabrics, easy to wear. Hawes focused on construction and comfort, rather than embellishment, and incorporated a variety of interesting fabric combinations and construction techniques, successfully using somewhat complex textural juxtapositions to create visual interest. Aspiring to follow in similar design techniques as Madeleine Vionnet, Hawes draped fabrics on the body and creatively pieced together wearable garments that were also beautiful works of art. Hawes' philosophy toward fashion also shaped her aesthetic. She firmly believed there was a difference between fashion and style. Style, she declared, "is dressing to fit your own self – it lasts." Hawes Inc. scrapbooks and designer sketchbooks, complete with style documentation and swatches, are part of the Brooklyn Museum Library's collection. The latter are cross-referenced with many of Hawes' garments. Taken as a whole, this material provides a remarkably comprehensive look at the work of an exceptional designer.

The dramatic ensemble, entitled "Alimony" and "Misadventure" is an example of Elizabeth Hawes' affinity for showcasing interesting and beautiful fabrics. The bias-cut of the skirt fabric is not only dramatic for its colorful display, but the fabric pattern is artfully matched down the center front creating a radiating rainbow that would certainly command attention when the wearer entered a room. The full, circular skirt is a hallmark of Hawes' construction and the use of non-traditional and eye-catching fabrics are as well. The cape is a somber cadet gray, which tones down the overall effect, yet the back is accented with a large tassel coordinating with the colors of the textile - an unexpected and well thought out design detail.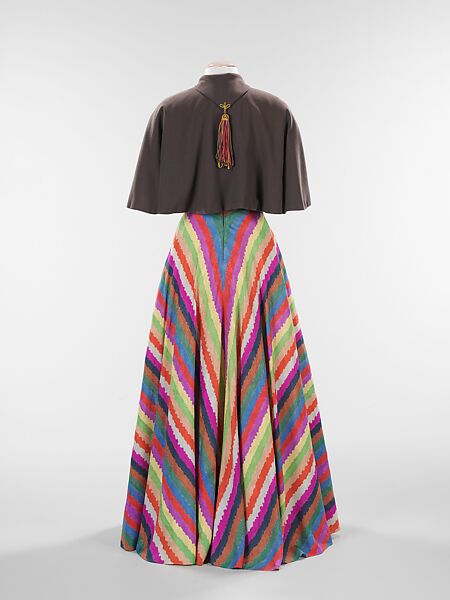 This artwork is meant to be viewed from right to left. Scroll left to view more.