Pitcher
Factory Linthorpe Pottery Works British
Designer Christopher Dresser British, Scottish

Not on view
The form of this pitcher is probably based on Minoan or Cycladic pottery, as were many of Dresser's designs for Linthorpe Art Pottery. However, Asian, Mexican, Peruvian, and Fijian pottery, as well as prehistoric and Bronze Age artifacts found in Yorkshire, were also sources of inspiration for Dresser's works at Linthorpe.

Dresser's trip to Japan in 1876/77 had a profound effect on his approach to design as well as his understanding of manufacturing processes. Prior to his trip, his output shows a great amount of attention to surface ornamentation. Upon his return, however, Dresser began to take a holistic approach to design. Form and decoration became inseparable. Incised decoration, barely discernable on the pitcher illustrated here, became an integralelement, unlike applied decoration such as enamel colors. Another effect of the trip was that Dresser took a greater interest in the manufacturing process and as a result became more involved in the production of his designs.

Pots made by Linthorpe were potted by hand and then finished in a wood mold. Hand painting and glazing were done after the first biscuit firing. Innovative methods, such as spray color and gas ovens, were used. The glaze, possibly made with ground flint or granite added to Cornish clay and oxide tints, created a random yet richly mottled effect that emulates Japanese Raku teawares.

Dresser was art director at Linthorpe from 1879 until 1882 and, unlike his experience at Minton, had total control over his designs. Linthorpe's products were sold through Dresser's retail outlets, Dresser & Holme (1880–81) and Art Furnishers' Alliance (1880–83), as well as through Liberty's. Linthorpe closed in 1889 and its molds, sold at auction, were bought by William Ault of the Ault Pottery firm (founded in 1887). In 1892/93, Dresser, under contract with Ault until 1900, produced new designs for the company that continued to show non-Western influences.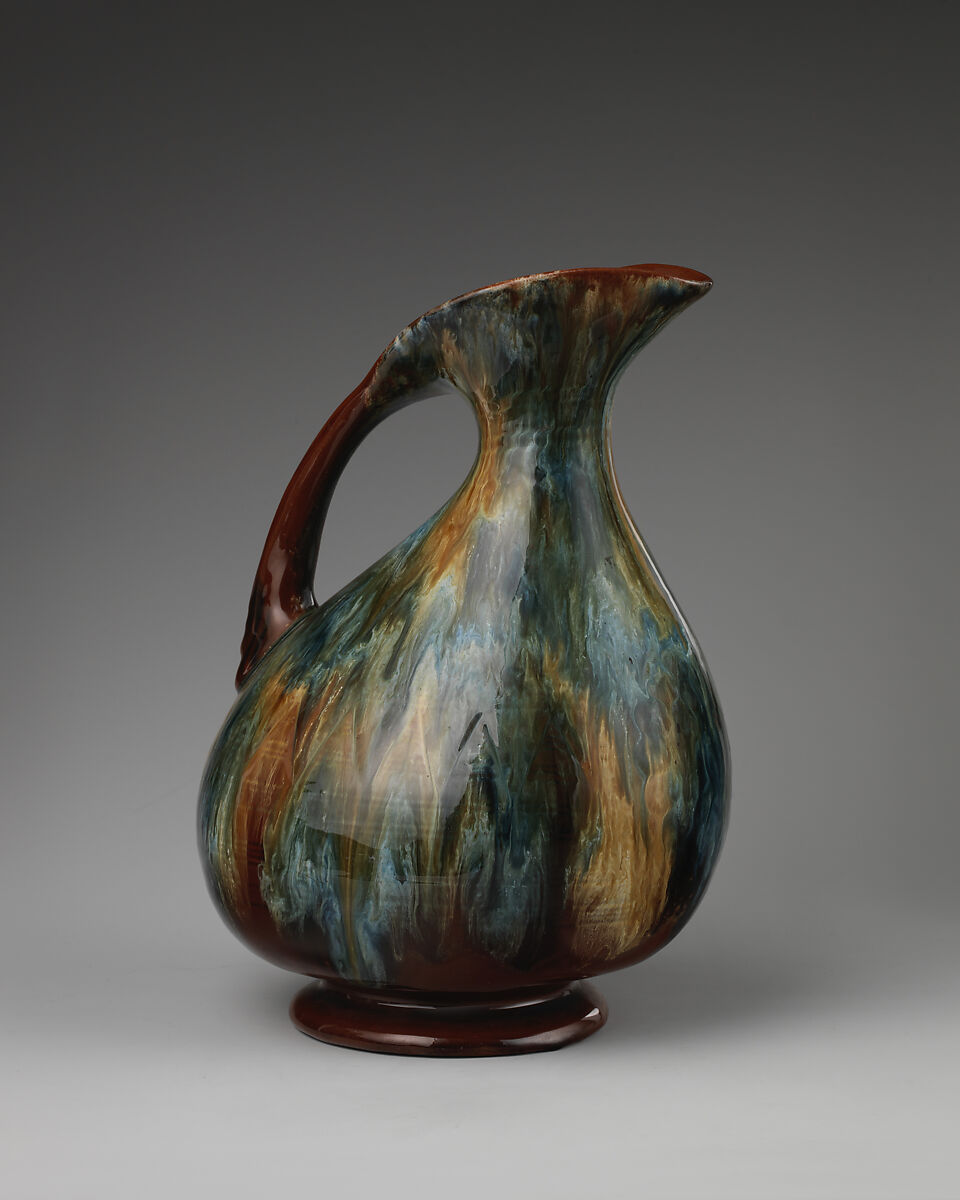 This artwork is meant to be viewed from right to left. Scroll left to view more.