Funerary Carving (Malagan)
Not on view
In northern New Ireland, malagan is the collective name for a series of ceremonies, as well as the masks and carvings associated with them. Still practiced today, these rituals are held primarily in memory of the dead and combined with initiation ceremonies in which young men symbolically replace those who have died.

The carvings, the most technically complex in all of Oceanic art, are commissioned from recognized experts and depict figures from clan mythology. They are displayed in special enclosures, sometimes in considerable numbers, during feasts honoring both the dead and the donors of the carvings. Once they have served their purpose, malagan carvings are usually abandoned or destroyed.
#1706. Funerary Carving (Malagan), Part 1
Playlist

1706. Funerary Carving (Malagan), Part 1

1740. Funerary Carving (Malagan), Part 2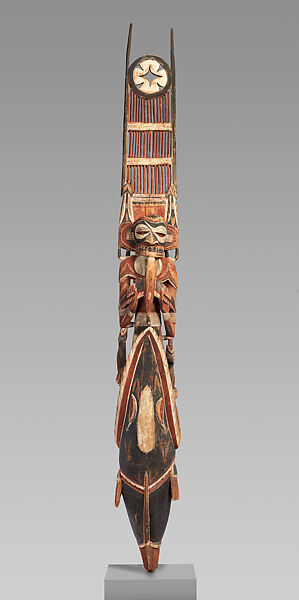 This artwork is meant to be viewed from right to left. Scroll left to view more.