Figure: Tomb Sculpture (Aloalo)
Not on view
The Mahafaly peoples of Madagascar honor the deceased members of chiefly and royal lineages by creating burial sites of imposing grandeur. Each tomb is a solid boxlike stone sculpture that may be surmounted by as many as thirty wood sculptures. These wooden tomb sculptures commemorate deceased individuals while addressing more abstract concepts concerning the nature of existence after death and the relationship between living and dead. Funerary sculpture is understood not as a direct or literal portrait of the deceased but as a locus of connection with the ancestral realm. The Mahafaly have adopted the term aloalo to refer strictly to the works that are used at royal burial sites. Aloalo is derived from alo, which implies a sense of an intermediary or messenger; the term therefore refers primarily to the work's function and not necessarily its form. Alo also relates to the creation of linkages and, in the context of funerary sculpture, may refer to the visual interlocking of abstract forms integrated into a harmonious design as well the work's role as an intermediary between the worlds of the living and dead.

This example follows an established design in which a standing figure is represented at the base and surmounted by an elaborate vertical openwork column of geometric forms terminating in a figurative finial. The main figure comprising the lower half of the sculpture is depicted wearing a dresslike garment that ends at the knees. There is a slight modeling of breasts on the figure, yet its gender ultimately remains ambiguous. The iconography of the standing figure is unusual in that it is clothed, as classic aloalo forms feature a nude figure. The figure's left arm remains stiffly at its side, while its right arm is raised to cover its mouth. The meaning of this hand-to-mouth gesture is unknown, as it is also uncommon in aloalo.

In the openwork structure of geometric forms, ovals are flanked on each side by outward-facing crescents. This classic, elegant arrangement is generally interpreted as an allusion to the phases of the moon. Regeneration and continuity are also frequent themes of aloalo sculpture, evoked here by the reference to the lunar cycle. The openwork form is topped by a pair of square forms upon which stand small, nude human figures.

The subjects depicted in this genre of commemorative sculpture have changed considerably over time to reflect shifting social concerns and aesthetic preferences. Whereas traditionally nude figures or animals would be featured on the finials, recent styles have expanded to the point where a whole series of new images and scenes are employed. Recent motifs include cyclists, horse riders, airplanes, gendarmes that arrest thieves, and more. It had been proposed that this trend suggests a shift in the emphasis of funerary sculpture from referring to the transitional nature of death to the commemorative aspect of burial practices.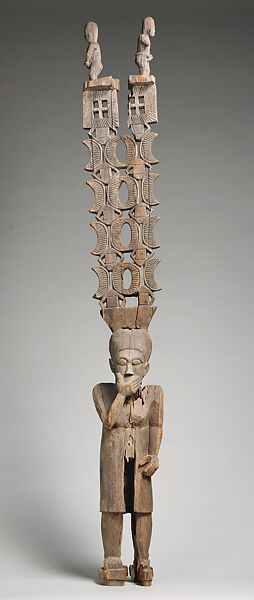 This artwork is meant to be viewed from right to left. Scroll left to view more.