Side chair
Designer George Edmund Street British
Manufacturer Gillow & Co.

On view at The Met Fifth Avenue in Gallery 516
The chair was designed for the London Law Courts by the English architect, George Edmund Street, a leading practitioner of the Victorian Gothic Revival who specialized in ecclesiastical work. However, his best-known project was the Law Courts (now the Royal Courts of Justice) in the Strand, London, for which a competition was conducted in 1866–67. The construction did not begin until 1874, however, and was only completed in 1882, a year after Street's death. The building was considered an artistic milestone and The Times predicted in 1867 that it would be "a perpetual monument of English art as understood and practiced in the latter half of the 19th century." The design of the building beautifully illustrates that a picturesque Gothic style could be used for a modern secular building.

Street also designed much of the furniture for the more important rooms in the building, which was manufactured by several companies, Holland and Sons; Gillows & Company; Jackson and Graham; Collison and Lock and George Trollope and Sons.

The design of the chair is eclectic in nature since it combines elements borrowed from the Gothic tradition (such as the splat shaped as a linen-fold panel) with others derived (but modified) from the ancient Greek Klismos chair (such as the slender curving legs and the broad horizontal top rail).

The chair was manufactured by Gillows & Co, a furniture making firm in Lancaster, as is indicated by the stamp underneath the back seat rail. The Gillow & Co stamp was used towards the end of the nineteenth century. L, followed by a serial number, was introduced during the 1870s.

Established around 1730 by Robert Gillow, member of an old Catholic family, the firm continued throughout the nineteenth century and had a reputation for its high quality pieces for the middle and upper classes, wealthy London clients and provincial landowners. By 1900, it was supplying complete interior decorating schemes. The firm continued as a family firm until 1903 when it was taken over by Waring of Liverpool and became known as Waring and Gillow.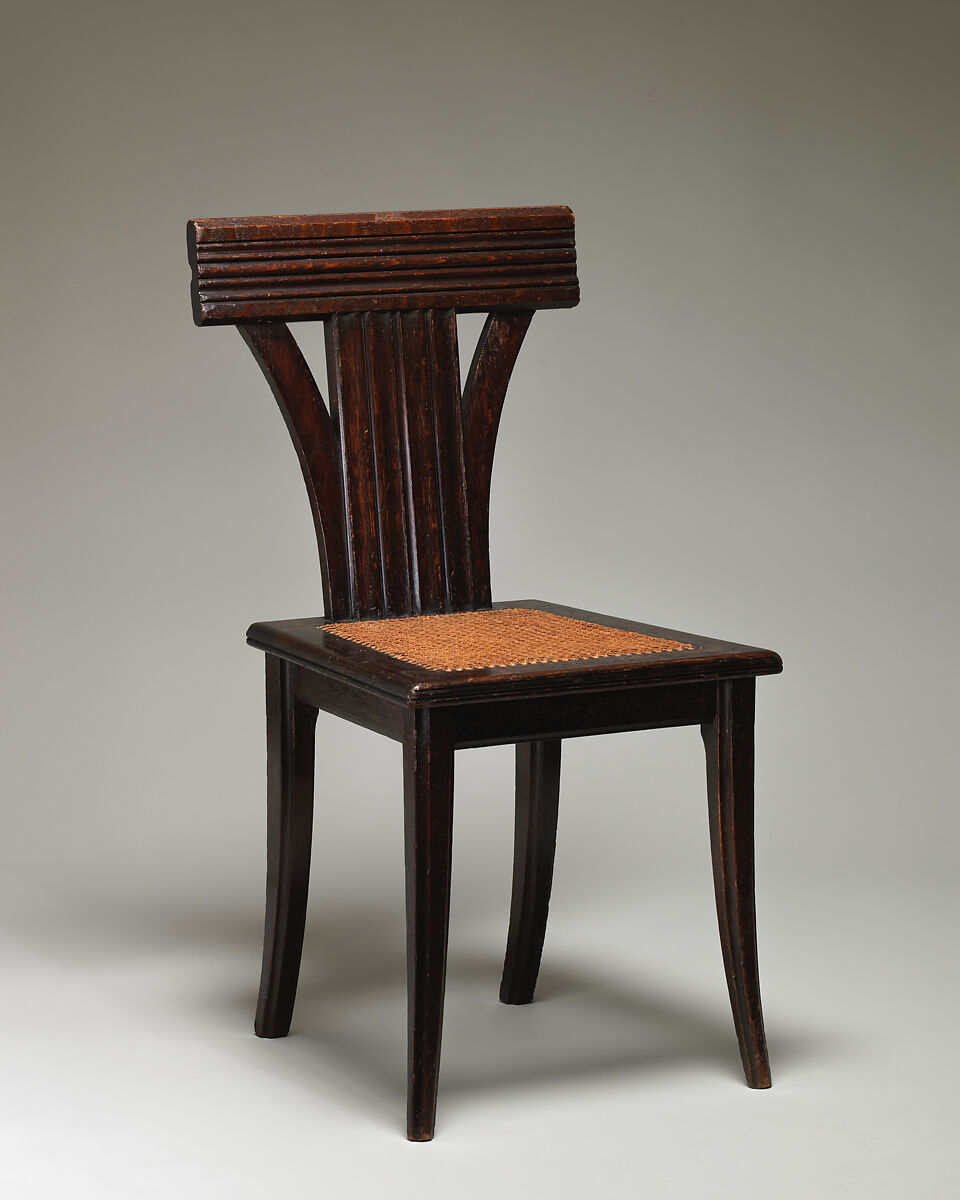 This artwork is meant to be viewed from right to left. Scroll left to view more.