Kātyāyana, Master of Fundamental Principles, from the series Ten Great Disciples of Buddha
Munakata Shikō Japanese

Not on view
To create these images of Buddhist disciples and a bodhisattva, Munakata Shikō—the most highly acclaimed Japanese print artist of the twentieth century—gouged magnolia wood blocks with every ounce of energy he could muster. Munakata, like carvers of Buddhist and Shinto sculptures in ancient times, believed he was drawing life out of the wood, and that he was giving expression to the primordial spiritual energy of nature. Munakata's prints were discovered in the mid-1930s by the prominent art critic Yanagi Sōetsu, who was an advocate for mingei, or "folk art," which he saw as embodying two quintessential aspects of Japanese art: a deep respect for the materiality of the medium and a bold, direct, unselfconscious mode of expression. Munakata's mingei approach was further enhanced by his immersion in Zen philosophy as well as by his fascination with European experiments in Post-Impressionist art—van Gogh, whom he idolized, as well as the German Expressionists—which enabled him to create an entirely new style of Japanese woodcut that propelled him to international fame. In 1955 he won the top award for prints at the São Paulo Biennale, and in 1956 he received the Grand Prize for printmaking at the Venice Biennale. In 1959 he visited New York at the invitation of the Japan Society and the artistic career of this self-taught son of a blacksmith from rural northern Japan would never again be the same.

In deference to the woodblocks he was using and to suggest the expansive, unbridled power of the Buddha's disciples and the intensity of their message, the images extend across the entire woodblock with the head of each disciple reaching the top edge of the block while the feet reach to the very bottom. The feet of alternating figures are either black or white—an allusion to the principle of duality inherent in the interplay of Yin and Yang.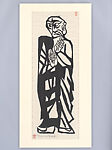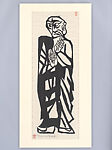 This artwork is meant to be viewed from right to left. Scroll left to view more.