Ensemble
Not on view
This "Vaquera & Co." dress, a pastiche of the iconic "Tiffany and Co." blue jewelry pouch, queries what remains of the American Dream in the year 2017. More than half a century after the movie based on Truman Capote's novel Breakfast at Tiffany's came out, the Tiffany blue remains unchanged and evokes nostalgia for the elegance of 1950s America, as personified and embodied by Audrey Hepburn's character Holly Golightly.
By appropriating the brand's packaging, logo and name, the New York-based fashion collective Vaquera uses camp humor to comment on contemporary issues like consumption, affluence, branding, identity, nostalgia and the disillusionment of the American Dream.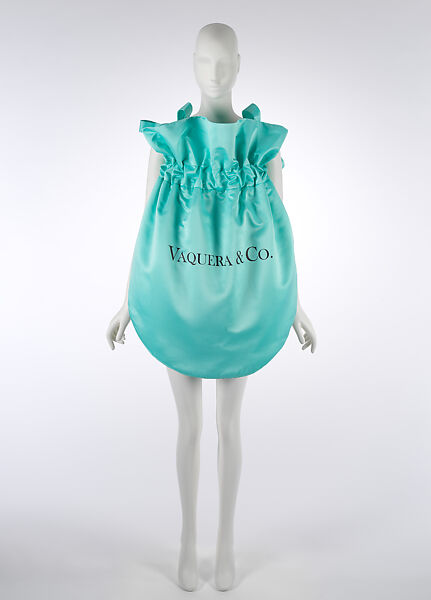 This artwork is meant to be viewed from right to left. Scroll left to view more.