Dress
Design House House of Balenciaga French
Designer Cristobal Balenciaga Spanish

Not on view
This tubular, calf-length day dress of dark brown wool jersey is chemise-cut and tapered toward the hem. The sleeveless, elongated bodice hangs unfitted from shoulder to mid-thigh. The upper portion of the bodice has soft gathers at the neckline and back shoulder; the lower bodice is gathered into a "waistline" seam supporting the short, narrow skirt. The neckline has a wide, rolled, stand-away collar; two large "pocket" flaps are placed low on the dress front. The dress is unlined and has no fastenings. The fitted yoke lining of heavy black silk taffeta holds the neckline front and back shoulder.
In the mid-1950s, as couture made fashion news, Balenciaga achieved leadership status with the chemise. While still structured, but floating over the body, the fluid effect of the chemise became in Balenciaga's exaggeration the sack dress, forsaking the waist and anticipating the 1960s shift. In conceiving the chemise, Balenciaga applied lessons of suppleness he had long employed in his collars. Inspired by the kimono collar, he created a distinctive bias roll collar pushed back from the neck. In integrating this collar with the chemise silhouette, he pitched the amplitude front and back, allowing the yielding, floating form of the collar to complement the softness of the dress.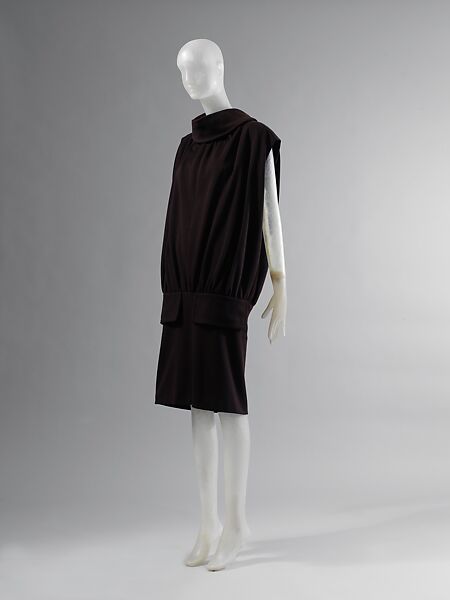 This artwork is meant to be viewed from right to left. Scroll left to view more.