"Chérie"
Design House House of Dior French
Designer Christian Dior French

Not on view
"Chérie" exemplifies the "New Look" in all its salient elements: sloped shoulder, raised bustline, narrowed waist, and a monumental volume of skirt falling away from a padded hipline to below the calf. The New Look arrived uncompromised and complete, not as a tentative suggestion or stage in evolution. Here, the skirt is made of the full width of the fabric, selvage to selvage, disposed horizontally. Consequently, at the waist the necessary folding-under of the pleated fullness creates a compressed, thirteen-and-a-half-yard seam allowance, the substantial bulk of which pads the hips. This virtuoso achievement in dressmaking was reached by the compression of vast volume into an adjoining sculptural reduction. Dior prided himself on the handwork in his creations.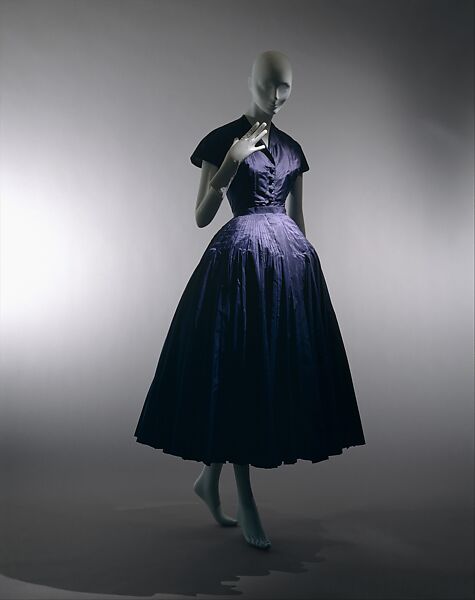 This artwork is meant to be viewed from right to left. Scroll left to view more.