Atomic sublime : the atom, the sublime, and the American Southwest
Author Lovely Umayam American
Tammy Nguyen American

Not on view
"This book was produced by Passenger Pigeon Press using the technologies of photocopy, laser cutting, and hand-set type with foil stamping. Everything was hand assembled. The fonts used include Futura, American Typewriter, and Caslon in multiple styles and sizes. The papers used include cardboard, 90 lb. white cardstock, 20 lb. white textweight, 60 lb. Astrobright Cosmic Orange and Fuschia. The production was overseen by Téa Chai Beer and art direction/ design by Tammy Nguyen. This was an edition of 250." --Passenger Pigeon Press website (viewed 06/22/2022).

"The Atomic Sublime is an artist book about the landscapes that captivate and haunt us, not only because of their ineffable beauty and scale, but because of the dark nuclear histories they hold. The book centers around two places in the American Southwest -- the Grand Canyon and the Nevada Test Site -- and the role they played in developing U.S. nuclear weapons. The book is part of the Illuminating Radioactivity project, which blends policy, technical, and creative expertise to produce compelling resources about nuclear science, policy, and history"--Publisher's description.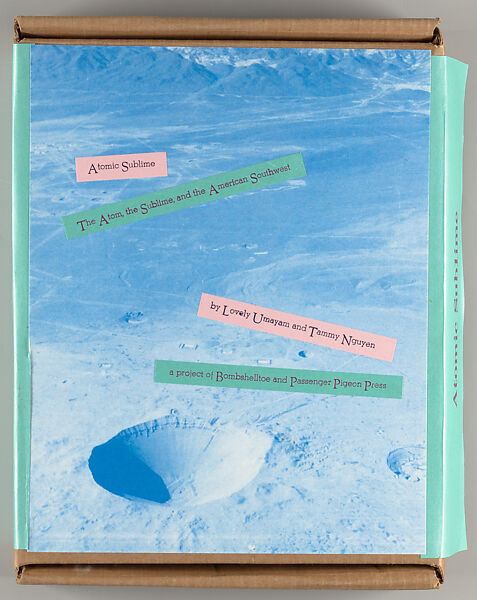 This artwork is meant to be viewed from right to left. Scroll left to view more.