Sample book of the fancy paper factory Aschaffenburg
Author Karli Frigge Dutch

On View Gallery Watson Library
Samples of 89 decorated papers on 26 accordion-fold pages, representing the years of production of a fine paper factory in Aschaffenburg, Germany. This factory had been owned by various people over the years, starting in 1810 with Johan Daniël Knode, later owned by Alois and Franz Dessauer, and others. The samples show marbled papers, paste paper, roller-printed end-papers, heavily embossed and roller-embossed papers, and leather and wood imitation papers.

One of 110 copies, signed by the author. Contains 90 [sic] original paper samples made in Aschaffenburg, Germany. The introduction, by Frigge, explains the history of papermaking in the town. The samples cover a wide range of paper types, including leather imitations, gold- and silver-printed, patterned, and paste papers, and marbled papers of all kinds, such as bouquet, combed, shadow and shell marbled papers. Short explanations of the techniques are below several of the sample sets. Bound in purple cloth with title in gold. Housed in black slipcase with title in gold. Upper cover and slipcase have small paper samples attached. -- vendor description.

Bound in purple cloth over boards; accordion-folded pages attached to front board. Partial title and series volume number stamped in gold with handle letters on front and spine. A nonpareil combed marble sample is inset into front board. Includes a single sewn signature inserted between one of the accordion folds with the story of Frigge's search for the history of the papers acquired over the years.

"The translation is made by Els Rademacher and was corrected by Tanya Schmoller. Typographical design is made by Willie Bosch (de Akker) ... The samples have been buffered with an alkaline solution."--Colophon.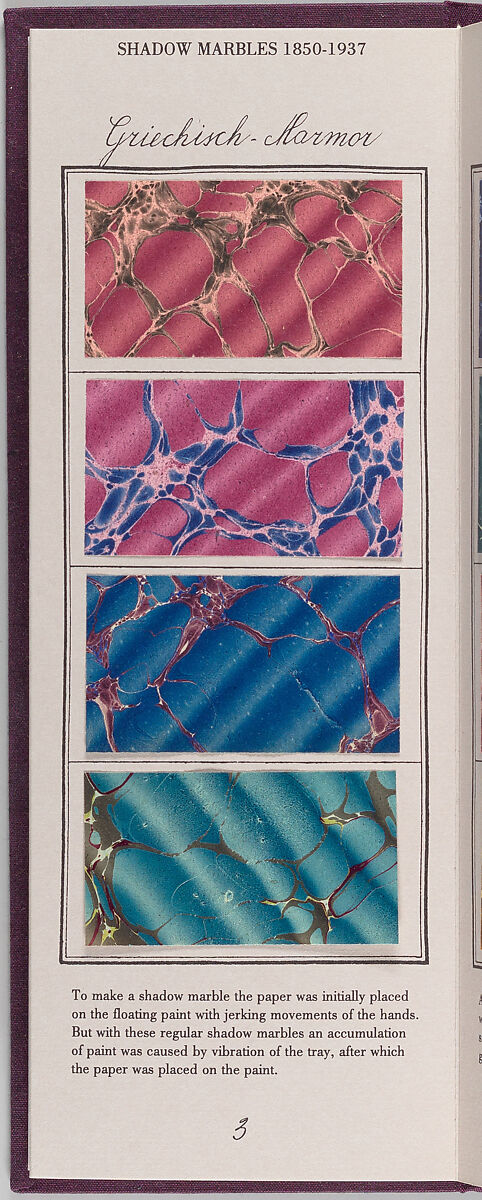 This artwork is meant to be viewed from right to left. Scroll left to view more.