Sports Cards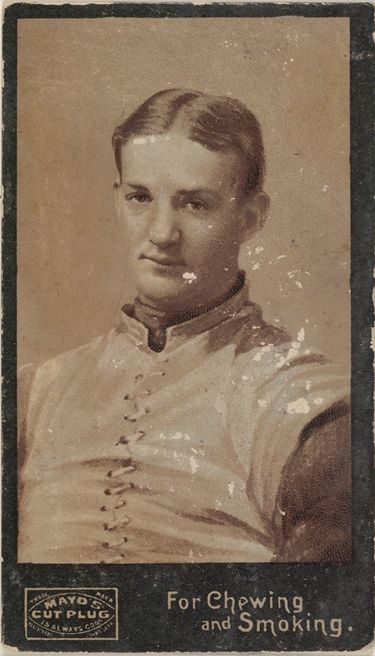 Burdick's immense collection, numbering over three hundred thousand objects, includes all types of sports cards ranging from football, boxing, basketball, baseball, and swimming, to equestrian sports and sailing.
Left: Issued by P.H. Mayo & Brother, Richmond, Virginia (American). John Dunlop, Harvard University, from the College Football Stars series (N302) for Mayo's Cut Plug Tobacco, 1894. Commercial lithograph; Sheet: 2 13/16 x 1 5/8 in. (7.2 x 4.2 cm). The Metropolitan Museum of Art, New York, The Jefferson R. Burdick Collection, Gift of Jefferson R. Burdick (63.350.222.302.33)
The collection facilitates the telling of myriad histories about American sports, life, and culture. With an extensive collection of football cards, the rise of the sport and its dominance in printed media toward the middle of the twentieth century can be demonstrated in a unique way. The earliest series of football cards in Burdick's collection dates from 1894 and highlights players from the Ivy League's Yale, Harvard, and Princeton. Also present are the Leaf Gum and Bowman sets from 1948, which were the first cards produced after World War II and ushered in the modern era of football cards. The latest set collected by Burdick, while he was in the prints department of the Museum organizing and cataloguing his collection into their signature green albums, is Bazooka's first football issue from 1959, which includes Johnny Unitas and Ollie Matson.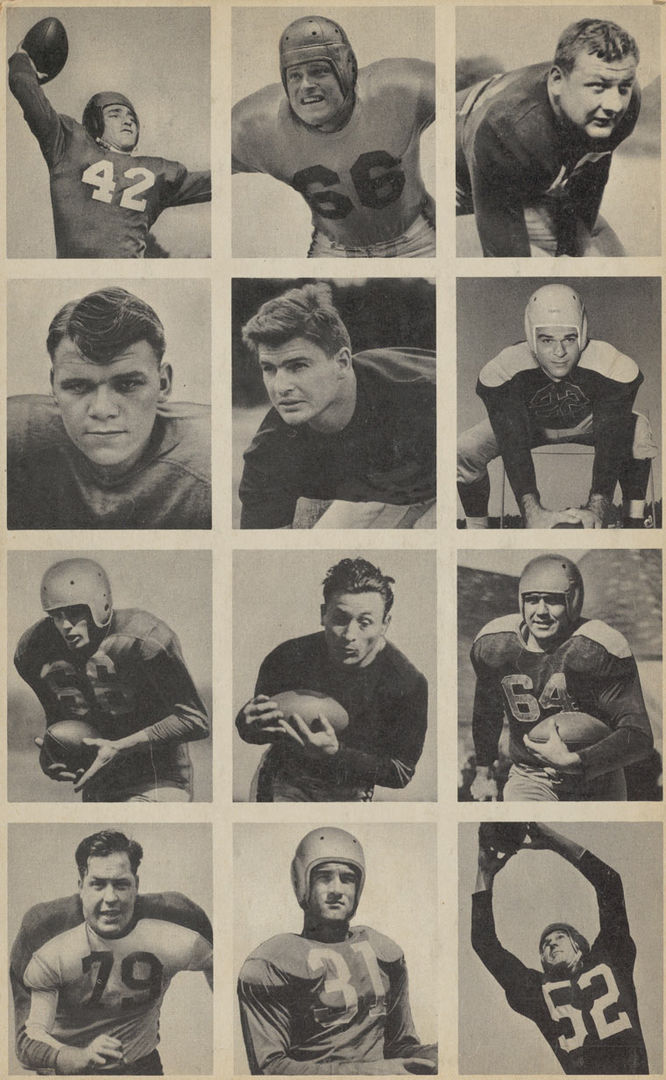 Issued by Bowman Gum Company. Sheet of 12 uncut football cards, from the Bowman Football series (R407-1) issued by Bowman Gum, 1948. Commercial color lithograph; Sheet: 10 in. x 6 1/4 in. (25.4 x 15.8 cm). The Metropolitan Museum of Art, New York, The Jefferson R. Burdick Collection, Gift of Jefferson R. Burdick (Burdick 327, R407-1.1)
Other stories about America can be told through the Burdick's sports cards, such as the ebb and flow in popularity of sports such as boxing—which dominated the collective consciousness at its height in the first decades of the twentieth century—or the role of women in sports and society at the turn of the century. "Sporting girls," as they were often called in the late nineteenth and early twentieth centuries, emerged as a viable and even a lucrative category, despite being less frequently represented than actresses.
In 1887, the tobacco company Allen & Ginter produced a series of cards known as World's Champions that included the sharpshooter Annie Oakley. It followed quickly with female baseball players and cyclists, and other companies such as W. Duke and Sons, Liggett & Myers, and Pan Handle Scrap produced swimmers, gymnasts, and a series that offered "a sport for every girl." In these early days of female athleticism, the figures shown on these cards remained types rather than individuals, engaged in exercises and training but without the recognition given to their male counterparts in competitive and professional leagues.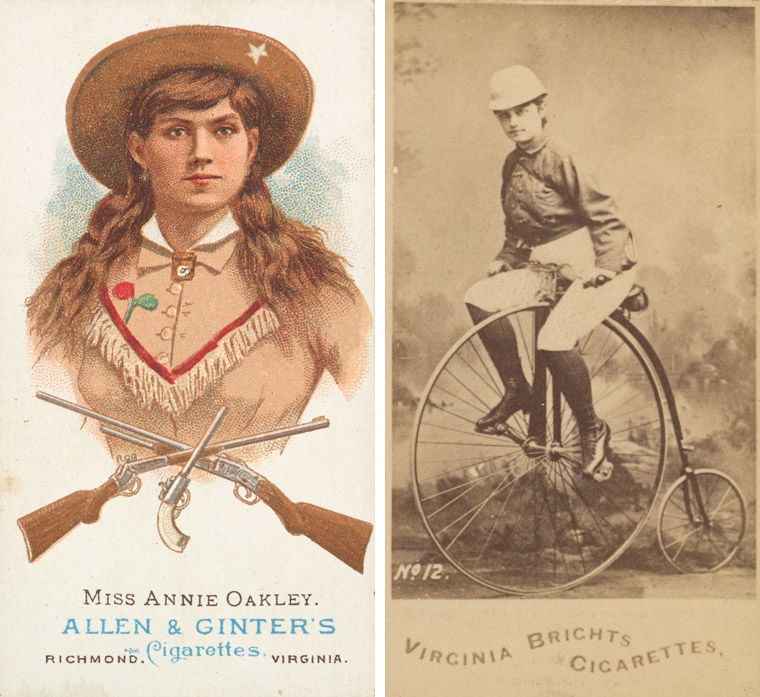 Left: Allen & Ginter (American, Richmond, Virginia). Miss Annie Oakley, Rifle Shooter, from World's Champions, Series 1 (N28) for Allen & Ginter Cigarettes, 1887. Commercial color lithograph; 2 3/4 x 1 1/2 in. (7 x 3.8 cm). The Metropolitan Museum of Art, New York, The Jefferson R. Burdick Collection, Gift of Jefferson R. Burdick (63.350.201.28.41). Right: Issued by Allen & Ginter (American, Richmond, Virginia). Card 12, from the Girl Cyclists series (N49) for Virginia Brights Cigarettes, 1887. Albumen photograph; Sheet: 2 3/4 x 1 3/8 in. (7 x 3.5 cm). The Metropolitan Museum of Art, New York, The Jefferson R. Burdick Collection, Gift of Jefferson R. Burdick (63.350.203.49.5)