Bowl
George E. Ohr American

On view at The Met Fifth Avenue in Gallery 707
In many ways George Edgar Ohr was the quintessential Arts and Crafts potter, combining artistic vision with extraordinary skill with his hands. Working in the seaside resort town of Biloxi, Mississippi, he dug the clay, processed and prepared it, threw the shape on the wheel, altered the piece according to his vision, mixed and applied his own glazes, fired the kiln, created his own style of advertising, and took his wares on the road. Ohr's personal mantra was "no two alike," and he was as eccentric as his work was individualistic, with its manipulated forms on ultra-thin thrown vessels, crimping, ruffling, off-centering, and twisting, to create unprecedented forms for the 1890s. To these forms, he applied his own completely new and unusual glazes, applied by sponging, splashing, and spattering, resulting in works that in many ways anticipated the abstract art movements that would find form decades later.


With some objects, including this bowl, Ohr folded the walls inward, obscuring the distinction between the vessel's interior and exterior. Constantly playing with the pliant clay, he folded and squeezed the walls to such a degree that some of these open bowls were, in effect, closed, denying any remnant of functionality. This work dates to the mature phase of the artist's career when he created a number of intentionally unglazed works. Ohr achieved this effect by brushing a slip—generally red—onto the unfired clay vessel, sometimes applying the contrasting slip with his fingers, creating an effect that resembles marbleized clay. Close visual examination reveals that the second, applied clay often did not reach the deepest recesses of the folded body. These trompe l'oeil illusions constitute another of Ohr's tricks.

This work is from the Robert A. Ellison Jr. Collection of American art pottery donated to the Metropolitan Museum in 2017 and 2018. The works in the collection date from the mid-1870s through the 1950s. Together they comprise one of the most comprehensive and important assemblages of this material known. The unparalleled work of George E. Ohr is well represented in the collection. Ellison was an early admirer, collector, and scholar of Ohr's work and has written extensively on the artist.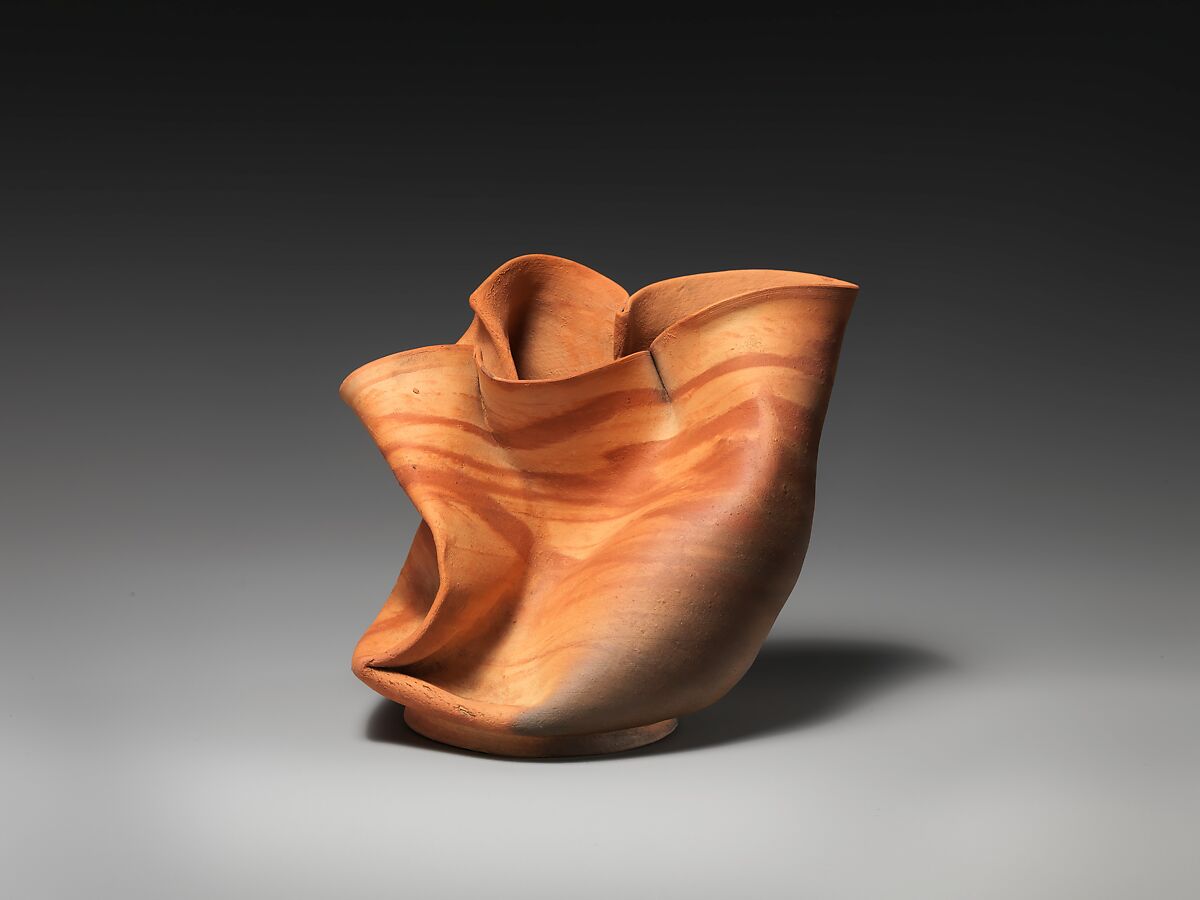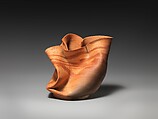 This artwork is meant to be viewed from right to left. Scroll left to view more.