Andiron with figure of Juno (chenet) (one of a pair)
After a model by Alessandro Algardi Italian

On view at The Met Fifth Avenue in Gallery 531
According to the prominent biographer of artists Giovanni Pietro Bellori (1613–1696), the Baroque sculptor Alessandro Algardi, active in Rome, modeled a set of four firedogs representing the four elements in the guise of mythological figures. Commissioned for Philip IV, king of Spain, the models were created not long before the artist's death, in 1654. Two of the designs, the figures of Jupiter and Juno as fire and air—a symbolism quite appropriate to their use as firedogs—were executed on a reduced scale for the French court, both in silver and in bronze. Firedogs of this exuberant model, which create a sense of movement and are interesting in the round, also found a market among the French aristocracy and are listed in late seventeenth- and eighteenthcentury inventories and sale catalogues. It is generally thought that some of them—varying slightly from Algardi's originals, which are still extant in Spain—were made in France rather than in Italy. The Museum's firedogs were cast in multiple pieces, which have been carefully joined together. They have largely kept their original patina.

The chief Roman god, Jupiter, ruler of the sky and master of lightning and thunder, is seated on an eagle, a form he once assumed, atop a globe. Two kneeling Titans shoulder the rocks on which the globe is poised, while a third reclines on the base. Facing her husband, the goddess Juno is perched on her own symbolic animal, the peacock. Representing beauty, this bird stands on a globe carried by wind gods, their cheeks full of air.

Although the casts have long been considered seventeenth century, the raised heads of the deities and the sweet, smiling countenance of Juno, as well as her hair ornament and details of her sandals, suggest an eighteenth century date for the Museum's majestic firedogs instead.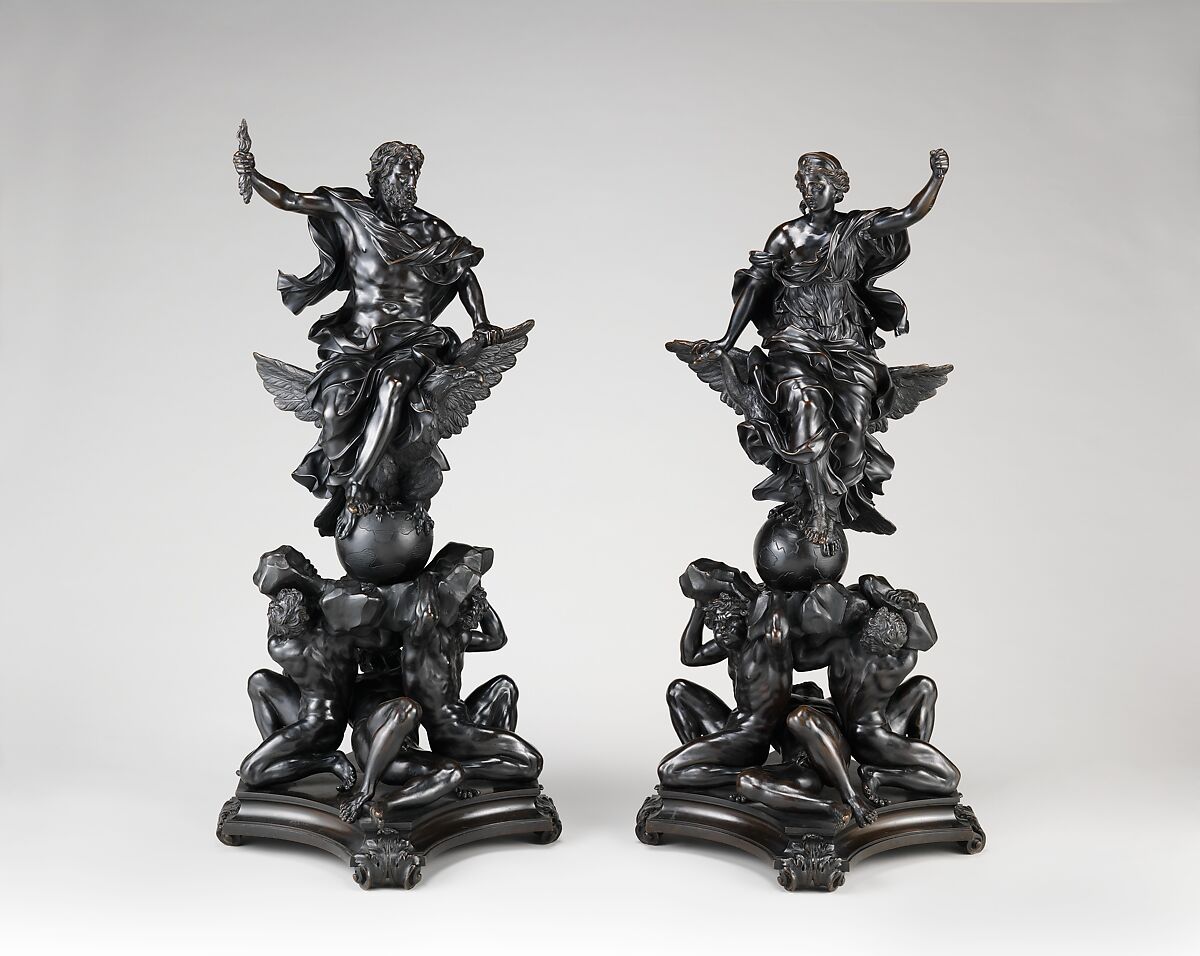 This artwork is meant to be viewed from right to left. Scroll left to view more.