Pope Innocent X
After a composition by Alessandro Algardi Italian

On view at The Met Fifth Avenue in Gallery 550
Born in Rome into a prominent family from Gubbio, Giovanni Battista Pamphilj shrewdly represented the Holy See's interests in Spain, France, and Naples before his election to the papacy as Innocent X in 1644. While his predecessor Urban VIII Barberini had showered Bernini with a monopoly of commissions, Innocent's reign heralded a reversal of fortune for both the Barberini family and their favored sculptor, and a raft of opportunities for Alessandro Algardi, who had been working in Rome for nearly two decades. The projects Algardi oversaw for the pope include the Villa Pamphilj on the Janiculum, the monumental marble relief depicting the meeting of Leo I and Attila for an altarpiece in Saint Peter's Basilica, and a large-scale bronze portrait of Innocent, today in the Musei Capitolini. Though Innocent is often judged less extravagant than his predecessor, his artistic projects in Rome, with Algardi and others, completely remade large sections of the city, most dramatically in the development of Piazza Navona, which encompassed Bernini's Four Rivers Fountain and the Palazzo Pamphilj.

Algardi also produced a number of portrait busts of Innocent X in terracotta, marble, and bronze. Along with those by Bernini and the well-known painting by Velázquez, Algardi's busts established an official image of the pope, promulgated across mediums and subsequent centuries. The tangle of papal busts has been examined and given order by several scholars. Rudolf Wittkower sorted out the Bernini and Algardi busts in the Palazzo Doria Pamphilj.[1] Of those attributed to Algardi, David Bershad reassigned a number to the sculptor's pupil Domenico Guidi.[2] Questions remain, however, concerning how The Met bust, one of the first bronzes to enter the museum, relates to these groupings. Despite its significance to the collection, and its nearly continuous display since its acquisition in 1908, the work has often received short shrift in the literature on the busts of Innocent X.[3]

In clarifying the corpus of busts, Catherine Hess and Anne-Lise Desmas rightly proposed two typologies originating from distinct models.[4] One family, to which our bronze belongs, derives from a terracotta, painted white and with partial original gilding, in the Odescalchi collection in Rome and dated around 1650 (fig. 151a).[5] This model gave rise to versions in marble, bronze and porphyry, and bronze.[6] Two busts, one in the Cleveland Museum of Art and the other in the Galleria Doria Pamphilj, derive from a different, now-lost model.[7]

In our bronze, the pope wears a fur-trimmed camauro, a mozzetta over his shoulders, and a stole adorned with the emblems of the Pamphilj family: a fleur-de-lis and dove encircled by olive leaves. Innocent, who became pope at age seventy, bows his head slightly to the right, his gravity reinforced by his gaunt cheeks and elongated visage. The work typifies Algardi's sober, classicizing approach to the portrait bust, in contrast to Bernini's theatricality. Carefully defined wrinkles enliven the subject's eyes and brow. Much of the detail work was modeled in the wax, such as the embroidery on the cape. These areas were then animated with delicate chasing. The bust, impressively, was cast directly in one piece, and its interior reveals numerous screw plugs of various sizes, nearly invisible from the exterior, that were used to plug core pin holes.[8]

Domenico Guidi trained with his uncle Giuliano Finelli in Naples before joining Algardi's workshop in Rome in 1647.[9] Guidi was one of the four giovani in the shop—with Ercole Ferrata, Paolo Crineri, and Girolamo Lucenti—and Algardi's estate was divided among them at his death. The Met's bronze of Innocent X is nearly identical to one in the V&A acquired in 1853 along with a bronze bust of Pope Alexander VIII.[10] Because the V&A busts are considered a pair, and documents confirm that the Alexander VIII was made by Guidi in 1691 (that is, after Algardi's and Innocent X's lifetimes), both have been given to the younger artist, and, by extension, ours has as well.[11]

To my eye, the Innocent and Alexander busts do not appear to be conceptions by the same artist. While the Innocent X displays the restrained, austere approach of Algardi, the Alexander VIII is fussy, with more pronounced modeling and a sense of harsh agitation in the drapery. A more nuanced approach to authorship is required that takes into account the practical exigencies of a large workshop, wherein the master typically created a model and a separate founder cast it. Guidi was an exceptional metal caster, and one of the few seicento sculptors to model and cast his own bronzes. The difficulty of casting the head, upper body, and socle integrally, as in The Met's bust, points to Guidi's involvement with the process. One can reasonably speculate that among the models left to him at Algardi's death was the terracotta bust of Innocent X now in the Odescalchi collection. Guidi then adapted Algardi's model for the bust of Innocent X around 1690 to which he paired his own model of a bust of Alexander VIII a year later: a student making a pendant to his master's work.

Little is known of our bust's history before its acquisition. The previous owner, Georges Hoentschel, was based in Paris. Intriguingly, the Ottoboni collection in Rome holds a bronze bust of Alexander VIII identical to that in the V&A but missing a matching Innocent X.[12] Is our bronze, whose high quality can now be better appreciated, that mate?
-JF

Footnotes
(For key to shortened references see bibliography in Allen, Italian Renaissance and Baroque Bronzes in The Metropolitan Museum of Art. NY: The Metropolitan Museum of Art, 2022.)


1. Wittkower 1981, pp. 220–22.
2. Bershad 1970. Bershad's attributions are upheld in Montagu 1985, vol. 2, pp. 431–32, nos. 156.D.1–2.
3. For its importance to the museum's early collecting, see MMA 1908; MMA 1909; and Phillips 1947. See Baedeker 1909, p. 61, for evidence of its early and prominent display: "[We] next ascend the Grand Stairway, ornamented with marble busts, to the upper floor. The small Room 10, at the head of the staircase, contains a bust of Pope Innocent X, by Algardi, a bronze statue of Washington by Houdon, some reproductions of metal work, a modern French stained-glass window, designed by L. O. Merson, and the lacquered doors from the Palace of Ispahan."
4. Bacchi et al. 2008, p. 233.
5. Montagu 1985, vol. 2, p. 431, no. 156.
6. The marbles are in Acquapendente Cathedral (Montagu 1985, vol. 2, p. 431, no. 156.A.I) and the CREDIOP S.p.A collection in Rome (Tosini 2002, pp. 74–75, no. I.24); the bronze with a porphyry cape is in the Galleria Doria Pamphilj, Rome (Montagu 1985, vol. 2, p. 432, no. 157); and the bronzes are in the V&A (Pope-Hennessy 1964a, vol. 2, p. 626, no. 660).
7. For the Cleveland bust (1957.496), see Hawley 1962; Montagu 1985, vol. 2, no. 154.C.I; and Bacchi et al. 2008, p. 233. For the bust of Innocent X in the private apartments of the Doria Pamphilj, which is recorded in a 1666 inventory at Villa Belrespiro, see Montagu 1985, vol. 2, pp. 429–30, no. 154.
8. R. Stone/TR, 2011.
9. For Guidi, see Bershad 1970 and 1971; Giometti 2010.
10. V&A, 1088-1853 and 1089-1853; see Pope-Hennessy 1964a, vol. 2, pp. 625–26.
11. See Bershad 1970, who published a document recording Guidi as the author of several busts of the Ottoboni pope, and Montagu 1985, vol. 2, p. 431, who published part of the 1780 Ottoboni inventory listing "Due scabelloni di legno. Sopra detti scabelloni due busti di metallo, uno rappresentante la S.M. di Innocenzo X di peso lb. 248 dell'Algardi, e l'altro di Papa Alessandro 8o di peso lb. 215 di Dom.co Guidi."
12. See Giometti 2010, pp. 264–65, no. 47.S.a.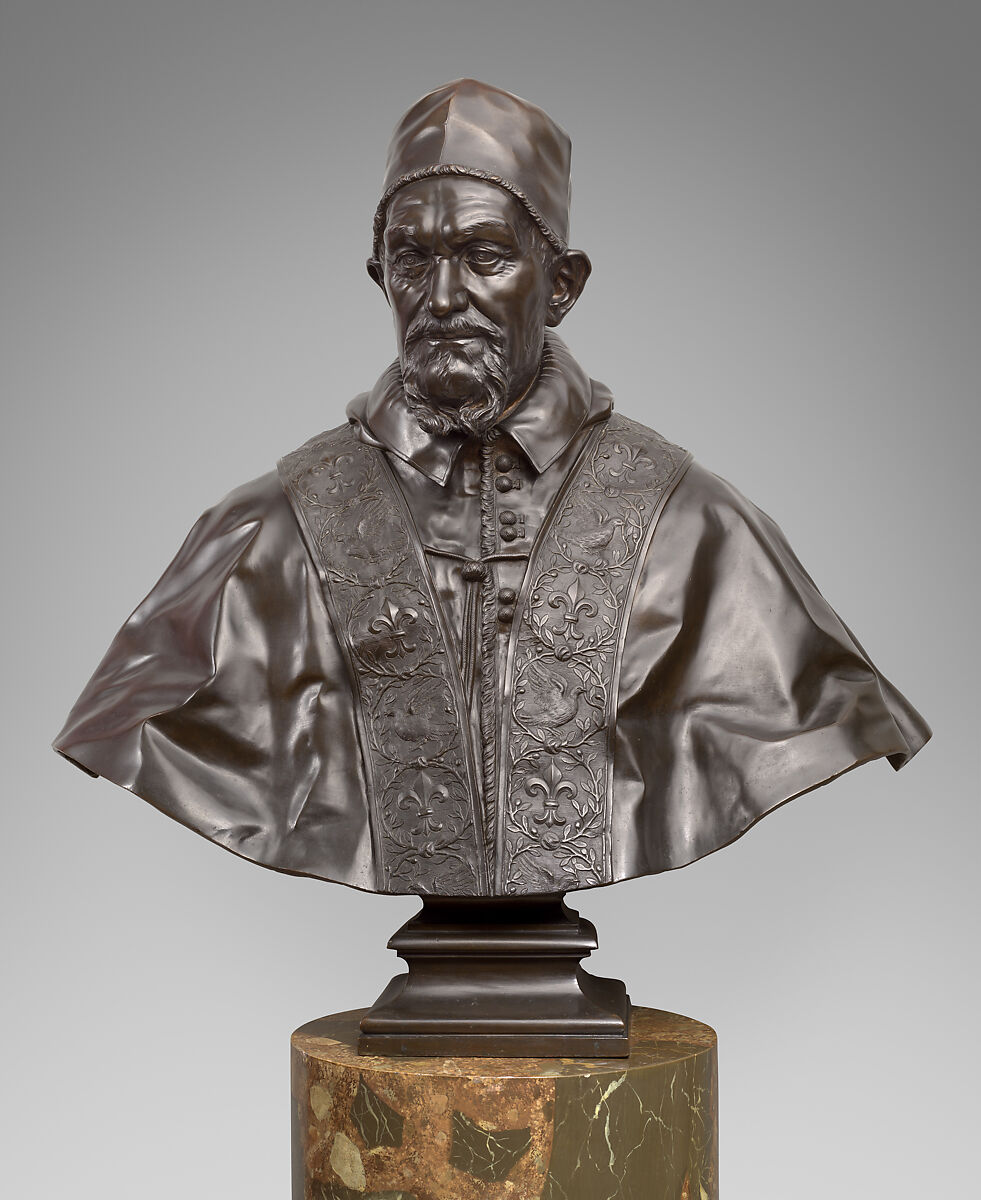 This artwork is meant to be viewed from right to left. Scroll left to view more.