Lidded Vessel: Equestrian Figure
Not on view
This elaborately carved, monumental container was used to hold food consumed during the investment rituals of Dogon religious and political leaders known as hogon. Hogon are the high priests of the cult of Lebe, the first Dogon ancestor to die, whose body was miraculously transformed into a snake after his death. Associated with regeneration and renewal, the cult is charged with maintaining the earth's fertility and ensuring the protection and well-being of Dogon society.

This vessel's large size and visual elaboration indicates the hogon's importance within the life of a Dogon community. Its complex iconography can be interpreted using Dogon accounts of cosmology recorded in the early twentieth century. At the apex of the vessel, a heroic equestrian figure represents the hogon. The horse is a traditional indication of wealth, prestige, and social dominance, but in this context it also suggests the hogon's symbolic place within the Dogon cosmic order. It equates the hogon with Nommo, the mythic being that transformed itself into a horse to convey an ark carrying the eight primordial ancestors to earth. Two equine forms that support the container reinforce the hogon's connection to this moment in creation. Multiple female figures ring the vessel's base and originally surrounded the equestrian figure (only one remains at present), calling to mind the hogon's role in promoting female fertility within the community.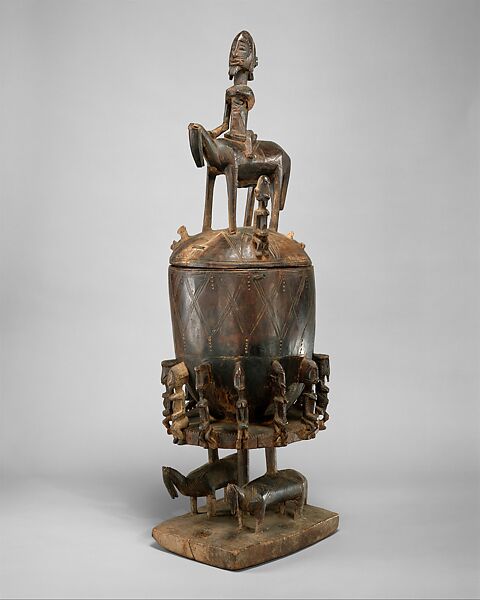 This artwork is meant to be viewed from right to left. Scroll left to view more.