Ring: Equestrian Figure
Not on view
A European visitor to Dogon country early in the 20th century wrote of the "astonishing perfection" of the ornaments created by local blacksmiths through the lost-wax process.




While copper-alloy ornaments have been created in the Dogon area for almost a millennium, exact dating of these miniatures remains largely speculative, established on the basis of stylistic analysis. Interestingly, there is no evidence of copper mining in the region. The metal may have been obtained through trans-Saharan trade networks that brought copper from Spain, North Africa, and the Sahara to commercial centers of the Sahel and Sudan.




In the harsh landscape of the Bandiagara cliffs the horse was an exotic creature only rarely available to wealthy merchants and chiefs. The horse occupies a privileged place in Dogon myth, as the first animal to leave the heavenly ark from which the earth was populated and organized. Dogon figures depicting horses and equestrian figures reflect the prestige and power that has been associated with the horse since it was introduced to West Africa more than a thousand years ago.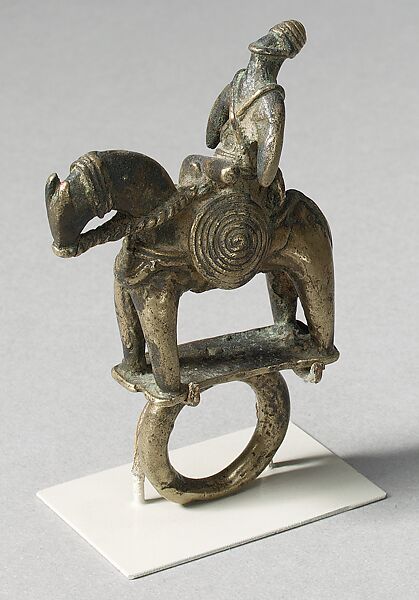 This artwork is meant to be viewed from right to left. Scroll left to view more.