Breastplate (Tema, Tambe, or Tepatu)
Not on view
Across Solomon Islands, men wear a wide variety of shell pendants and chest adornments. Made using materials from the land and the sea, adornments can communicate the status of the wearer, transform the body for ceremony, provide protection, or enable communication with ancestors.
In the Santa Cruz Islands, part of Temotu Province, one of the most distinctive forms of adornment are tema – breastplates made from the shell of the giant clam (Tridacna gigas) with an overlay of carved turtle shell. Originating from Ndende (Nendö) Island, these necklaces would once have been worn by warriors and men of high status. Today, they are worn by men participating in initiation dances and other ceremonial performances, such as the Nelo dance, where they are worn in pairs with one displayed on the chest of the dancer and one worn on the back. The form of tema is also replicated in contemporary jewelry from Solomon Islands made for both genders.
Each element of these pendants is made by a different specialist. One individual would grind down the Tridacna shell into a perfect disk, while another would carve out the delicate turtle shell design. Unlike the kapkap that are found throughout other parts of Solomon Islands (1999.47.61 ; 1979.206.1473), the turtle shell overlay on tema does not cover most of the Tridacna but rather extends from the top to the center of the disc, where a hole is drilled to allow the overlay to be tied down.
The lower part of the overlay is a representation of distinctive forked tail and 'M' shaped wings of the frigatebird. The frigatebird plays an important role in the art and cosmology of Solomon Islands and wider Pacific. As a hunter of the sea and sky, frigatebirds are seen to embody the qualities of a warrior as well as a guide to fishermen. Frigatebirds also herald the annual arrival of large schools of bonito fish, which play a vital role in the economic and ceremonial lives of Solomon Islanders. Above the frigatebird on this
tema
is a stylized rendition of leaping dolphins stacked in three pairs nose to nose.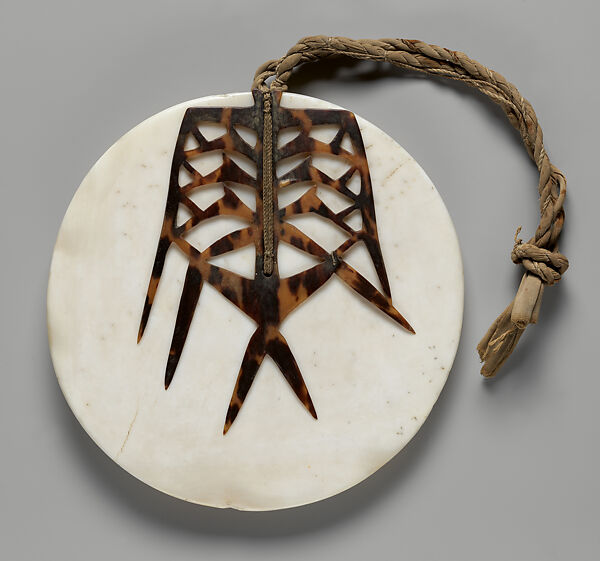 This artwork is meant to be viewed from right to left. Scroll left to view more.